Have you ever wondered what you could do with ground trail mix? Well, I did. : ) One day after nibbling on a few pieces of the delightful WildRoot's trail mix, I decided to take my already yummy snack and make it over with a few additions. Here's the result: CHOCOLATE POPPERS!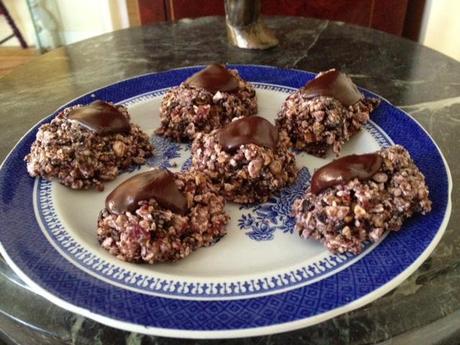 So here's the simple recipe:
Preheat oven to 350º F. Simply process trail mix in your food processor until it starts to resemble crumbs (some bigger chunks – dried fruit ok - I like the texture burst.) Add in popcorn and flax meal until well integrated and drizzle in water slowly until it starts to bind together. Spoon dough onto a cookie sheet, place a square of chocolate on top of each one. Bake for 10 minutes. Enjoy!
Filed under: diet, healthy lifestyles, Nutri-Savvy, nutrition, Recipes