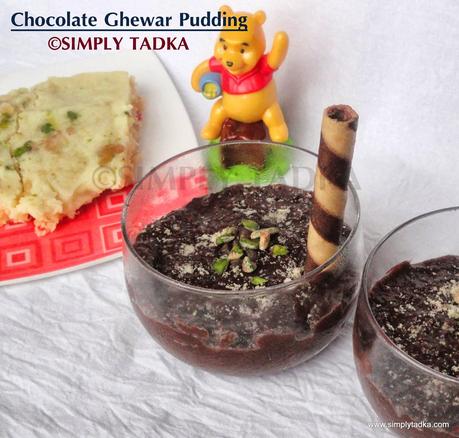 We had leftover mawa ghewar at home in large quantity, no one interested to eat ghewar more. Then I preferred to discuss this problem with my friends regarding how to 
utilize
 this leftover ghewar? That moment one of my 
favorite
 co-blogger and now my good friend like elder sister, +Vaishali from Ribbons to Pastas suggest me this recipe "Chocolate Ghewar Mousse", completely fantastic and delicious recipe.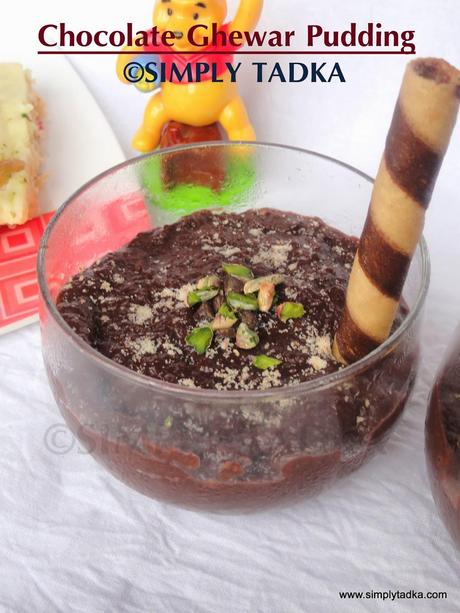 After Vaishali's guideline, I tried this recipe in my kitchen with specific ingredients. It's really awesome in taste and instant version of Indian Mousse. In this recipe, there are no needs of chinagrass, gelatine or eggs types of ingredient which are essential for every mousse recipe. Mawa ghewar is made with three main ingredients are flour, khoya and sugar which gives sweetness and thickness to pudding as mousse.
Preparation Time: 10 Minutes
Cooking Time: 15 Minutes
Servings: 4
Category: Dessert
Recipe Source: Vaishali
Ingredients:
2 Cup Mawa Ghewar, crushed
1 Cup Milk
150 gm Semi Sweet Milk Chocolate, chopped
2 Tbsp. Sugar, Optional
1 Tsp. Vanilla Essence
For Garnishing
Almond powder or Chopped Almonds
Chopped Pistachios
Choco Chips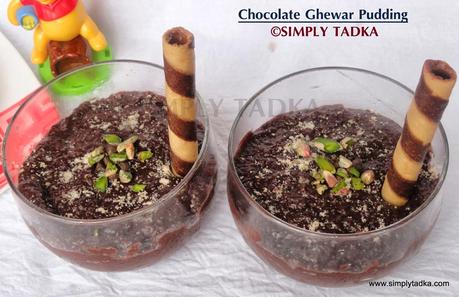 Instructions:
Boil the milk in non-stick pan.
Add crushed mawa ghewar, chocolate and vanilla essence in boiled milk.
Stir together until to smooth consistency. Add sugar as per taste and mix well.
Remove from the flame and keep aside to room temperature.
Pour into individual serving and keep in freezer for one hour to set.
Garnish with almond powder, chopped pistachios and choco chips. Serve chilled.
Note:
Ghewar and chocolate both are already sweets, so you can avoid the sugar in this recipe.
Tag: how to make mousse, leftover ghewar, how to use ghewar, sweets, mithai, chocolate dessert, mousse, ghewar, instant mousse, how to use leftover mithai or sweets.
Blogging Marathon page for the other Blogging Marathoners doing BM#33
Enter your email address:
Delivered by
FeedBurner