These Chocolate Covered Strawberry Brownies are a swoon-worthy and surprisingly guilt-free treat – they're gluten-free, refined sugar-free and Paleo!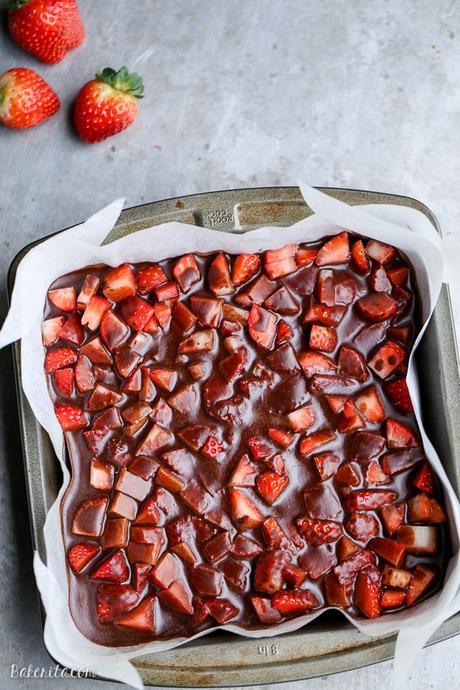 I remember when my sister first asked me to try baking healthier for her. When I was first learning how to bake eight years ago, it pretty well coincided with her discovering her intolerance to gluten. She would come into the kitchen and scoff at me putting 2 cups of sugar and a whole bunch of all-purpose flour into something, begging me to 
please 
figure out how to make things delicious without all the sugar and gluten that I normally used, that she couldn't have.
I heavily resisted for a while. I was convinced that nothing without gluten or sugar could possibly taste good, and I held on to that skepticism for a while. Finally, when my dad decided to try going gluten-free, I acquiesced, realizing the majority of my immediate family now wouldn't eat the gluten-filled items I'd make.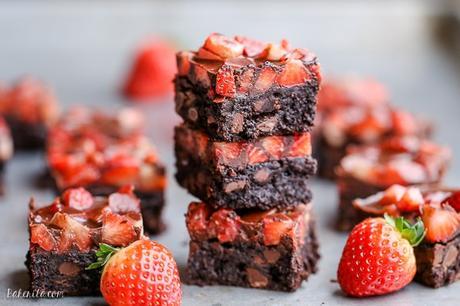 My first trials were definitely 
not 
successful – it took a lot of trial and error to figure out which flours I preferred to work with and their idiosyncrasies that made them different from traditional gluten flours. Turns out my faves – almond, coconut, and tapioca – are all Paleo friendly too!
As I continued experimenting, I became genuinely surprised by how close I could get the taste of old faves into gluten-free + refined sugar-free versions. These Paleo Chocolate Chip Cookies, Paleo Chocolate Chunk Banana Bread, and Ultimate GF Fudge Brownies have become staples that I love to make for my family, but they're also recipes I can make for a crowd of people who normally eat gluten and not have one person complain (or really even notice) that they "taste healthy."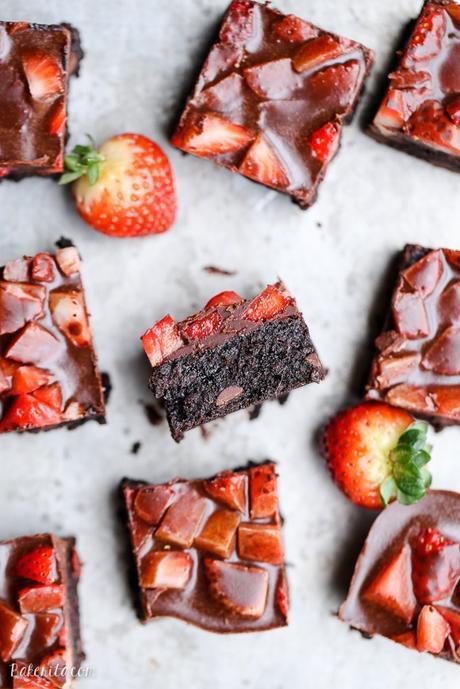 Even though I know exactly what goes into each of my recipes, sometimes I take a bite of one of these healthier gluten-free/refined sugar free/paleo treats and even 
I'm 
surprised. That totally happened with these chocolate covered strawberry brownies.
After tasting these, I was like for reaaaal?? These have NO gluten or refined sugars AT ALL? I was impressed with myself, to say the least. These brownies don't even have any chocolate at all, so no need to search for low sugar/high cocoa chocolate – all the chocolate flavor comes from cocoa powder!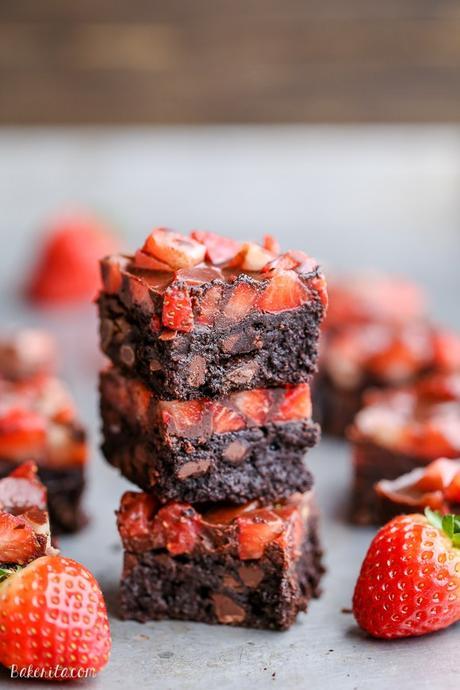 The brownie recipe uses only 1/2 cup of almond flour and it's sweetened with coconut sugar. As for that gorgeous chocolate strawberry topping? Diced fresh strawberries are sprinkled over the baked brownies and topped with a mixture of coconut oil, cocoa powder, and maple syrup that firms up to create a deliciously smooth chocolate layer.
You've got to try these chocolate covered strawberry brownies – they're so fudgy, and the freshness of the strawberries is the perfect thing to cut through the richness of the chocolate. You won't believe these are gluten-free, refined sugar-free, and Paleo – promise! Enjoy :)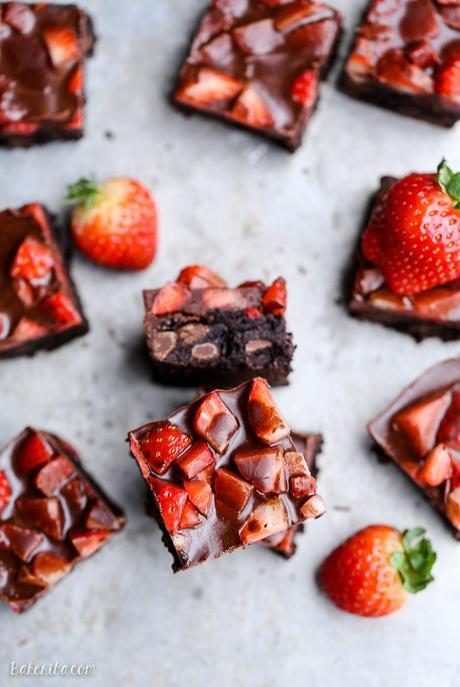 Remember to #bakerita if you try the recipe!
Chocolate Covered Strawberry Brownies (Paleo)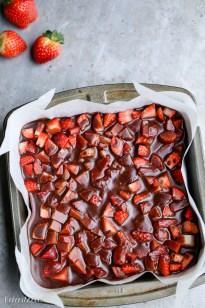 Save
Print
Prep time 15 mins Cook time 25 mins Total time 40 mins   Author:
Rachel Conners
Serves:
16 brownies
Ingredients
½ cup + 2 tablespoons (4.5 oz, or 130g) coconut oil
1¼ cups coconut sugar
¾ cups plus 2 tablespoons unsweetened cocoa powder (2.5 oz, or 70g)
¼ teaspoon salt
1 teaspoon vanilla extract
2 large eggs
½ cup almond flour (2 oz.)
1 cup dark chocolate chunks (optional)
For the chocolate topping
1 cup fresh strawberries, diced
⅓ cup coconut oil
⅓ cup cocoa powder
2 tablespoons maple syrup
Directions
Preheat oven to 325ºF. Line an 8-by-8-inch baking pan with aluminum foil leaving overhang on the sides, spray with cooking spray; set pan aside.
In a large microwave-safe bowl, combine coconut oil, coconut sugar, cocoa powder, salt, and heat on high power to melt, about 45 seconds. Stop to stir, and heat in 10-second bursts until mixture has melted and can be stirred smooth (mine took 45 seconds + 15 seconds). Batter will be granular.
Add the vanilla, eggs, and stir vigorously until batter is thick, shiny, and well blended. Add the almond flour and stir until combined. Pour the batter into the prepared pan and spread evenly.
Bake until a toothpick in the center emerges slightly moist with batter, about 22-25 minutes. Check with a toothpick - it should come out with moist crumbs attached. Don't over bake! Let brownies cool completely.
Spread the strawberries evenly over the brownies. In a small bowl, whisk together the coconut oil, cocoa powder, and maple syrup. Pour evenly over the strawberries. Refrigerate for at least 1 hours before cutting into 16 squares.
Brownies will keep in an airtight container in the refrigerator for up to 3 days.
3.4.3177

There's more where that came from!
Ultimate Gluten Free Fudge Brownies

Chocolate Strawberry Oatmeal (GF + Vegan)

Paleo Chocolate Chunks

Paleo Chocolate Chip Blondies

Raspberry Coconut Crumble Tart (Paleo, GF + Vegan)

Banana Cake with Chocolate Ganache (GF, Paleo)