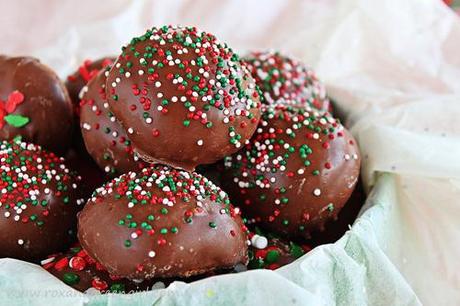 These chocolate cookies are the last ones from my bake sale cookie-thon. Leave the best for last, i may say.Well, all the cookies were a hit but if someone asked me which one was my favorite than these chocolate ones would have been my answer.What's not to love about them? The chocolate cookie dough which is irresistible on its own, the delicious chocolate cover or the joy the Christmas-y sprinkles bring.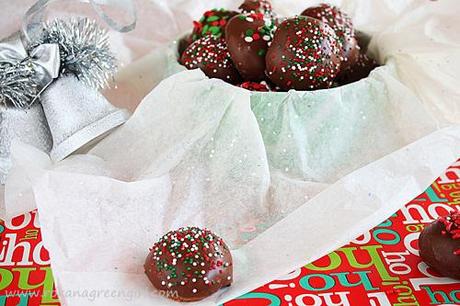 To make them it's pretty easy. After you make your dough you chill it for a while and then take pieces of dough, roll them into small balls, place them on baking sheets, chill again and bake.While in the oven the cookies crack like a crinkle cookie. you can roll it through powdered sugar just before baking if you prefer. I left them as they were since I wanted to cover them in chocolate.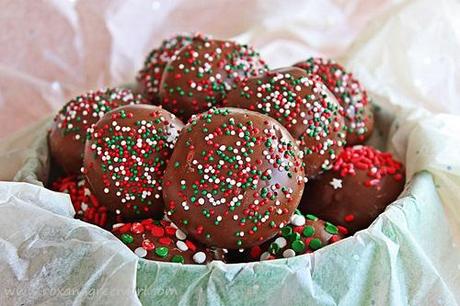 Chocolate covered cookies*recipe adapted from Taste of Home
Ingredients1 1/2 cups all purpose flour2 tsp. baking powder1/3 cocoapinch of salt 1/4 cold butter1/2 cup sugar1 tsp vanilla extract1 egg1 egg yolk~ 6 to 8 oz chocolate (optional)sprinkles, colored sugar for decorations (optional)
Directions
In your food processor add the flour, cocoa, salt, sugar and butter. Pulse a couple of times until it resembles crumbs.Put the mixture into a bowl, make a well in the middle and add the vanilla extract and the eggs lightly beaten. With a spoon or a spatula slowly incorporate the flour with the eggs kneading a few seconds until the dough it's easily shaped into a ball.Wrap it in plastic foil and chill it in the fridge for about 30 minutes.Take it out and start making the cookies by dividing the dough into small balls and place them on baking sheets. Makes about 2 1/2 to 3 dozens, depending on how small/big you making them.Place the baking sheets back in the fridge and chill for another 30 minutes (or in the freezer for about 10 minutes)Meanwhile heat the oven to 425F.Bake the cookies for about 10-12 minutes until lightly cracked and soft to the touch. Let them cool completely on cooling racks.
To cover them in chocolate, melt the chocolate and one by one dip the top of the cooking in it. Place them again on the cooling racks and decorate with the sprinkles.
Enjoy!