I love every email I receive from you! May them be about a recipe I shared and you want to thank me or not for it, or to explain you better the directions or just to say Hi. I love all of them!
The other day I received a different email. One of you wanted to make my Hawaiian coconut milk but somehow could not find the recipe. I looked around, and looked again just to realize when I moved from Blogger to WordPress 3 recipes didn't make the more.
One of them being the Pani Popo rolls.
I could have easily just copy/paste it from my Blogger account, but since I love these coconut buns I decided to make some and take new photos.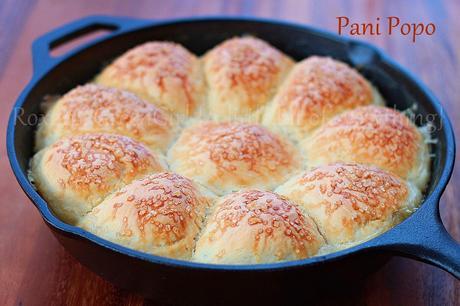 Pani popo are Hawaiian dinner rolls, baked in a pool of coconut milk.
I saw the recipe on my friend Dionne blog and since then I made them so many times I lost count.
These rolls also hold a special place in my heart, they were the first think I shared on my previous blog.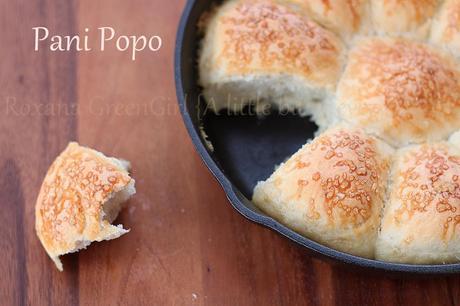 For the original recipe of these rolls you have to visit my friend Dionne's blog
Pani Popo
In my previous variation of these coconutty rolls i used dairy milk and butter. This time I made them dairy-free and since they were egg-free to begin with, now they are vegan dinner rolls.
They are so soft and fluffy you could hardly say so!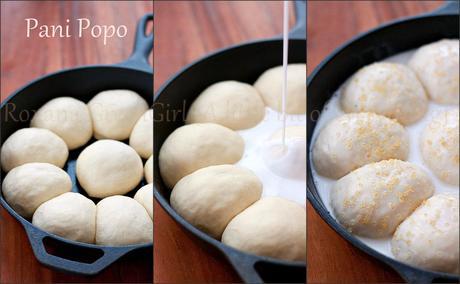 Print Pani Popo
Ingredients
3 Cups All purpose flour (360grams)
1 1/2 tsp yeast (~4-5 grams)
1/4 cup lukewarm water
pinch of salt
1 tbsp grapeseed oil (15 ml)
1 can coconut milk (400 ml)
1/4 to 1/3 sugar - depending how sweet you like it
Instructions
In a mixing bowl, sift the flour, make a well in the middle, pour the lukewarm water and sprinkle the yeast on top. Leave a couple of minutes (about 5) until the yeast is dissolved and bubbles appear.
Add the oil and a pinch of salt and with the dough hook on start mixing slowing adding coconut milk until the dough comes clean from the sides of the bowl.
I measured mine and I used 3/4 cup plus almost 2 tbsp or 205 ml which is just few drops more than half can of coconut milk.
Leave the dough in a oily bowl, covered, to rest until doubled in volume.
When risen, divide it in 9-10 balls and place them in a baking pan or skillet (like me).
Cover again and let it rest until almost double in volume.
Meanwhile heat the oven to 375F and mix the rest of the coconut milk with the sugar.
Pour over the rolls, sprinkle some raw sugar on top (optional) and bake for about 40 minutes or until golden brown and the coconut milk is absorbed.
Serve warm or cold
Google Recipe View Microformatting by ZipList Recipe Plugin1.4http://www.roxanashomebaking.com/pani-popo-2/ © A little bit of everything, All Rights Reserved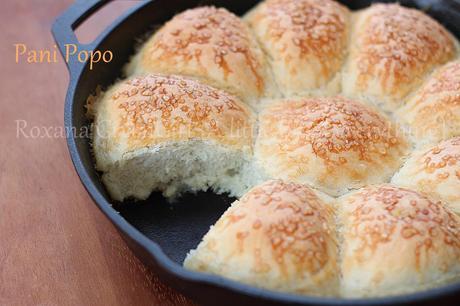 Sending love your way,
Roxana
Linking this post to Susan's wonderful round-up of yeast breads Yeastspotting