Recipe Number Two Hundred & Five:  Page 374.
This recipe sounded interesting with such a variety of flavours. The accompanying photograph made my mouth water but I was left distraught when I glanced through the list of ingredients. I wouldn't be able to eat it! There are raw eggs in the recipe so, due to my pregnancy, I would have to stay clear. I just hoped that Neil would like this cheesecake as it was all his!
Usually I bake at lunchtime. However, on this occasion it wouldn't be possible. My 20 week scan was booked for early afternoon. Neil had taken time off work so that we could all go along together. It was wonderful to see our baby for the second time; it looked very comfy curled up in a little ball! We found out that we have another little boy on the way and we're delighted with the news. I love the idea of two little brothers crashing their cars together and playing football in the garden. Lots of fun times lie ahead.
After the scan we took a trip around the supermarket. For some reason, even when I make an attempt to be organised and bring a list, it still takes an eternity to reach the cash till. As we were busy packing the bags, Isaac managed to dig into the trolley and pull out a box of a dozen eggs. By the time we realised what the little monkey was up to, all the eggs were on the floor and of course all had broken. Neil and I apologised profusely to the lady who came to clear up. I felt annoyed when she muttered that eggs shouldn't be given to children to hold. I may look dim but I am not THAT stupid!!
I was determined to make the cheesecake on our return home. After a reviving mug of tea I was ready for action. The biscuit base needed to be made first of all. I retrieved a saucepan from the cupboard and threw in the butter. While it melted I eagerly opened the packet of ginger biscuits. I only required half the packet, so this left plenty for me to nibble on while I worked. I had forgotten how rock hard ginger biscuits are. They were reluctant to turn into crumbs. I visualised the rude woman at the supermarket as I attacked the biscuits with a rolling pin. This helped to keep the momentum going! Once I'd finally reached the crumb stage I could tip them into the melted butter along with a helping of Demerara sugar. After a quick mix it was ready to be pressed into the awaiting cake tin.
While the base set I could get on and make the cheesecake topping. I really enjoyed the first part as it involved chocolate! I broke the chocolate up into small pieces and placed them into a bowl set over a pan of simmering water to melt. There were a few pieces left over. Instead of saving for a later date I scoffed the remainder. I just couldn't ignore its pitiful "eat me" calls! With sugar flowing through my veins, I happily trotted to the cupboard and gathered up the box of gelatine. I just needed to measure a small amount of cold water into a bowl then sprinkle a little powdered gelatine over the surface. Almost immediately it started to 'sponge', but I was instructed to leave it for ten minutes. I felt forced to sit down and eat another biscuit - or perhaps it was two?!
After the gelatine had set it seemed a strange notion then to place it over a pan of simmering water and wait for it to dissolve! Once this had been achieved I left it to cool whist I moved on to separating the eggs. The yolks went straight into my large mixing bowl while the whites were put to one side to be used later. To the egg yolks I added a modest amount of caster sugar followed by a surprisingly small quantity of cream cheese. As I whisked the three ingredients together I wondered if there would be enough mixture to cover the biscuit base. Things were topped up a little by the addition of the soured cream and melted chocolate. The chocolate made the mixture suddenly very tempting. However, my thoughts soon changed after pouring in the liquid gelatine. Now it wasn't so appealing!
The egg whites were of course not to be forgotten. I was instructed to whisk them until frothy. After folding in the moussey whites it was finally time to add in the last few ingredients. I felt as though I was adding a little bit of this and a little bit of that. There seemed to be a real mixture of ingredients in this recipe! Mary says to use four tablespoonfuls of brandy. This sounded like an awful lot for a relatively small cheesecake and Neil isn't a fan of spirits! When measuring it I was a little more sparing so I suspect I ended up using closer to three tablespoonfuls.
I had anticipated grating my piece of fresh ginger, so I felt a little apprehensive about simply chopping it finely. I had visions of Neil spitting out his cheesecake and gasping for water. I could only hope that I'd managed to chop it finely enough!! Once the brandy and ginger had been folded in I could pour the cheesecake over the biscuit base and cram it into our fit to burst fridge.
For the decoration Mary says to cover the cheesecake with a thin layer of whipped double cream before adding a layer of chocolate caraque. She describes how to make this in the decoration section of the book. I melted a little chocolate and then spread it over a smooth surface. Once set I was to use a sharp knife to cut pretty scrolls of chocolate. This did not work as easily as Mary suggests. In fact it didn't work at all! I ended up with just a few unsightly lumps to which I added some finely grated chocolate. It didn't look as good as Mary's but it would have to do. For the final finishing touch I dotted over some thin slices of stem ginger.
Neil thought HIS cheesecake looked very inviting and he was eager to start his taste testing duties. Two slices were quickly eaten so think I can take this as being a good sign! He said it was rich, chocolatey and the brandy gave it a real kick. The whipped cream was a welcome addition as it helped to calm the strong flavours and made the cheesecake even more rich and creamy.
This recipe did take longer than some of Mary's simpler cheesecakes but it wasn't difficult to make. I really like the idea of combining chocolate and ginger together. The use of brandy is perhaps a little daring. Neil said he would have preferred it without, but if you like brandy you'll no doubt really enjoy this cheesecake. It's all about personal taste! I felt sad not to be able to enjoy a slice, but I managed to console myself with another biscuit!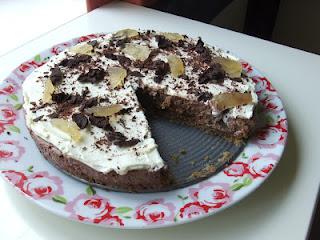 Wish I could of tried some!!