When you've got the sniffles, is there anything better than a steaming bowl of chicken noodle soup? They say it has healing properties… I'm inclined to agree!

I adore the chinese version; I could devour a whole pot on my own!
This is one of those dishes I've wanted to make for a good while, but never got round to until last week. Looking for a nice recipe, I was annoyed to see they all had pak choi/carrots/red chilli in them. That's not right! I wanted the kind you get from a takeaway (or certain buffet restaurant), with a clear broth, thin noodles and delicate strips of chicken, decorated with tiny slices of spring onion.
It may not be authentic, but it's tasty!
So, tasting it in my head, I came up with this: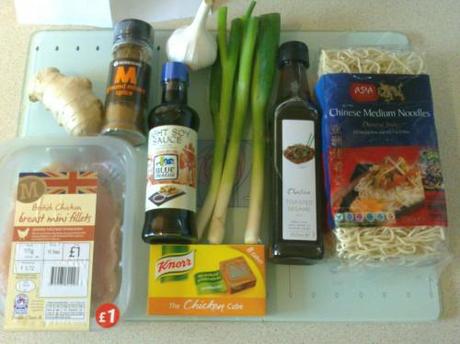 Ingredients (Serves 4):
2 tbsp sesame oil
3 cloves garlic, minced
1 tbsp fresh ginger, grated
2 tbsp chinese five spice (or ground mixed spice)
175g chicken (I used breast mini fillet; you can use any type you like)
1.5ltr chicken stock (3 stock cubes)
3 tbsp light soy sauce
3 spring onions, thinly sliced
200g chinese style noodles (medium, thread, rice, your choice…)
First, I fried the garlic, ginger and ground mixed spice in the sesame oil for a few minutes.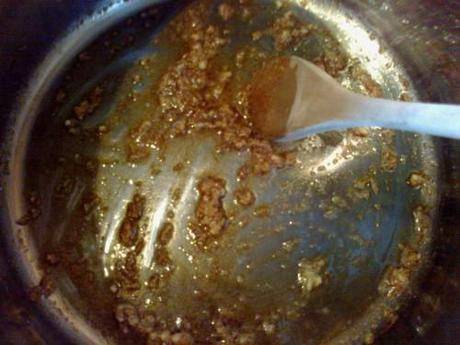 I then added the stock and chicken mini fillets, poaching it for 20 minutes.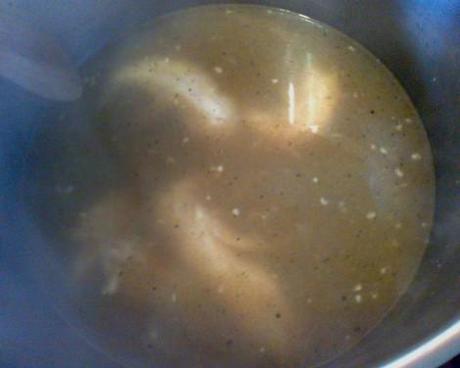 I took the chicken out and shredded into thin strips.
Check your noodle packet instructions (you might be able to plonk yours straight in), but I soaked mines in boiled water for a few minutes, rinsed with cold water, then added to the soup pot, along with the soy sauce, spring onion and the shredded chicken.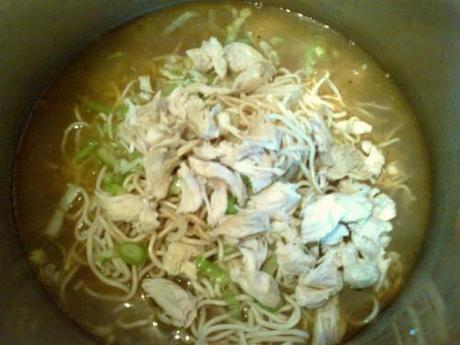 After five more minutes of simmering, it was good to go. Mmmm….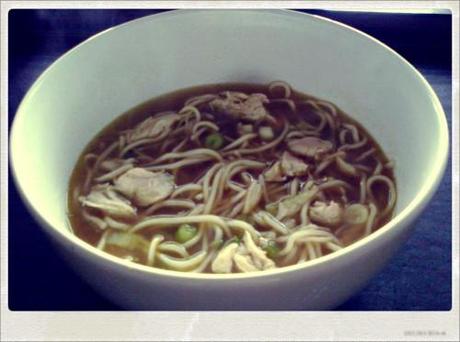 I admit, I was very chuffed with myself over this one. Definitely a keeper!
What's your favorite soup recipes? I'm always on the lookout for new soups!
Take Care

x