Many questioned the wisdom of Ukrainian President Viktor Yanukovich's trip to Bejing at a time when his country was literally imploding but the scrappy political fighter may have pulled a rabbit out of the hat. a Chinese rabbit at that.
In deals signed today China will begin investing in Ukraine, pledging at least eight Billion in USD for the beleaguered nation.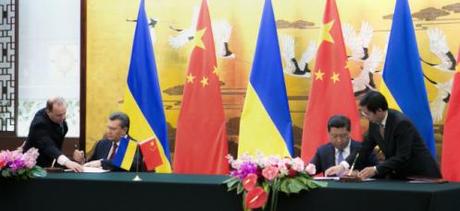 President of Ukraine Viktor Yanukovych (l) and President of China Xi Jinping (r) sign agreements in Bejing.
President Yanukovych said that President Xi Jinping will plan a visit to Ukraine to monitor the progress of the joint investment projects. "Certainly, we will prepare for this visit. We will creat a special program and a joint report of the Intergovernmental Commission that will monitor the implementation of these projects," said Mr. Yanukovich.
The bulk of the initial projects are to be concentrated on Ukraine's infrastructure with construction of power plants, modernization of Ukrainian mines, joint manufacturing of cars, construction of modern elevators and establishment of modern telecommunication networks.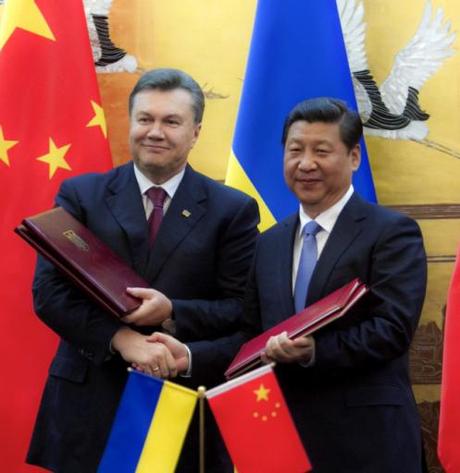 Ukraine and Chinese presidents ink deals in Bejing.
President Yanukovich also met with the Chairman of the NPC Standing Committee, Zhang Dejiang, who thanked Mr. Yanukovych for working to maintain Ukrainian-Chinese ties. Mr. Yanukovich has also met with the Chinese Vice Premier, Ma Kia.
While in Bejing Mr. Yanukovich attended the opening of an Internet radio station which will broadcast in the Ukrainian language across China. Media and Internet are tightly controlled in China but officials were quick to say that Ukrainian is the 50th language to be approved for broadcast in China.
Things remain tense while Mr. Yanukovich is away and today violent street protests with equally violent police responses continued across Ukraine and especially in the capital of Kyiv (Kiev).