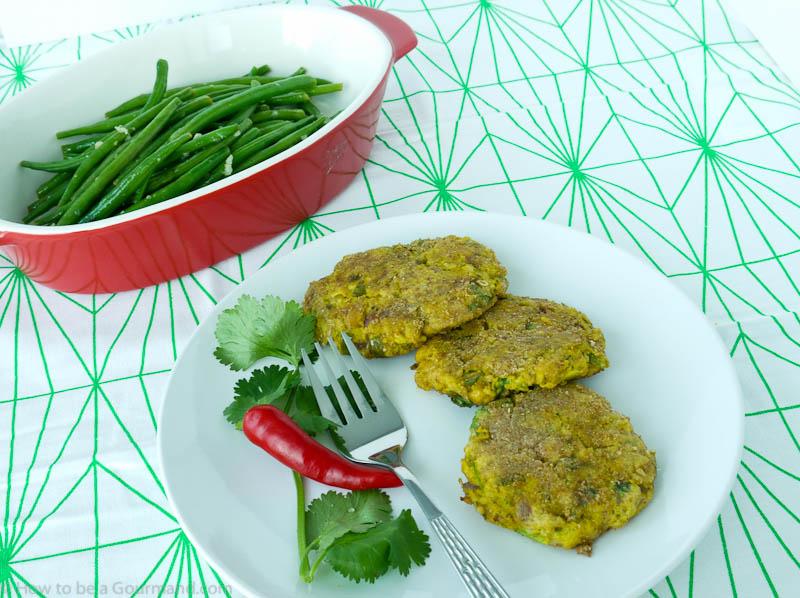 Chilli, Coriander and Chickpea Patties
It seems like a long time since I have posted an entry on the blog. Maybe I have just being enjoying the sunshine a bit too much of late. The days filled with sun have been few and far between here so I am making the most of it while I can before it retreats back behind the layer of clouds and the rainy season commences.
This week I wanted to make something with chickpeas. I love hummus but other dishes with chickpeas I've tried have been rather nondescript. I think it is the texture. The first couple of mouthfuls of whole chickpeas are fine but after that, well, they become rather boring for want of a better word. So I thought if I like hummus, it must be texture related. Apparently it is National Coriander Week  so I decided to use one of my favorite herbs with this dish. The texture of chickpeas is semi crushed so you get part smooth and part crunchy with these patties. The flavor is enhanced with the use of ground coriander, tumeric and cumin to add a Middle Eastern touch to the dish. They are certainly not the prettiest patties, but serve it with green beans dressed in lemon, garlic and olive oil and you have a tasty lunch.
The recipe has been adapted from Delia Online.
Print Chilli, Coriander and Chickpea Patties
Prep Time: 25 minutes
Cook Time: 15 minutes
Total Time: 30 minutes
Yield: Makes 12 patties
A nice way of using up a good store cupboard ingredient; chickpeas
Ingredients
1 tin of chickpeas (240g), washed and drained
2 red chillies, finely chopped
20g of fresh coriander, roughly chopped
1 tsp of ground coriander
1 tsp of cumin
1 tsp of turmeric
1 small red onion, finely chopped
1 green pepper, de-seeded and finely chopped
2 large garlic cloves, pressed
3 tbsp of Greek yoghurt
3 tbsp of lemon juice
30g of butter
Salt and pepper for seasoning
For frying:
1 large egg, beaten
3 tbsp of wholemeal flour
3 tbsp of vegetable oil
Instructions
Place the butter in a saucepan and fry the onion, green pepper, garlic and chillies until they have softened.
Stir in the turmeric, cumin and ground coriander and continue to cook for a further 30 seconds.
Place the chickpeas into a food processor with the freshly chopped coriander and process until everything has been chopped, but has not yet reached a purée. The chickpeas should still have some of their texture.
Transfer to a bowl and stir in the softened onion, pepper, spices, Greek yoghurt and the lemon juice. Give it a good mix, taste, and add plenty of seasoning.
Shape 12 patties out of the mixture. They should be about 2 inches wide and ½ inch thick.
Place in the fridge for 10 minutes so that the patties firm up and are easier to coat.
Hold firmly and coat each one first with beaten egg then sprinkle with wholemeal flour.
Heat the oil in a frying pan on a high heat and when it's really hot, fry the patties in three batches to a golden brown colour, about 1 minute on each side.
Drain well on kitchen paper and serve with parboiled green beans sautéed in olive oil, garlic and lemon juice.
Notes
For best results put the patties in the fridge so that they hold firm when coating with egg and flour.
Schema/Recipe SEO Data Markup by
ZipList Recipe Plugin
2.2http://howtobeagourmand.com/chilli-coriander-and-chickpea-patties/Unless otherwise stated, text and photographs © 2011 How to be Gourmand. All Rights Reserved. Kindly request permission from the author to copy or reproduce elements of this blog.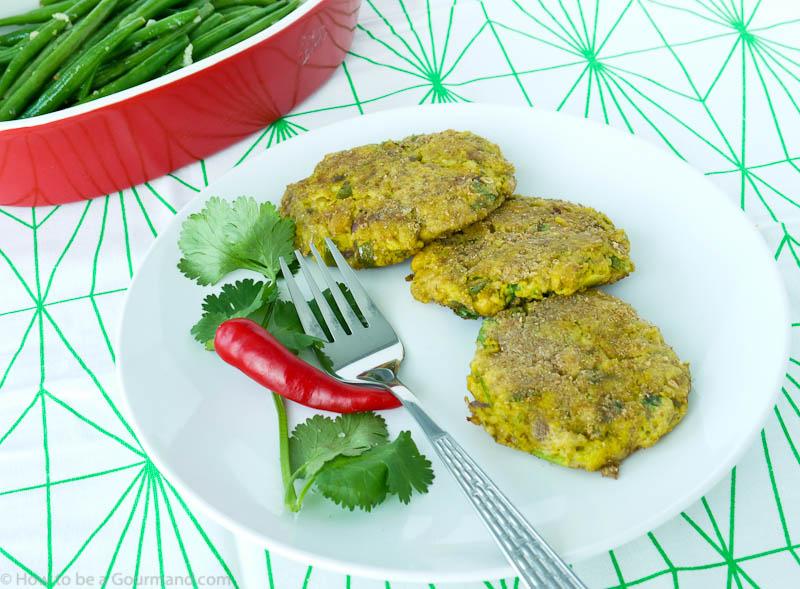 National Coriander Week
How do you like your chickpeas? I'd love to know in the comments below!