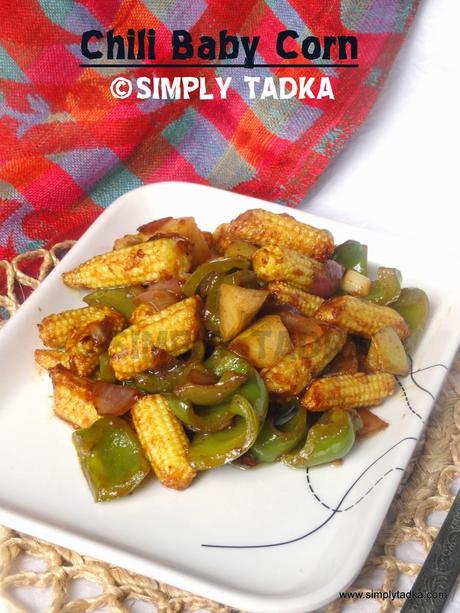 As I'm big lover of Chinese recipes, this time I tried Chilli Baby Corn. It's really fantastic recipe which you can serve as main course or starter in both form.
Chilli baby corn is spicy and crunchy appetizer which prepared with baby corn stir fried in medley of onion, peppers and sauces.  
Preparation Time: 20 Minutes
Cooking Time: 15 Minutes
Servings: 4
Category: Chinese Food
Ingredients:
20 Baby Corns, Chopped
2 Capsicums, Diced
2 Onions, Diced
1 Pear, Diced
1 Tsp. Green Chili and Ginger Paste
1 1/2 Tsp. Soya Sauce
1 Tbsp. Chili Sauce
1/2 Tsp. Ajinomoto
Salt to Taste
Black pepper to taste
2 Tbsp. Oil
2 Tbsp. Corn flour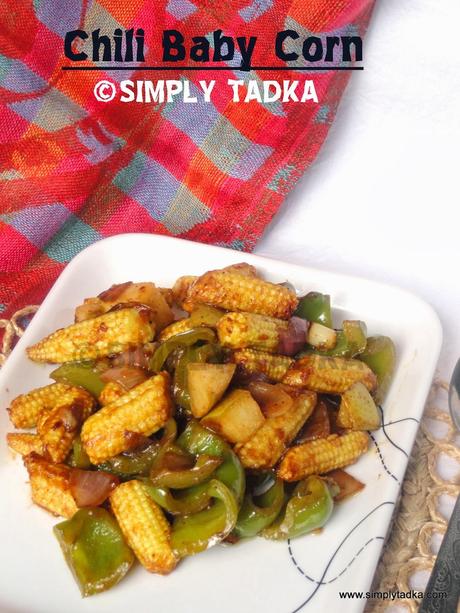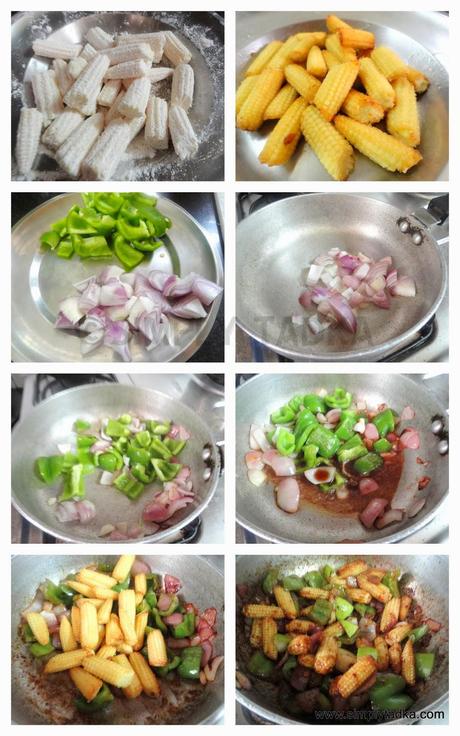 Instructions:
Chop the baby corns and toss with corn flour and salt.
Heat the sufficient oil and fry them until to golden on medium flame. Drain and keep aside.
Heat the oil in non-stick pan and sauté onion until to translucent.
Add chopped capsicum and ginger paste until cook and crunchy.
Dissolve the both sauces in ¼ cup of water.
Add sauce mixture and baby corns. Cook for 2 minutes.
Add salt, ajinomoto, black pepper and mix well.
Add chopped pears and sauté for 2 minutes.
Serve hot chili baby corns with chili sauce.
Note:
You can use pineapple slices or cherries instead of pear.
Share with "Let's Brunch on Sundays" Hosted by  Priya and Veena.
Enter your email address:
Delivered by
FeedBurner