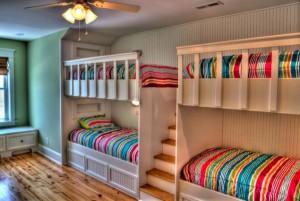 When attempting to create a soporific, playful and practical children's bedroom, a little bit of forethought can go a long way. Children's bedrooms are all too often put together poorly, without any consideration for maximising space or even for creating a bedroom that complements the child's personality.
However, with only a small amount of consideration, and perhaps more importantly, at minimal cost, you can create a unique space which is full of character and excites their imaginations. Here are a few top tips:
Colour schemes
Try turning the clock back to when you were young and you'll remember just how enthralled you were by even the simplest object. Between the ages of five and ten a child's imagination is at its most active and can be fired off by anything and everything that surrounds them. This is also the same age that children will start to show an interest in and begin to appreciate their own space.
When determining a colour scheme don't worry too much about the practicalities; yes the colour scheme throughout the rest of the house maybe cream or lavender or something similarly nondescript, but a child's bedroom should be bright and lively. One idea is to use something your child particularly likes as inspiration, whether that's a cartoon character, an animal or a sport. Use the primary colour associated with this object as the focal point for the room.
The bed
Although it might not seem like it sometimes, the primary purpose of a child's bedroom is for sleeping. It's impossible to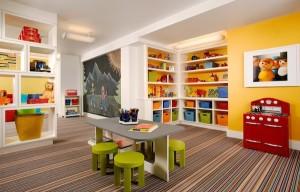 overstate the part a good night's sleep plays in a child's development, and it's not just the amount of sleep, it's also the quality. When buying children's beds you get what you pay for. A well built, supportive and comfortable bed may cost a little more than you wished to spend, but in terms of your child's physical and mental wellbeing, as well as their behaviour, it is an investment we think is well worth the money.

If space is of the essence then compact bunk beds are an excellent method of optimising space in a shared room. There are also plenty of beds which can add plenty personality to a room, such as cabin beds, high sleepers and sleepover trundles, which provide the perfect solution when your child is entertaining.

Storage, furniture and accessories

In a room where fun and clutter cohabit, storage is essential to ensure a certain amount of order exists amidst the chaos. Storage boxes which slide under the child's bed are an excellent space saving method and keep all those toys out of sight, whilst allowing easy access when it's time for play. Totes are another excellent option which can be stacked high rather than sprawling out across the bedroom.

In terms of furniture and accessories, your options are limitless. Beanbags provide a comfortable spot for lounging and can withstand some pretty severe treatment without marking or being damaged. A desk for reading, writing, drawing and homework is a great idea to promote the coexistence of work and play and is perfectly suited a quiet corner of the room.

Despite its relatively low cost, the right lighting can make a huge amount of difference to the look and feel of a room. Lighting options include wall lights, coloured bulbs and bedside lamps. The right combination of lighting solutions can help to bring even a relatively sleepy child's bedroom to life.

Author: ASPACE is a specialist retailer of everything you need for the perfect children's bedroom. From mattresses and storage solutions to compact bunk beds to optimise space, every product is exclusive to ASPACE and is made to the most exacting standards.