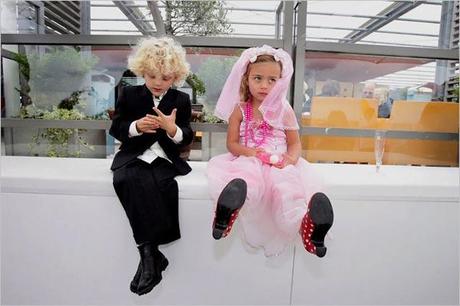 A lot of "ink" has been spilled on the question of whether or not children should be invited to the wedding. It is a hard and fast rule that … it depends. If you like children and like the idea of them being at your wedding, you should invite them. If you want a more formal atmosphere, you shouldn't. But, even if you're having children at your wedding, should they be in it?
Again, the answer is … it depends. If you choose to invite children to your wedding, parents can decide for themselves if the venue and timing is appropriate. But, if you invite a child to be in your wedding, the parents will be hard-pressed to say  no, so you need to be a little more aware of what you're asking. Before deciding whether or not to have children in general, or a specific child in your wedding you need to think about these five things:
1. Time of Day – You probably know that young children go to bed early, but do you know that children as old as 5 sometimes take naps? Did you know that children as old as 10 may be able to stay awake for a late wedding, but may get unbelievably and unhelpfully grumpy? If getting ready for your wedding is an all day affair that requires the child to sit still in fancy dress for hours on end, posing for pictures, etc. you may want to rethink it. If your wedding is a nighttime thing that starts at 8, you may also want to rethink it.
2. Your Church – Believe it or not, some churches have rules about how old the children need to be to be in the wedding. This is because many churches consider a wedding a solemn occasion and think a child being pulled in a wagon down the aisle is cute, but inappropriate. Before asking any child to be in your wedding, check with your officiant about the rules.
3. Family Dynamics – Let's say you and your fiance(e) both have nieces about the same age. Can you ask one to be a flower girl and not the other? Probably not. What if you have multiple nieces and nephews? As hard as it is for some fully-grown women to learn that they aren't a bridesmaid imagine that feeling for an eight year old girl. Unless you want your wedding party to look like the cast of Annie, you may have to go without having children.
4. Control – Ask any parent or teacher, children are unpredictable. If you want your wedding to go like clockwork and no surprises, do not involve children.
5. The Child - Being a flower girl at the age of 6 was the apex of my daughter's life, she still talks about it 4 years later. Being a ring bearer at the age of 4 in the same wedding was the nadir of my son's life, he still complains about it 4 years later. I'm still apologizing for his refusal to actually walk down the aisle 4 years later as well. Think about the children involved and their personalities, then ask the parents first.