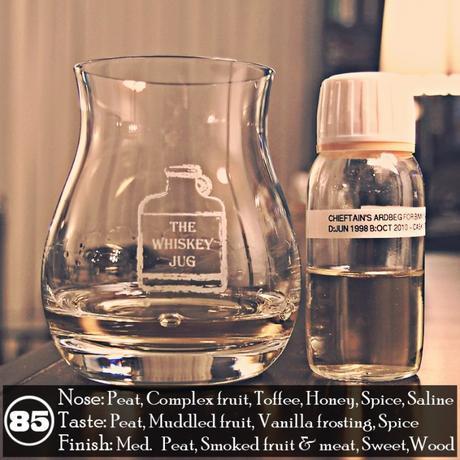 The Chieftains 1998 Ardbeg 12 Year Old is a single cask, cask strength bottling of a 12 year old Ardbeg that was aged in a 2nd re-fill sherry cask. I didn't get much sherry out of it, but there were some dark fruity notes that can often come from that kind of a cask. No big heavy sherry notes here, just a nice bit of sweetness.
As I'm trying all of these 3rd party bottlings of Ardbeg now for Ardbeg April, I can't help but realize something incredibly interesting about them. Which is that they are almost never as good as what Ardbeg bottles on their own. This is the complete opposite experience I have with Bowmore. I dislike most of the Bowmore core range, but love so many of the single casks I try from independent bottlers. Makes me think that Ardbeg is keeping the cherry barrels for themselves, while Bowmore is letting theirs roll out the door.
Chieftains 1998 Ardbeg 12 Year Old Review
Distiller: Ardbeg
Age: 12 years
ABV: 56%
Price: $150+
Non-Chill Filtered
Natural Color
Cask Strength
Cask: 1797
Distilled: June 1998
Bottled: October 2010
EYE
Apple juice
NOSE
Peat, tropical and orchard fruit, toffee, honey and spice. It's a nice aroma that picks up some added complexity from some light notes of saline and cherry pie.
PALATE
Peat, muddled fruit, vanilla frosting and a spicy herbalness glide across the palate followed by some light notes of wood and a tart creamy citrus.
FINISH
Medium fade of peat, smoked fruit and smoked meat that ends in a sweet and lightly woody.
BALANCE, BODY & FEEL
Nose is light compared to the palate but nothing is throwing this too far off balance. Medium body with a warm silken texture.
OVERALL
Chieftains 1998 Ardbeg 12 Year Old is an ok whisky. I definitely don't hate it, far from it, but it wasn't the best selection. It's missing some of that signature Ardbeg warmth, character and depth that I love and it ends up feeling a tad cold and shallow. Still, it's far from horrible, so cheers to that!
SCORE: 85/100