I had a Canned box of Chickpeas at home but was lazy to make Chole ( That was the only thing I had tried making out of Chickpeas) .Although Chole is my favorite I wanted to try something new this time so thought of making a Chickpeas Raita which I had at a friends place.It is simple yet tasty and can be prepared in 5 minutes.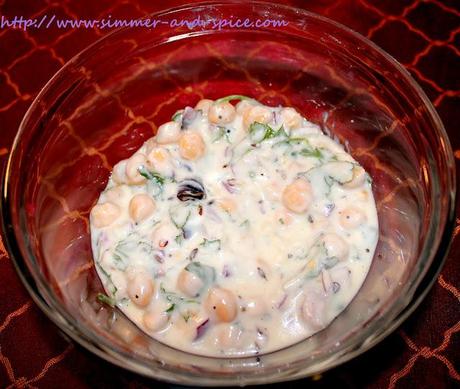 Recipe Details :-
Ingredients :-
1 1/2 cup of Boiled chickpeas

1 tsp  fennel seeds

1 tsp mustard seeds

1 tsp cumin seeds

1 whole red pepper ( Indian red dry chili)

1/2 tbsp of oil

1 tbsp of lime juice

3/4th cup of yogurt

2 tbsp of mint chopped mint leaves

2 tbsp of finely chopped cilantro

salt as per taste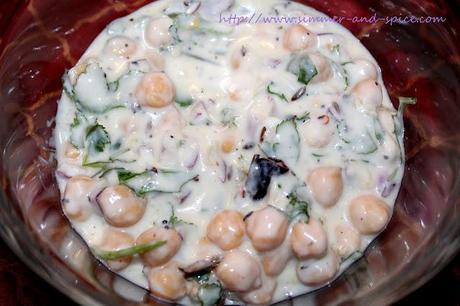 Method :-
Take a pan , add oil to it, once warm add fennel seeds, cumin seeds, mustard seeds and  finely chopped red whole pepper. Cook for about 2 minutes.

In a bowl add boiled chickpeas ( You can either use the canned ones or take chickpeas and soak it over night ( 8-10 hrs ) and boil it ) and add this spice oil mixture to it.Mix well.

Now add yogurt along with cilantro, mint leaves, lime juice and salt.Mix it well.

Our Chickpeas raita is ready. 
 Linking this recipe to Cooking with chickpeas food event and Priya's announcement page