You know how every time it's been more than a few days since I've posted, I always apologize profusely and go on about how busy I've been?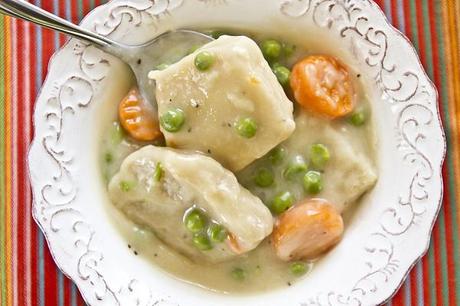 Yeah, trying to get out of that habit. But I HAVE been busy, and I AM sorry that the first thing to get trimmed when I'm short on time is blog upkeep. If my life goes the way I am expecting it to, given recent events, I will probably only get busier and busier. I might have to actually learn effective time management. God forbid!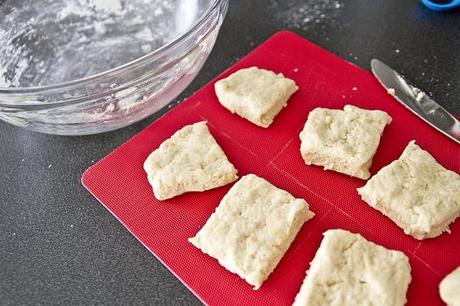 When I get busy and stressed, it only leads to one thing: constant, insatiable cravings for comfort food. And since I've been on such a great real-meal-making kick recently, I decided to get a little ambitious.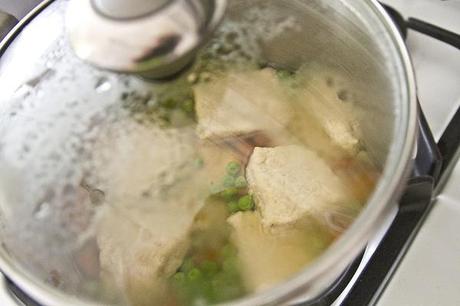 Growing up, I was actually the exact opposite of a fan of chicken and dumplings — or, more specifically, the chicken aspect thereof. I was known to order them at Cracker Barrel and then eat the dumplings out, much in the same way I would slurp the noodles out of chicken noodle soup or eat the tortilla off of a beef soft taco.
I have never really outgrown this.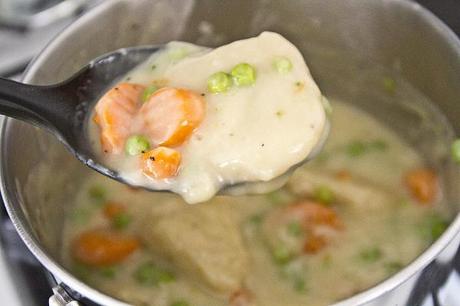 As an unreasonably finicky eater, I find that one of my favorite things about cooking for myself is exercising complete control over everything that goes into my meals. No more eating around onion bits or tomato chunks, no more prying pickles and scraping mayonnaise off of sandwiches, and best of all, no more spitting out gross, gristly pieces of chicken.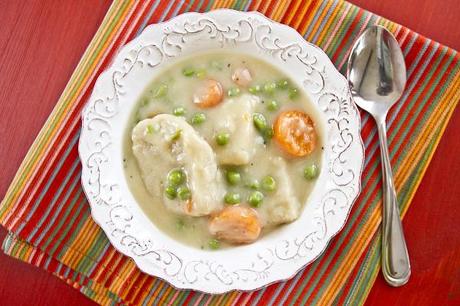 These dumplings are pure and undefiled by any semblance of chicken-ness. They're also a lot healthier than other recipes that call for butter, heavy cream, and cans of condensed soup. So go grab some of your favorite vegetables and let's get cooking. These are YOUR dumplings — why should you have to pick around anything?
ingredients
for the roux
2 c your choice of fresh or frozen vegetables (I used peas & carrots)
2 c vegetable broth
1 c water
1/2 c flour
salt and pepper to taste
for the dumplings
1 c flour
2 tbsp cold margarine or shortening
1/2 tsp baking powder
1/4 tsp salt
1/3 c soy or almond milk
directions
1. Pour veggie broth into a medium pot and bring to a boil. While waiting for the broth to heat up, make your dumplings! Whisk together flour, baking powder, and salt in a medium bowl. Cut in margarine or shortening until crumbly. Add soy or almond milk and stir to form a thick dough. You may need to take it out and work it with your hands.
2. Transfer dough to a nonstick surface and press flat, about 1/4″ thick. Cut into squares and gently drop dumplings into the broth. Cover and reduce heat to medium-low. Simmer for 10-15 minutes.
3. Add your vegetables, cover, and continue to simmer for another 10 minutes, or until vegetables are cooked.
4. Remove from heat and use a slotted spoon to gently spoon dumplings and vegetables into a large, heat-proof bowl. In a small bowl, whisk together water and remaining flour and add to leftover broth. Return to heat and bring to a boil to form a thick roux, stirring constantly to avoid clumps.
5. Remove from heat and add vegetables and dumplings, gently stirring to coat. Add salt, pepper, or any additional seasoning to taste.