Hey friends! I have a really yummy recipe for you tonight. Max and I were ready for a legitimate meal after our weekend of travel and I knew exactly where to find something quick, easy and tasty…
The Real Simple Dinner in 15 iPhone App. I came home to my parent's fridge packed with smoked chicken. Dad had his industrial sized smoker running all weekend. So I put in chicken on the app and started skimming the recipes.
Chicken with Veggies and a Homemade Vinaigrette
I changed some of the ingredients from the original recipe so I wouldn't have to go to the store. My version was really really tasty.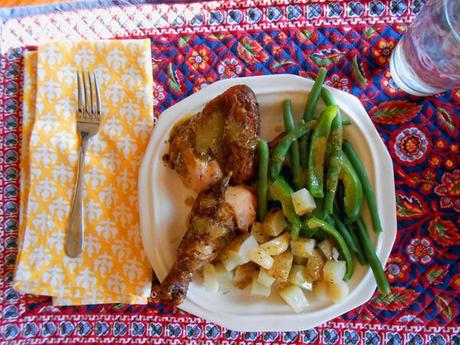 Serves: 2-3
Prep time: 10 minutes
Cook time: 10 minutes
Ingredients
2 potatoes
8oz green beans
3 TBSP evoo
2 tsp spicy brown mustard
1 TBSP red wine vinegar (I had a garlic infused one)
1/4 tsp salt
1/4 tsp pepper
1 rotisserie chicken ( I just chose the legs and a wing from our smoked chicken in the fridge)
1/2 can water chestnuts
1 bell pepper
Directions
Scrub and dice the potatoes. Cook the potatoes in a steamer basket set in simmering water. Cover and cook for 10 minutes
Wash and add the green beans to the steaming potatoes. Slice the bell pepper and water chestnuts. Add them to the steaming basket.
While the veggies steam, combine the extra virgin olive oil, vinegar, salt and pepper in a small bowl. Whisk together until combined.
If chicken isn't heated, heat in a microwave until hot. Mine took about 3 minutes.
Plate the chicken and split the veggies between plates. Drizzle vinaigrette dressing over veggies and chicken.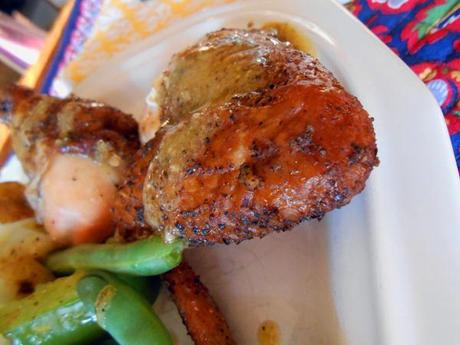 At first I didn't think the dressing would taste very good on the chicken but it was really delicious.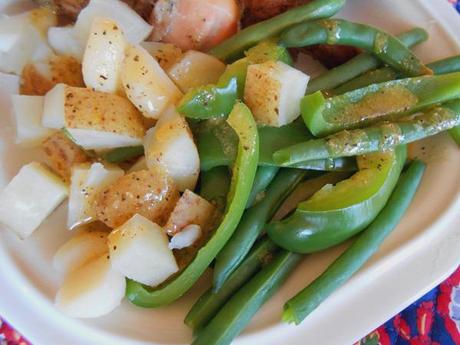 We cut our potatoes a little small, 1/2 inch-1 inch cubes. These steamed perfectly in the 10 minutes.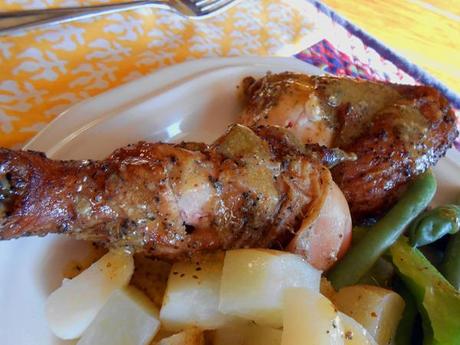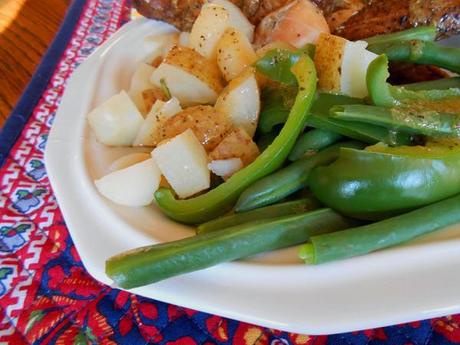 I hope you all had a great Memorial Day Weekend!!!