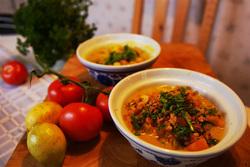 Toss these ingredients in the crock pot and cook all day on low, yummy!!!
Ingredients:
1 large bag of frozen chicken fajita strips
1 onion (finely chopped)
2 tsp chili poweder
1 (28oz) can crushed tomatoes
1 (10.5oz) can condensed chicken broth
1 1/4 cups water
                                                                   1 can whole kernel corn
                                                                   1 can white hominy
                                                                   1 (4oz) can chopped green chile peppers
                                                                   1 (15oz) can black beans, rinsed and drained
                                                                   1/4 cup dried cilantro (or fresh if you have the time)                           
 Toppers:  Crushed Tortilla chips
                 sour cream
                 shredded Monterey Jack cheese
                 sliced avocado
                 chopped green onion
Directions:  If cooking all day, put your crockpot on low and add all of the ingredients, mix well, and stir every hour.  Ready in 6 hours.  If cooking quicker, mix all ingredients and place on high for 4 hours, stirring at least every hour.
When ready to eat, grab your toppers and add. This is a favorite winter dish, super easy, and super yummy!
Enjoy.                           
---