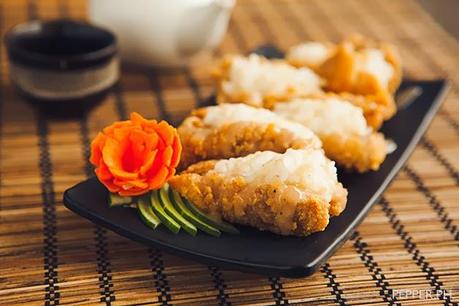 Ingredients:
2 kg chicken neck, washed in cold waster, drained and marinated in soy, calamansi and ground pepper for two hrs.1/4 cup finely minced ginger3 pc finely minced white onion2 pc laurel leaves3 pc chopped sili labuyo1/2 cup light soy sauce1/4 cup calamansi juice2 pc ripe mango fillet, sliced into strips, about 1/4 thick2 cups Japanese rice, cooked1/4 cup cane vinegar6 pc nori wrappera mixture of soy sauce, brown sugar, sesame oil, sesame seeds, calamansi juice for the sauce
Procedure:
Boil chicken neck in 2 L water, 1 pc of ginger pounded, 3 pc laurel leaves for 1 hr. When chicken is tender, take out skin and set aside. Pick chicken meat from the bone and set aside. In separate pan, fry chicken skin until crispy with little oil. Drain excess oil of chicken skin. Chop. Roughly add the chicken meat while chopping. Set aside.
Cook rice in 4 cups water in a rice-cooker. Transfer into bowl. Dissolve sugar into the vinegar. Add to rice while continuously stirring with a wooden spoon.
In a mixing bowl, combine chicken, calamansi juice, soy sauce, onion, ginger, chili, and white pepper. Season to taste.
Lay out nori wrapper on Japanese bamboo mat or aluminum foil. Lay out the rice evenly over the nori wrapper.
Scoop some chicken filling in the bottom part from the end and lay some mango strips on each side.
Gently roll and close the nori wrapper towards you.
Cut into four using a white palate, then serve with the sauce on the side.