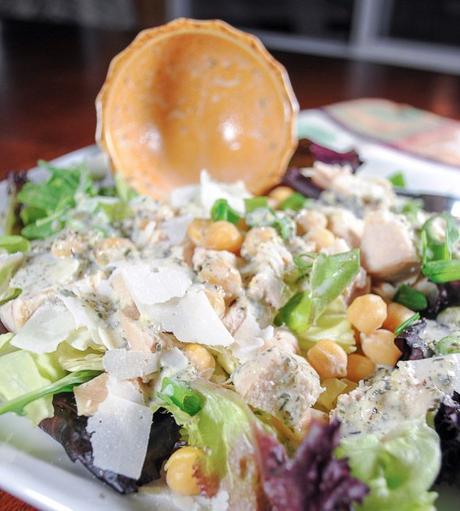 Thanks to a slenderized Italian dressing, this is a low calorie chicken salad recipe that packs flavor without a lot of fuss.

When it comes to salad dressing making (say that 10x fast!), I have two methods of whipping up a low calorie vinaigrette or dressing. One is to use my Magic Bullet, and the other is a leftover salsa jar with a lid.
A jar with a lid works perfectly for dressings that don't need chunky ingredients like fresh herbs or garlic to be well blended. If that's the case, then it's often the jar I'll grab from the pantry.
But if my Magic Bullet is already on the counter, I plug it in because it does a good job of making a creamier dressing.
(This isn't a sponsored post, I'm just a fan of the Magic Bullet.)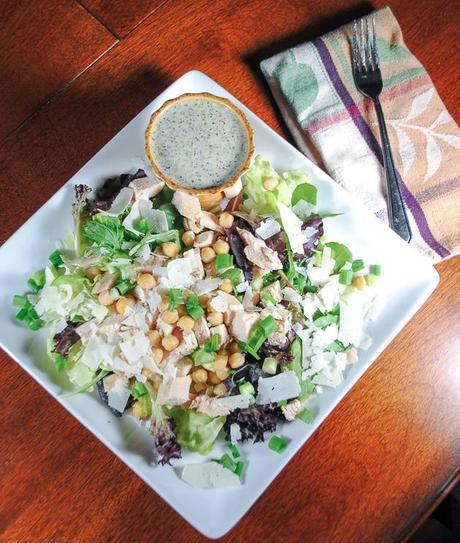 Slenderizing a vinaigrette is easy if you replace half the oil called for in a recipe with low sodium vegetable broth. The broth adds flavor without calories, and a dollop of Greek yogurt adds creaminess and tang.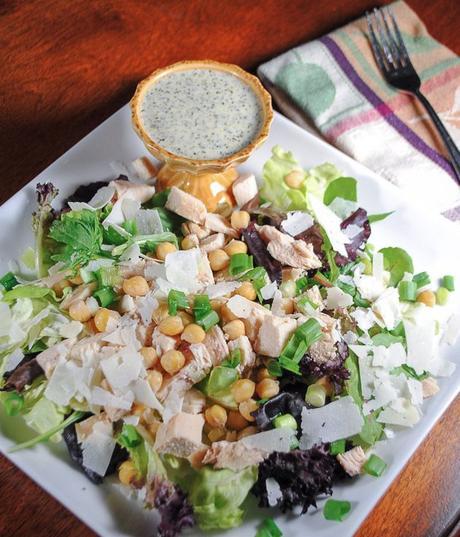 Italian seasonings work with almost any protein in a salad, wouldn't you agree? You can use leftover chicken, beef, pork or seafood, and they'll all taste great.
The only thing missing from this salad is a sprinkling of chopped tomatoes, but the tomato I had on hand turned out to be mushy, so it didn't make it to the table.
That's all for today folks! I'd love to hear your salad dressing tips, so be sure to leave a comment!
Chicken Salad with Chickpeas, Parmesan Cheese and a Lemony Italian Dressing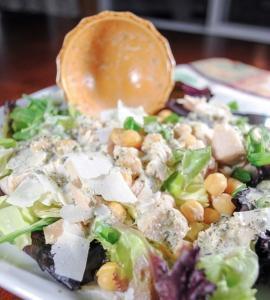 1 medium lemon, zested
½ medium lemon, juiced
½ teaspoon garlic, crushed
1 tablespoon dried Italian Seasoning
1 tablespoon olive oil
¼ cup low sodium vegetable broth
1 teaspoon Dijon Mustard
1 tablespoon low fat plain yogurt
⅛ teaspoon salt
1 ½ cups chicken breast , cooked and cubed
4 cups lettuce , leafy greens
½ cup green onion, sliced
½ cup chickpeas, cooked
½ cup Parmesan cheese, shaved
Combine lemon zest, lemon juice, garlic, Italian seasoning, olive oil, vegetable broth, Dijon mustard, yogurt and salt in a food processor, or a jar with a lid and combine well.
Place lettuce on a plate and top with chicken, green onions, garbanzo beans and Parmesan cheese.
Serve with dressing.

Disclosure of Material Connection: Some of the links in the post above are "affiliate links." This means if you click on the link and purchase the item, I will receive an affiliate commission. Regardless, I only recommend products or services I use personally and believe will add value to my readers. I am disclosing this in accordance with the Federal Trade Commission's 16 CFR, Part 255: "Guides Concerning the Use of Endorsements and Testimonials in Advertising."