When i brought this dish out onto the dining table, i got a big "WOW" as a remark.
Clearly, this was a dish to impress. An elaborate dish which should only be attempted by a professional chef with the nimblest hands.
But, what do you know, looks can be deceiving.
1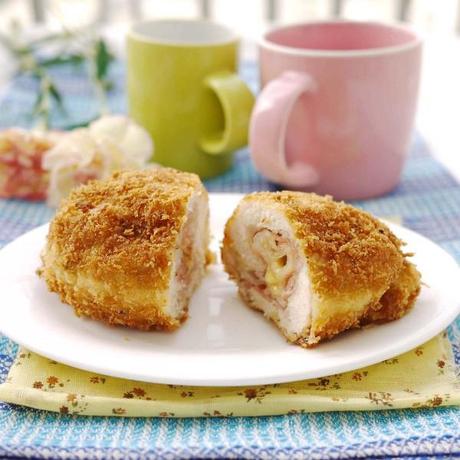 Because i (gasp! yes me!), was able to pull it off pretty effortlessly!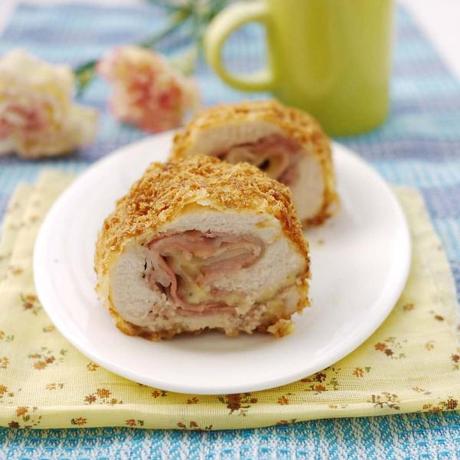 My attempt at this Chicken Cordon Bleu started off with chicken breast meat that has been pre-sliced to 1/4 inch thick. You would want the meat to be somewhat thin to be able to roll the filling inside it.
I seasoned the meat with salt and ground black pepper, and laid a piece of cheese and ham over it.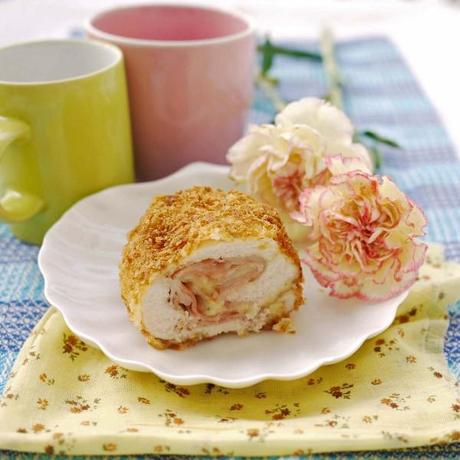 I then rolled the breast meat to enclose the filling, and used some toothpicks to secure them in place.After which I dipped the rolls in a mixture of egg and milk, and dredged it in some panko flour.
I slid the rolls into hot oil and watched it sizzle. When the panko flour got that gorgeous golden tan, i flipped it and waited for the second side to get the same colour.
Once they are all golden and pretty, i tossed them into a preheated oven. Just to be safe as we don't really fancy raw chicken.
While the chicken was baking, i also made these maple glazed carrots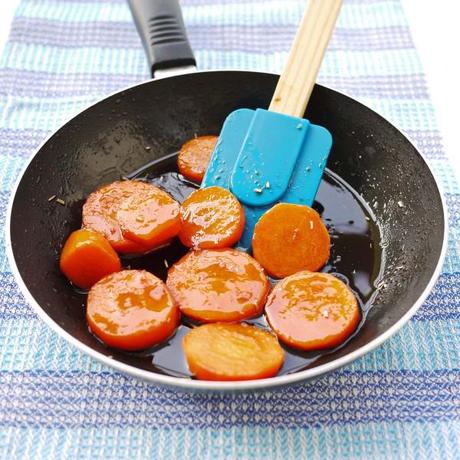 Cooked with brown sugar and maple syrup, these carrots are really really sweet and caramel-ey. Adding a pinch of salt to this brought out the flavour even more. This makes eating vegetable that much easier.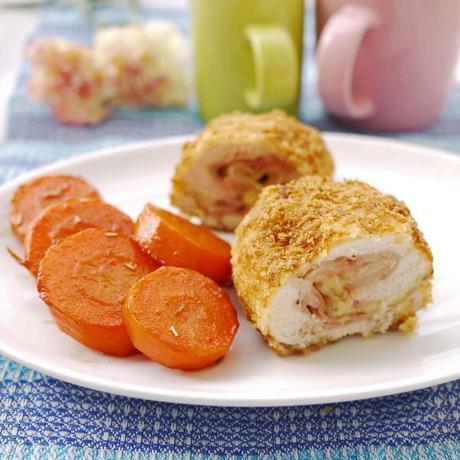 Especially if they are served alongside regal looking rolls!
Chicken Cordon Bleu
Adapted from Nibbledish
1-11 ounce or 2-4 oz. log Fresh Goat Cheese, such as Chavrieshopping list

(I used sliced cheddar cheese)

4 – 6 oz. Boneless, skinless chicken breast halves
4 ea. Slices Serrano Ham
1 Tbsp. Chopped fresh parsley

(I omitted this)

1 Cup All Purpose Flour
3 ea. Eggs
2 Tbsp. Milk
2 Cup Panko or Bread crumbs
2 Cup Vegetable oil
Salt and pepper
Preheat the oven to 350 degrees F.
Place chicken breast flat on a cutting board, using a sharp knife, about 1/3 of the way down the thick side, cut a deep pocket horizontally into the center of the meat about 3/4 of the way down

(I used pre-sliced thin breast meat)

, being careful not to cut through to the other side. Repeat with the remaining breasts. Wash hands well.
Season each pocket with salt and pepper
Place a slice of ham in each pocket
Cut the Fresh Goat Cheese Log in quarters. Wrap each cheese slice with ham. Place each wrapped quarter into each pocket that was made in the chicken breasts.
Wrap each stuffed chicken breast and place in refrigerator to chill for 30 minutes.

(I place ham and cheese on the meat and rolled it up to enclose the filling)

Set up a standard breading procedure using 3 shallow containers. Put flour in the first one, eggs and milk in the second, and Panko or bread crumbs in the third one.
Beat the eggs and water together.
Dredge each of the stuffed Chicken Breasts first in flour, then egg wash and then in the Panko or bread crumbs.
In a large, oven-proof skillet, heat the oil over medium-high heat. Add the chicken and sear until golden brown, 2 to 3 minutes on each side.
Place the pan in the oven and bake in the oven until the chicken is cooked through, 7 to 10 minutes.
Split each chicken breast in half and serve
Maple Glazed Carrots
Taken from epicurious.com
4 1/2 cups water
4 pounds carrots, peeled, cut on sharp diagonal into 1/4-inch-thick ovals (about 11 cups)
10 tablespoons (1 1/4 sticks) unsalted butter
3 tablespoons sugar
1 1/2 teaspoons coarse salt
6 tablespoons pure maple syrup
3 tablespoons (packed) dark brown sugar
2 tablespoons chopped fresh Italian parsley
Combine 4 1/2 cups water, carrots, 4 tablespoons butter, sugar, and coarse salt in heavy large pot. Bring to boil. Reduce heat; cover and simmer until carrots are just tender when pierced with knife, about 10 minutes. Drain. (Can be prepared 3 hours ahead. Let stand at room temperature.)
Melt remaining 6 tablespoons butter in large nonstick skillet over medium-high heat. Add maple syrup and brown sugar and stir until sugar dissolves. Add carrots and cook until heated through, about 5 minutes. Season with salt and pepper.
Transfer carrots to large bowl. Sprinkle with parsley and serve.