Hey guys! I wish I had my camera situation all figured out because I'm lacking on some pictures from today. But other than that today was so much fun and pretty healthy (balanced with some unhealthy) just how I like it.
Since I don't have pictures, lunch was with my Dad and Co-worker at Mountain Mikes. I had a small salad with a little bit of Ranch dressing (~120 Calories) and 2 slices of pizza. 1 cheese (195 calories) and 1 pepperoni (240 calories).
After lunch I had a froyo date with my grandma. I had blueberry and plain tart yogurt with carob, dark chocolate, and yogurt chips and raspberries. I think my yogurt was about 275 calories. I knew I had to do a good run to make up for that snack.
Fitness
I had a really great run this afternoon with Dorothy. Before I met with her I did 2.8 miles on my own then I completed my 4.5 miles with Dorothy.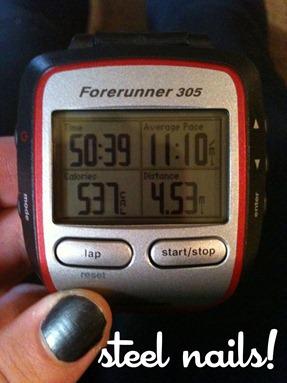 my splits were
m1- 9:44
m2- 9:41
m3- 10:24 (.8 of the mile at 9:45 and .2 at 13:37 pace)
m4- 13:37
m5- 13:34 (only a half mile)
I really felt excited running my usual 3mile loop backwards. The change of pace really helped me mentally get through the miles.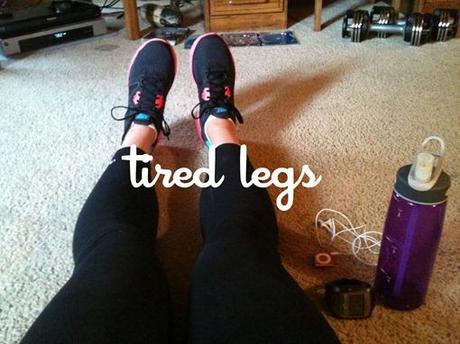 Once I got home I did some stretching and upper body weights.
I did
overhead press
bicep curls
tricep extension right
tricep extension left
bent over row
front raises
bent over triceps
upper rows
Dinner
I made a delicious dinner post run that really hit the spot. I loaded up on some carbs, veggies and protein for filling factor. I'll admit I didn't really have a plan but things quickly came together after a few minutes of refrigerator pondering.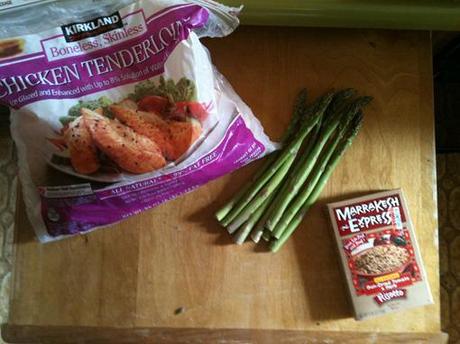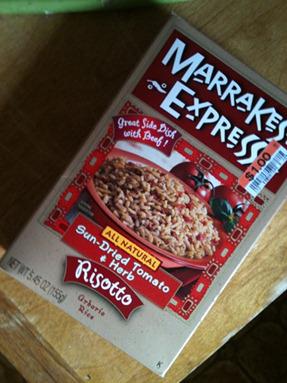 First I made this Sun-Dried Tomato & Herb Risotto as the box indicated. It was really tasty and I'm super excited I have a whole serving of leftovers for tomorrow. Score.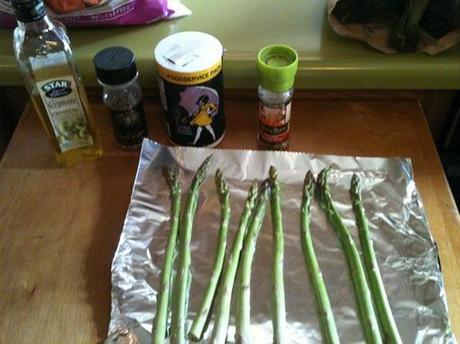 While the risotto cooked I made the chicken by defrosting it then cooking it on the stove with olive oli, some water for steam, pepper, salt and italian seasoning. I also roasted some asparagus. This is the best recipe and it's always really tasty.
Here's what you'll need
asparagus (washed)
olive oil
salt
pepper
italian seasoning (or a seasoning of choice)
First lay the cleaned asparagus on a baking sheet lined with tin foil. Then drizzle some evoo over the top. Push and turn the asparagus around to get each rod evenly coated.
Then sprinkle seasonings over the top.
Roast in an oven pre-heated to 425 degrees for 15-25 minutes depending on the size and thickness of your asparagus.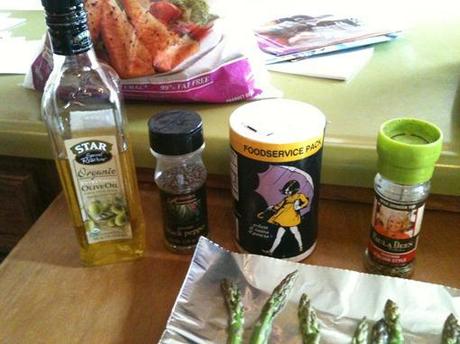 I really like the Paula Deen line of spices and I use them for EVERYTHING!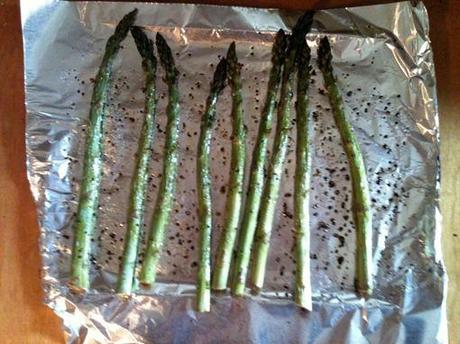 After they come out! Don't they look delicious?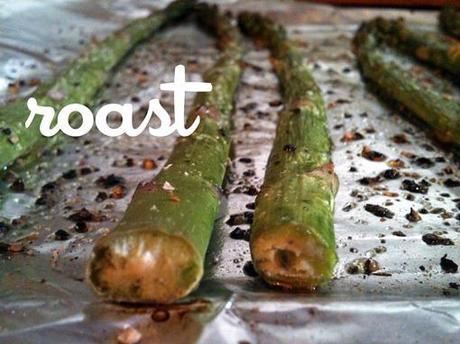 Yum Yum Yum.
Here's my entire dinner.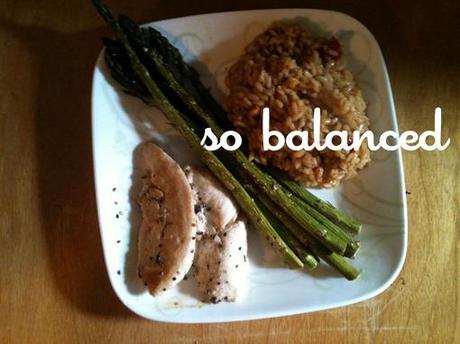 My fitness pal said that this dinner was 480 calories!!!
The chicken was 130
The asparagus was 40
and the risotto was 190
Not too shabby for a HUGE plate of food!
Trust me, the asparagus is addicting. I converted my little cousin and he had never ate an asparagus that he liked, before mine of course.