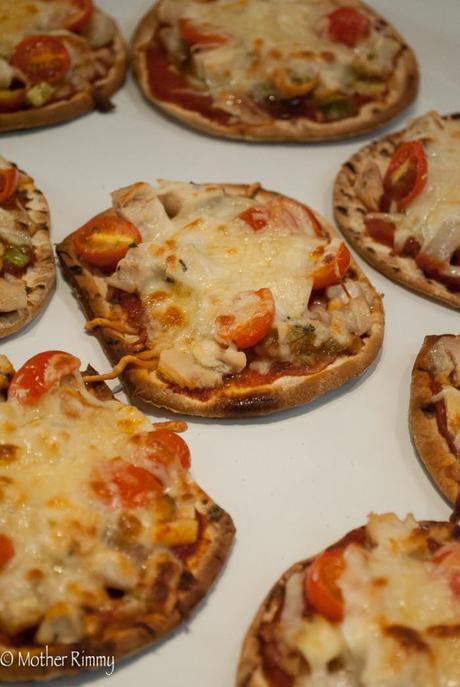 Us calorie watching folks know that if we take one bite of our favorite foods, often referred to as "trigger foods," it's all over. We just can't resist that second bite that turns into 3 slices of pizza, an entire bowl of chips, or gigantic plate of fries.
That's how I feel about pizza, especially the flatbread pizzas our local bistro serves loaded with chicken, roasted vegetables, and salty cheese.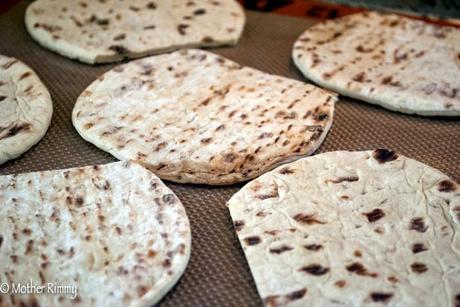 Flatout Flatbread
But now I have a skinnier alternative thanks to Flatout Flatbread. I used their Fold-it version for today's flatbread pizzas.
This post isn't sponsored, I'm simply a fan of Flatout flatbreads. They sent me a package of their products back in 2011, and I've been hooked ever since. Reading the nutrition labels you'll find they are whole grain, high fiber, high protein, low calorie and available in a variety of flavors, shapes and sizes – a weight watchers dream.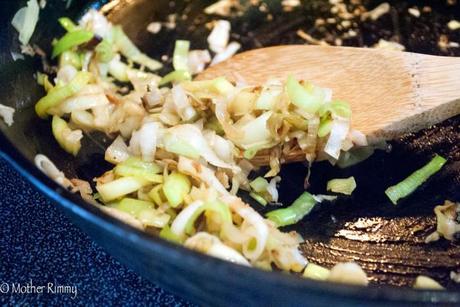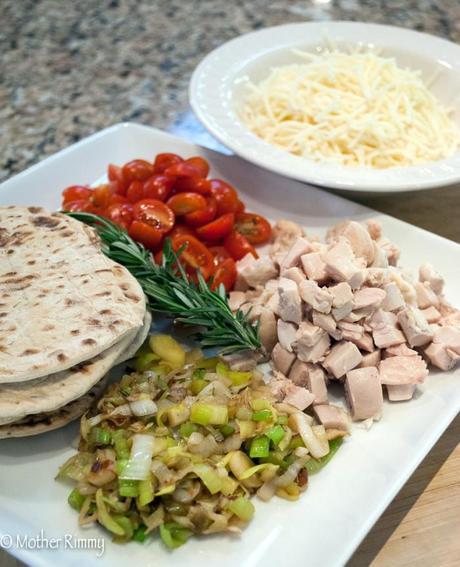 I toasted my bread in the oven, sautéed a pile of sliced sweet leeks until fragrant, then arranged chunks of chicken breast, tomatoes, rosemary and cheese on a platter.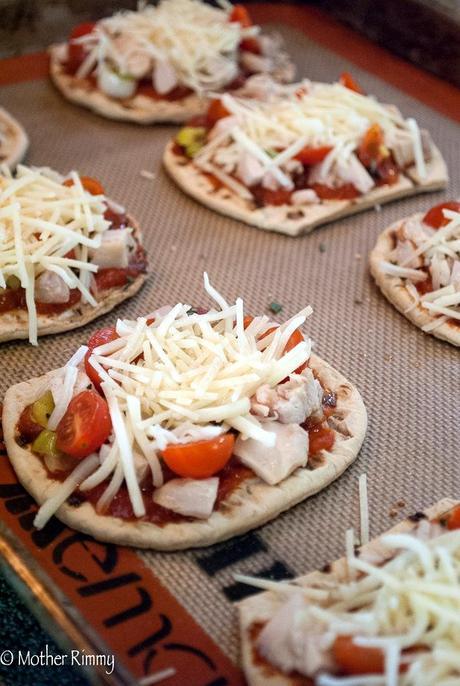 Store purchased marinara sauce (look for low sugar brands with as few ingredients as possible) made a simple sauce to slather onto my toasted rounds, which were then topped with my platter of ingredients, and baked in the oven to turn into a low calorie, gooey pizza.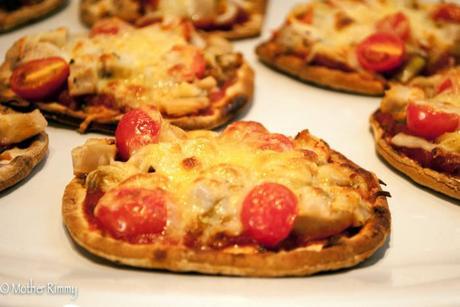 At less than 200 calories for a slice of pizza, you can't do better than this.
When my kids were growing up we made "pizza" on English muffins. The kids had fun, but I would never call them mouthwatering. They could never compare with my whole grain flatbread. The bread was flavorful- toasted on the bottom, and tender in the middle.
Leave a comment with your go-to pizza ingredients, especially if you have tips on how to make this cauliflower pizza dough work. I end up with a mushy mess when I attempt this gluten free pizza dough.
Have a good weekend!
~Kristi
Print

Chicken and Parmesan Flatbreads
Serving Size: 8
Shake It Up! Top this flatbread with your favorite toppings. Grilled vegetables are wonderful, and you can buy a lowfat turkey pepperoni that's fantastic.
Ingredients
1 tablespoon olive oil
1 large leeks, sliced
2 cloves garlic, minced
4 buns Flat Out Fold It Rosemary and Olive, split in half
16 tablespoons low sugar Marinara sauce
1 cup chicken breasts, cooked and chopped
1 cup grape tomatoes, small, halved
1 tablespoon finely minced rosemary
16 tablespoons low fat mozzarella cheese, shredded
8 tablespoons Parmesan cheese, shredded
Instructions
Preheat the oven to 350 degrees.
Place flatbread on a cookie sheet, and bake in oven for 2 - 3 minutes, then flip and bake another 2 - 3 minutes just to warm and very lightly brown.
Remove bread from the oven.
Heat a nonstick skillet over medium heat and add olive oil. When the oil is hot add the leeks. Cook for 4 - 5 minutes to soften. Add garlic and cook another minute until fragrant.
Spread each piece of bread with 2 tablespoons marinara.
Top with onion, chicken and tomatoes.
Sprinkle each with 2 tablespoons mozzarella, and 1 tablespoon of parmesan cheese.
Bake for 10 - 15 minutes until cheese is melted.
Notes
Food energy: 173kcal Weight Watchers PointsPlus 4 Saturated fatty acids: 4.43g Monounsaturated fatty acids: 3.33g Polyunsaturated fatty acids: 0.66g Total fat: 8.42g Calories from fat: 75 Cholesterol: 33mg Carbohydrate, by difference: 6.03g Total dietary fiber: 0.37g Protein: 15.47g Total lipid (fat): 9.69g Water: 74.07g Ash: 2.31g Total sugars: 1.85g Calcium: 287mg Iron: 0.86mg Magnesium: 23mg Phosphorus: 243mg Potassium: 217mg Sodium: 441mg
Schema/Recipe SEO Data Markup by ZipList Recipe Plugin2.4http://motherrimmy.com/recipe-chicken-parmesan-flatbread-pizzasMother Rimmy�s Cooking Light Done Right by Kristin A. Rimkus is licensed under a Creative Commons Attribution-Noncommercial-No Derivative Works 3.0 United States License.
As I said, I'm a Flatout fan so if you need a few more ideas to give their breads a try, this shrimp sandwich with a Mediterranean twist, or this chicken wrap with a lemony basil vinaigrette make quick work of lunch and dinner.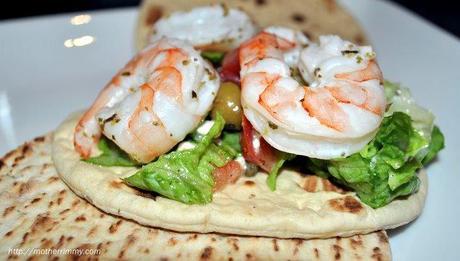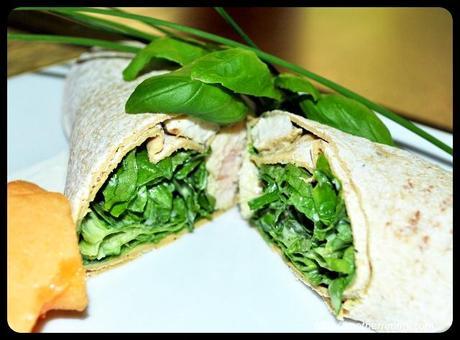 try { _402_Show(); } catch(e) {}