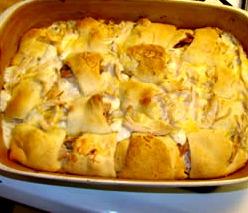 Chicken and Cheese Crescent Rolls
This is an easy dinner recipe that takes about 45 minutes from start to finish, and a perfect weeknight recipe for the family.  I am all about having something quick and delicious, and plenty for a large family like ours.
Ingredients:
1 (4lb. whole chicken cooked and deboned) - (or you can also purchase one that is precooked, which is what I do with this recipe.)
2 (10.75oz) cans condensed cream of chicken soup
2 1/2 cups milk
1 cup shredded cheddar cheese
2 (8oz) cans crescent rolls
Directions:
Preheat oven to 350 degrees F (175 degrees C).
In a large saucepan heat cream of chicken soup, milk and 4 ounces of the cheese over low heat. Meanwhile, separate crescent rolls into triangles. Place some chicken onto the large end of each roll and top with a little cheese. Roll up and place in a 9x13 inch baking dish. Pour 1/2 of soup mixture directly into the baking dish, not on top of the rolls.
Bake at 350 degrees F (175 degrees C) for about 10 to 15 minutes, or until rolls rise slightly and are lightly browned.
Pour the remaining 1/2 of the soup mixture into the dish, laying any leftover chicken meat on top, and sprinkle with any remaining cheese. Return to oven until rolls are browned and cheese has melted.
Pair this dish up with a side salad, and maybe add a side dish like sweet potato casserole, or baked sweet potato fries for the little ones.  Perfect for a quick and delicious weeknight meal!
What did you think about this recipe?  Let me know when you try it for your family.  You can follow me
here
on FaceBook. or
here
on Twitter, or you can always leave me a comment at the end of this recipe. Thanks for stopping in!
---