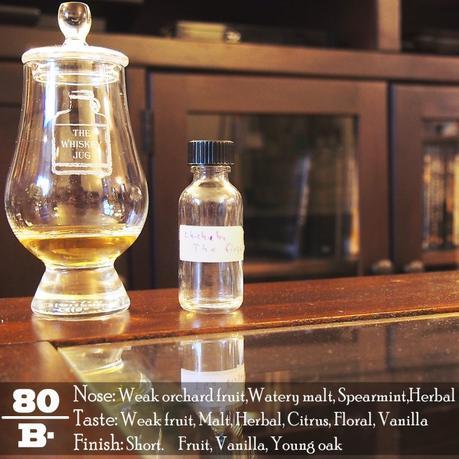 Chichibu The First comes from a fairly young distillery located in Saitama Perfecture, Japan. Carrying the more formal name Ichiro's Malt Chichibu The First, this is the first aged whisky put out by Ichiro Akuto whose family has been producing sake for more than 300 years. Before Ichiro, his grand-dad founded the Hanyu distillery which no longer exists, but did manage to survive for two generations and that's not too shabby.
Made from a combination of only 8 casks, Chichibu The First is a combination of seven ex-bourbon casks, one Japanese Mizunara cask and yielded only 2,040 bottles. That's not a whole lot of whisky to go around and explains why this fairly "meh" malt goes for some crazy prices in auctions, specialty stores and the secondary market.
Chichibu The First Info
Region: Saitama, Japan
Distiller: Chichibu
Mashbill: 100% Malted Barley
Cask: ex-Bourbon & Mizunara
Age: 3 Years
ABV: 59%
Cask Strength | Non-Chill Filtered | Natural Color
Batch: #1
Price: NA – Auction / Specialty Store
Chichibu The First Review
EYE
Straw
NOSE
Weak orchard fruit, watery malt, spearmint, herbal and a touch floral with a bit of citrus, nuts and apricots. It's not amazing, but it's not fully off putting either.
PALATE
Weak fruit, malt, herbal, citrus, floral and youthful vanilla sweetness and a touch of caramel and a light bit of tartness. Not a bad tasting whisky really. I'm surprised by how much I don't hate it.
FINISH
Short fruit, vanilla and young oak.
BALANCE, BODY & FEEL
Ok balance, light body and light feel which is incredible at 118 proof. Nearly no heat.
OVERALL
Chichibu The First nabbed an 80, but just barely. For being a young whisky it's quite flavorful and aromatic with an interesting bit of depth in the sweet notes. I don't get a strong spirity character like I thought I would which is a pleasant surprise. With how light Japanese whisky tends to be I thought for sure this would be rife with that cloying sweet grain nature of new make.
Right now the prices on things like Chichibu The First are utterly insane and so finding a taste, let-alone a bottle, of this will be incredibly difficult so I won't suggest you even try to track it down at the bar or anything like that, but if you ever get the chance to taste it do so. Tasting young whisky like this is always a learning experience.
SCORE: 80/100 (B)