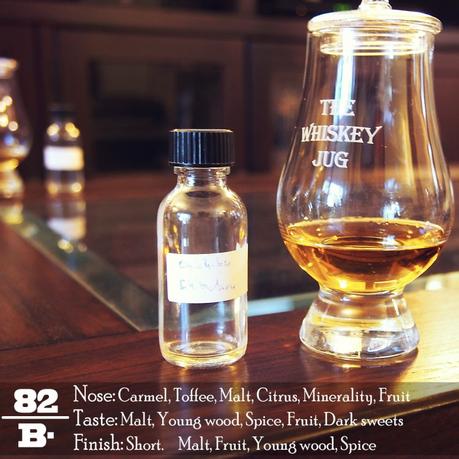 Chichibu Chibidaru is the the quarter cask style of whisky released from the Chichibu distillery. Which, by the way, is one of the funnest distillery names to say. Seriously, try saying it out loud. Chee chee boo… chee chee boo… chee chee boo… anyways. The type of quarter casks the Chibidaru was aged in are hogsheads that were shortened which resulted in their capacity being reduced down to about 150 liters which is closer to 1/2 size rather than 1/4.
In case you were wondering what Chibidaru means in Japanese it basically translates to "cute casks" and come to think of it, a shortened Hogshead would be kinda cute. Move it around with little forklifts, store it on little racks, have the distillery managed by Ooompa Loompas… man. I am really going off the rails on these opening paragraphs today. The excitement of moving the blog away from the atrocious BlueHost must really be getting to me. Think it's best we stop this tom foolery right here and jump straight into the review.
Chichibu Chibidaru Info
Region: Saitama, Japan
Distiller: Chichibu
Mashbill: 100% Malted Barley
Cask: Shortened Hogshead
Age: NAS (~4 years. 2010 – 2014)
ABV: 53.5%
Cask Strength | Non-Chill Filtered | Coloring Added
Batch: 2014
Price: $400+ @ Auction or Specialty Stores
Chichibu Chibidaru Review
EYE
Honey
NOSE
Caramel, toffee, malt, citrus, malt, minerality and a touch of fruit. It's not too complex or deep, but it's deeper than the first release and it's not unpleasant.
PALATE
Malt, young wood, spice, fruit and a touch of dark sweets. Again, it's not amazing, but it's not unpleasant either.
FINISH
Short fade of malt, fruit, young wood and spice.
BALANCE, BODY & FEEL
Not fully balanced with a light body and a light feel despite it being cask strength. Odd.
OVERALL
Chichibu Chibidaru isn't too bad. Yup, not too bad at all… for a young whisky. It's Much better than Chichibu The First with bolder sweet notes and less grainy notes. There's also a deeper character to the whisky overall when tasted side by side with its younger sibling, but it still has a ways to go before it's something that I'd want to drink on a daily basis.
Tasting the Chichibu Chibidaru shows the potential of this distillery and that all they really need to do is let their stuff mature more and bring on a greater depth of character. I hope they've ramped up their distillation, have stocks aging and will release some higher aged stuff at an affordable price to the American market at some point because I'd love to try them. However the reality is that if they did they'd probably come in at $300+; such is the whisky world we live in.
SCORE: 82/100 (B-)