I know you have waited with unbridled excitement to find out what else we did in Chicago.  Sorry for the delay but I have been out-of-town again!  We went up to Mackinac Island for a few days and had a wonderful time.  But that of course is another post….soon.
Where did we last leave our weary  intrepid travelers?  Ah yes…we were starting our FIVE star Wednesday.  For breakfast, our concierge highly recommended a restaurant called Yolk which was just a few blocks down.  We loved it!  The atmosphere is fresh and cheery (a little Ikea"ish") and the food was fantastic.  I ordered salmon with scrambled eggs…it was delicious.
After we were more than satiated, we headed on down to the Art Institute of Chicago.  I may have mentioned this before, but this is one of my all time favorite museums.  So much so that I bought an annual membership this year.  Even though I need no prodding to go to this museum on any given day, the exhibit, " Impressionism, Fashion, & Modernity" was drawing me like a moth to flame.  I have been dying to get to this exhibit.  I had already read about it here (you must click that link because Jill has a great selection of photos from the exhibit–I didn't take one photo)  and I had one failed attempt at going earlier this summer.  I was ready.  And I was stunned.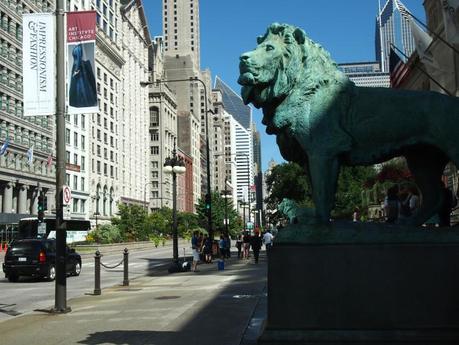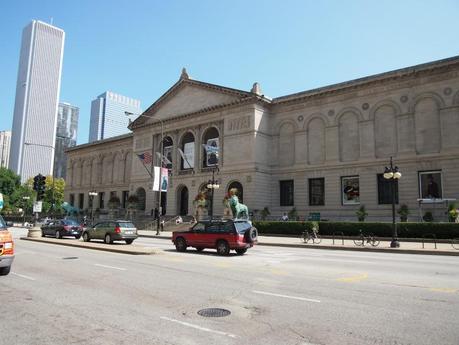 This exhibit was truly amazing.  Impressionists painting were showcased from the Musee D'Orsay in Paris, the Metropolitan in New York City, and some from Chicago's own collection.  I rented the audio tour and I am so glad I did…it really added flavor and highlights to what I was seeing.  The paintings, of course, were simply mesmerizing.  But to see them paired with period dresses and garb from that time era made the whole experience multi-dimensional.  How clothing was used, worn and made really could define someone–or at least give the admirer some obvious clues about the person–her class and social status, for example.  The artists (Renoir, Manet, Monet, Tissot–to name a few) were spot on in their attention to the details.  This one, below,  was a show stopper.  It is called "Portrait of the Marquise de Miramon, nee Therese Feuillant" by James Tissot (who became my favorite artist in the exhibit).  The color and texture of her dress was vibrantly captured…I wanted to reach up and stroke the "material".  But what again gave the painting even more dimension and life, was that there was an actual swatch of fabric from that very dress on display next to it.  Gasp!: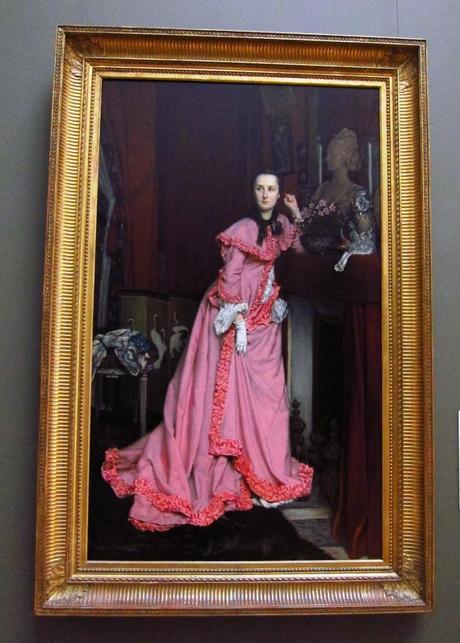 (via Doves Today blog–her photo captured the color beautifully)
Another remarkable thing I noted was how incredibly small the women were in the 19th Century.  I mean, I knew this was the case, but to actually see their clothing on display really emphasized the facts:  small, small, TINY! little waists, petite feet, very short in height.  Sometimes I thought I was looking at children's wear…but they were far too glamorous for kiddies.  It was such a wonderful experience….would do it again in a heartbeat!
After the museum, we took a taxi and shot up Michigan Avenue to the Peninsula Hotel so we could enjoy afternoon tea at The Lobby.  This was all arranged by none other than the "afternoon tea worldly, style savvy" Janice of the Vivienne Files.   She has done some serious time in this fashionable spot…it was obvious the waiters knew her and she them.  We all three chose to imbibe in the Champagne and Tea option.  Well decided.  It was an amazing fete of scrumptiousness.  Oh to live in Chicago!  We ate leisurely, sipped our tea and talked.  It was a lovely afternoon.  Thank you, Janice!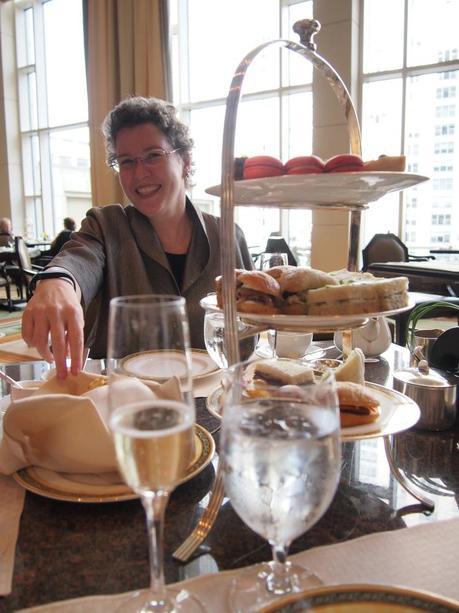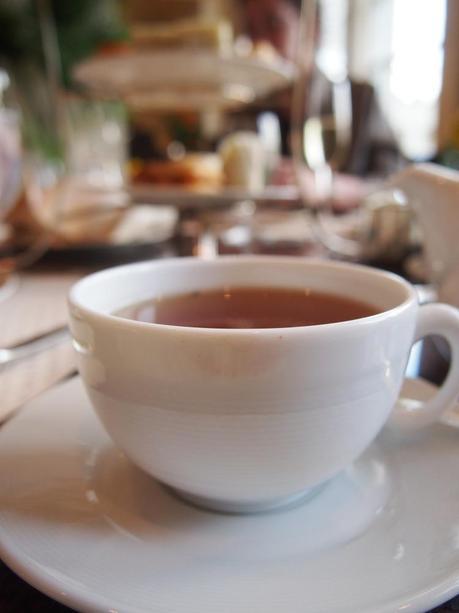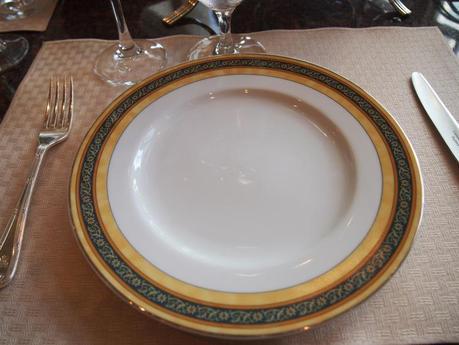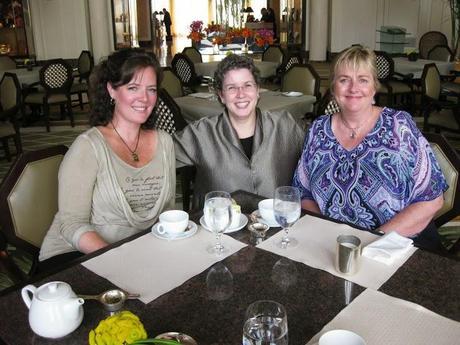 After tea, at Janice's suggestion, we headed to an indoor mall where Bloomingdales is located (can't remember the name).  We didn't go into Bloomingdales but we did visit some other stores like "Sur La Table".  Both my friend and I were winding down.  We knew we didn't need to eat dinner so we headed back to the Blackstone Renaissance to just chill.  After we returned, I went out on my own to see if there was anything close by to visit but by then many stores and such were closing.  I did stop in one store for some snacks…we had a picnic in the room of cheese, apples and wine while we watched the Andy Griffith show.  I'm telling you, we are quite the hard partiers.
Thursday morning we ate at The Yolk again because why wouldn't we?  Then we shopped a little and visited the Thorne Miniature Rooms at the Art Institute.  Before we knew it, it was time to head to Union Station for the journey home.  My tired mind and blistered feet were so happy to be back.  But Chicago…what can I say?  I absolutely adore visiting and although my blisters are a recent memory, I would be willing to visit again– anytime.
~~Heather~~
P.S.  By the way folks, you may have noticed that I have disabled commenting for now.  It may be back in the future but for now it is off.  Thank you always for reading!