It is mid-May and it is time to enjoy the warm, sunny days…when it's not freezing.  I have thought about my summer handbag(s).  And while I love carrying my red, pink, or orange leather bags during the summer months, nothing says cool and chic during this time than a straw handbag.
Of course I adore the vintage variation…the straw "pocketbook", if you will (recently saw this style at TJMaxx for under $20.00 and Kate Spade as some similar looks).  I inherited my Grandmother's  "Made in Hong Kong"  coated straw purse long ago and I love using it.  However, the handles are fragile so I am careful not to use it too often.  I am still trying to figure out a plan for saving or replacing the straps.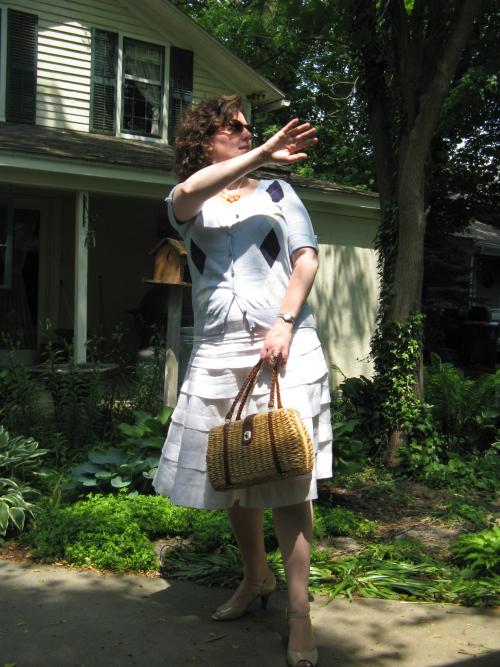 I recently found this flawless gem at a resale store…she'll be in my Etsy shop soon.  Love the handles: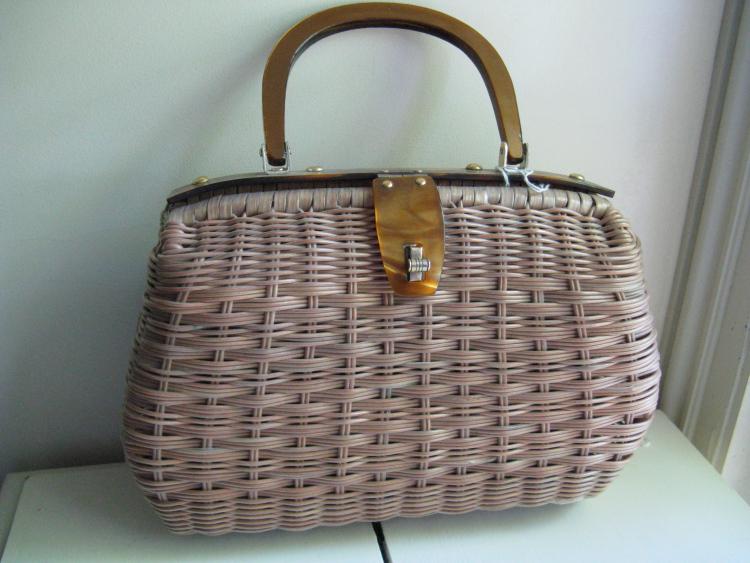 As much as I love the look of the vintage straw pocketbook, their styling is not always advantageous.  For example, being able to wear a bag on my shoulder is important for day-to-day function.   This straw bag from Talbots fits more with my modern chic style: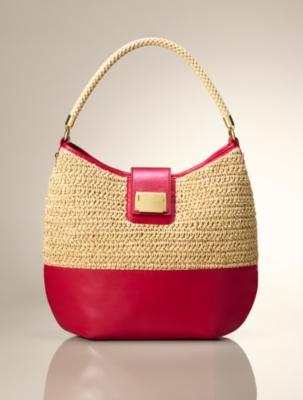 Adore!!  Alors…I do not want to spend the money because heaven knows, as do most of you, I have more than enough handbags and I have spent more than I care to share on them through the years.  Nevermind that they were always a "GREAT" deal.
But, as you can imagine, I had a hard time getting the Talbots bag out of my noggin.  I decided to look around on Etsy to see if I could find anything like it.  I knew from my exhaustive "purse searches" that there were a couple of vintage brands that made some very "now" looking straw bags (Etienne Aigner and John Romain to name a couple).  While doing a search I came across this beauty by Susan Gail: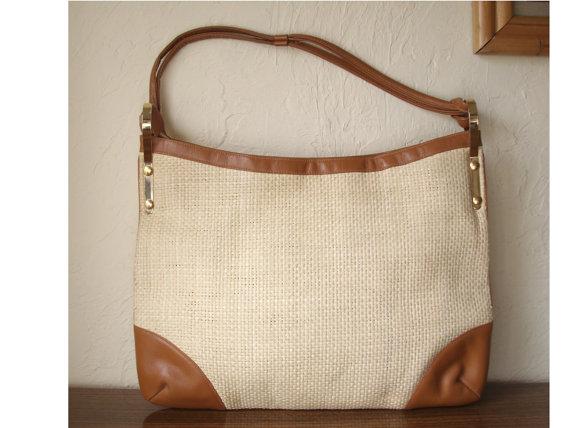 Hobo-ish and very neutral.  Only $30.  Done.  I haven't used it yet but it is on my agenda for the end of the month.
I love the guidance given by Ms. Darxiaux in her book "A Guide to Elegance" on how to wear/select a straw bag:
"For the summer, a beige straw handbag, which can be of a rather coarse weave if you spend your summers in the country, or of a finer texture, such as Panama, if you stay in town. In any case, a straw handbag is an indispensable accessory to summery cotton and linen dresses."
She's French so she should know.  Really, how can you not think of France when you think of straw totes and handbags?  I usually envision women of Southern France touting this style mais au contraire!  In her book, "Parisian Chic",  Ines de la Fressange listed a straw bag as one of the "essentials" for the Paris woman too:
"Your summer friend, à la Bardot in Saint-Trop'.   Parisiennes carry theirs around town, for a touch of offbeat chic.  A guaranteed style statement."
With everything "straw bags" running through my mind, imagine my surprise when I attended my neighbor's (Ellen Alive!) craft show/bazaar and there was a vendor there from Kenya selling…can you guess?…straw tote bags!  The prices were super cheap so I snapped up a couple…one for me and one for my mom.  A few days later I contacted the gal to see about getting some more as gifts.  She ended up coming to my house with her "stash" so I could give some friends the opportunity to shop too.  These are great to use as grocery totes or take to the beach.  But stylish enough to use as a summer handbag.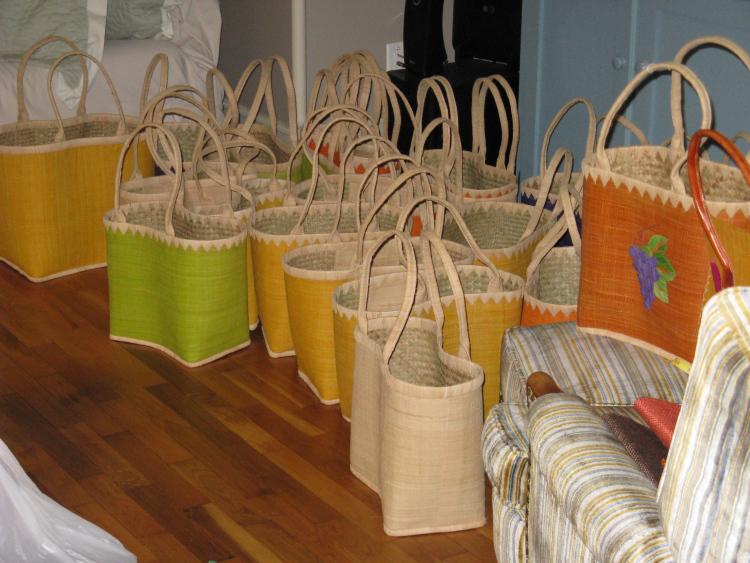 One of my selections: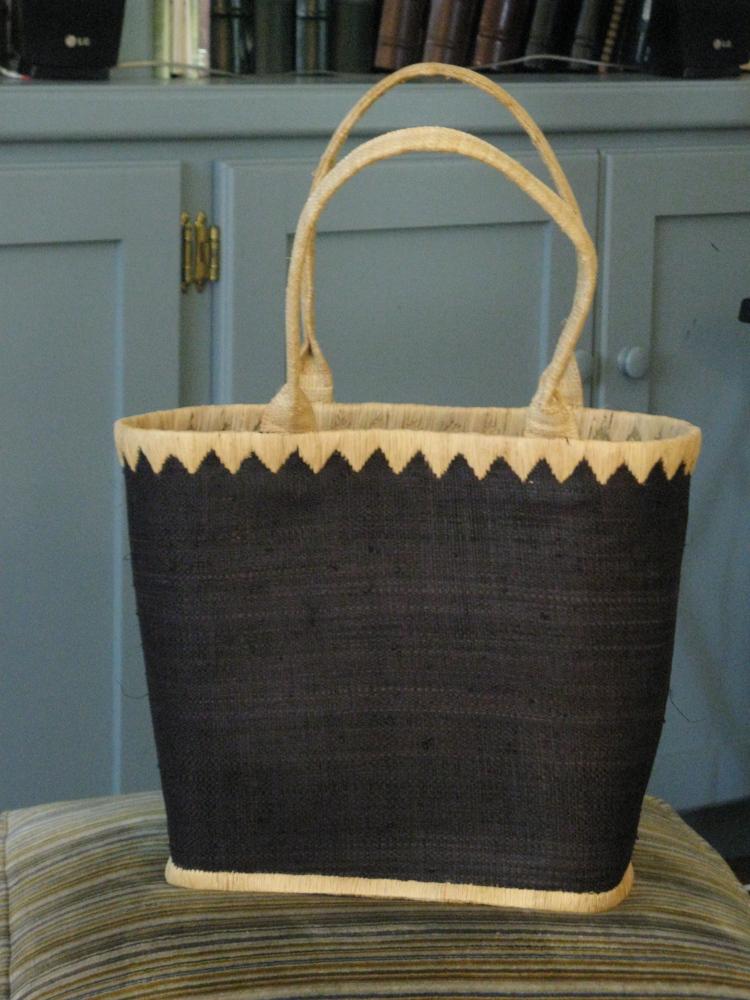 I will be using this as a tote this summer.  A couple of others are stashed in the car for grocery shopping.  This plan is two-fold: 1. To pretend I am shopping in French outdoor markets and 2. To save the planet.  In that order.
Do you change up your handbag for summer?  Do you like the look of a straw bag?
~~Heather~~