When I bought some boots early last fall in anticipation of the cooler colder months ahead, I had no idea how significant that purchase would be.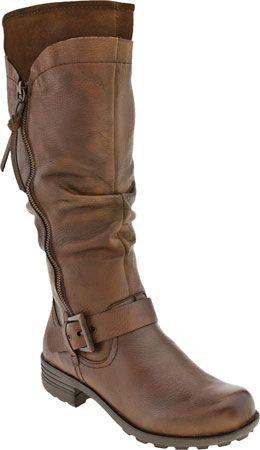 All I have worn are boots…for months.  I am still wearing them and I will probably continue wearing them until July.  Boots were about the best thing I could have bought for this winter.  Of course, there is a huge difference between "winter" boots and "fashion" boot.  I do own a black pair of "winter" boots that are passably fashionable.  But they are so stinkin' warm I really don't give a hoot about their fashion potential.  However, these brown, distressed leather boots by Earth Origins were bought for fashion (and comfort) but surprisingly they are pretty warm too.  They have been a wardrobe staple since November.
I love the look of boots with leggings.  However, I don't like the look of my legs in leggings.  I found an alternative that works better for me…the J. Jill Slim Leg pant.  I wear these pants often and always with a long, tunic type top to hide my insecurities.  Here is an example of how I like to wear the pants and my comfy boots together: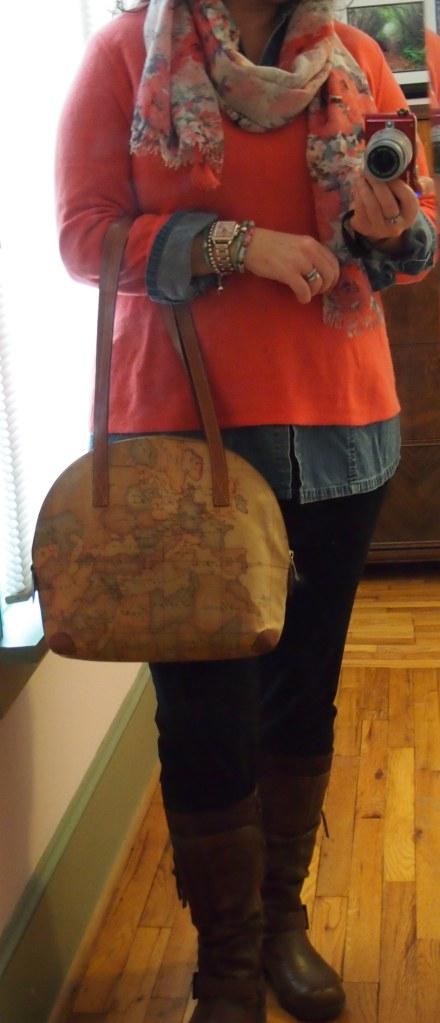 (My apologies for the photo quality and the FILTHY mirror.  I am not clear as to why I can not tell when my mirror is dirty unless I take a photo.  Next time I will remember to clean it first.)
 Chambray shirt with a cashmere sweater–super cozy.  Hey!  And there's that scarf again. I wear it often since it goes with so many things.  But no doubt you are more distracted by that gorgeous Alviero Martini handbag?  I understand.  It was an amazing find on Ebay  Here it is again:
Awesomeness.  I think it is my favorite handbag ever next to my Classic Coach Willis.  Despite the map design, because of the colors it is surprisingly versatile and goes with almost anything I wear.
Have you had fun with boots this season?  Please join the other ladies who are doing so by linking over to Everything Just So and The Rich Life on a Budget for more "How I Wear My…Boots".
~~Heather~~