Am I the last to know that Crabtree and Evelyn makes nail lacquer?  Not just regular nail polish/lacquer but the kind that boasts:
Reinforces and protects nails
Formulated without camphor, dibutyl phthalates, formaldehyde or toluene
Gently remove with our soy-based Nail Polish Remover Wipes
I am not usually interested in nail polish because of the bother and the chemicals.  I keep my nails short, shaped and clean.  That's about it.  But I do occasionally like to wear a very pale color–think nudes!  So when I saw a display of C&E nail polishes at a local store downtown, I thought why not try it.  I went with my usual shade: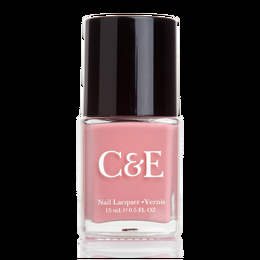 (petal pink)
I simply put on two coats–no base and not protective finish.  It is fast-drying.  And it wears well (for me).  Granted, this pale color makes it difficult to notice chipping, but I seriously studied my nails for days to check for chips.  They looked good for about a week.  Thank you!  A no hassle nail lacquer at last.
Check out their colors HERE.  At $6.00 a bottle I think I have found a chic steal.
~~Heather~~