Since I've been a part of this blog, I've never written anything about food before....but that's changing today.  We just ate at my favorite restaurant again and I had to write about it.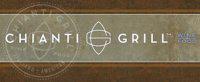 Chianti Grill is a locally owned and operated by Bob Gillen and Kevin Schleif and is part of the Superior Concepts, Inc. family of restaurants. Bob and Kevin along with a great team of managers have developed Chianti Grill into an exciting new brand that offers authentic and innovative Italian dishes along with grilled steaks, fresh seafood and an extensive wine selection in a comfortable, moderately upscale setting.
I LOVE Italian food and their pasta is the best.  Everytime we go, I think about trying something new, but always end up with the cappellini al fresco with chicken.  It's angel hair pasta tossed with fresh tomatoes, fresh basil, garlic and olive oil.  My Husband, on the other hand, loves the Lobster Oscar, which is a filet mignon, topped with a bernaise sauce and lobster.
They have a great wine list and also a wonderful Sunday Brunch with incredible bloody marys!
Chianti Grill also won opentable.com's Diner's Choice Award for 2010.
They have locations in Burnsville and Roseville.  Check out their website:  http://chiantigrill.com/index.cfm
YUM!!!