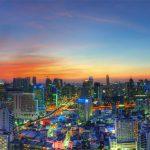 CHIANG MAI & BANGKOK – DAY 6 – SUKHUMVIT
It was time to check out and head towards Bangkok, Sukhumvit Road.
I had a modest breakfast of fruit and coffee and informed the office about my checkout. The checkout process was more or less smooth. However, my modest breakfast had a determined result. I was famished by the time I reached the airport. It was all thanks to the small food court at the Chiang Mai International Airport, where I managed to have some decent Khao-Soi & dumplings for pre-lunch.
Continue reading Chiang Mai & Bangkok – Day 6 – Sukhumvit at Sumit Malhotra.