When you are living in United Arab Emirates, it automatically become painless to have a produce at an easy disposal from around the World and throughout the year on the never-ending aisles of enormous size supermarkets here. After years of living off an access to strawberries, cherries, kiwis, grapes, apples, basil, broccoli as and when our hearts desired, I have now slowly started to make a choice to eat seasonal. Though I wish I ate more local than imported items like how we did back home straight from our local market down the lane, a trip to Organic Oasis at the start of 2015 had been a strong eye-opener. Though buying organic haven't been a strict norm in my household as yet, I am now adapting a much clever approach to source an ingredient when they are in season. Around last year, I would buy cherries in October and cringe at the unlikely taste, but then would be back again after a fortnight to bring a box back home. It is difficult to form a discipline when you are surrounded by so much of diversity, however, we are slowly reaching there. And I am looking forward to a day when a plate in front of my family will be filled with freshest local produce that I'd be so proud to shout about from a rooftop!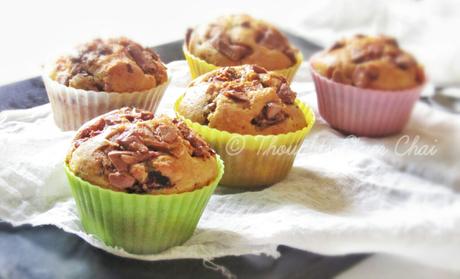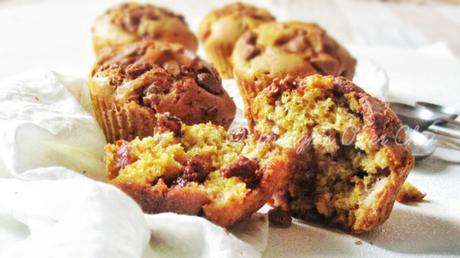 Since muffins are our go-to breakfast over everything, I love to incorporate the fruits to make them uber healthy. And then add a touch of chocolate because that is how we like it! I have been testing with a lot of muffin recipes and gives me a great pleasure to share a few on the blog here as this place has grown to be more than just a creative outlet. It is such an amazingly prolific process, I know it won't tire me off so easily. I love to play with either one or two powerful ingredient (fruits, veggies or edible flowers), thrown together without any help of measuring cups or a recipe with stringently chalked out lines – this what gives them a touch of home-made, isn't it? Like I'd do for my everyday Indian meal!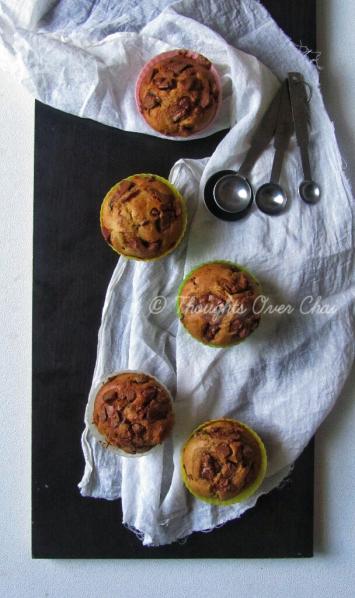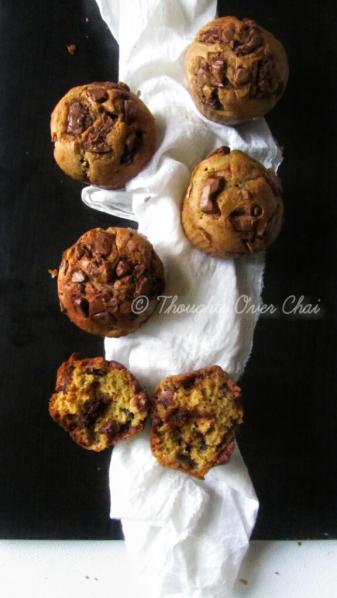 One such recipe is of this Cherry Chocolate muffins. Last week, I had a leftover of cherries in a refrigerator and a bar of Cadburry chocolate lying unattended, which is surprisingly very unlikely at my home. There isn't really much to this muffin recipe, with just a few regular ingredients thrown in one mixing bowl. A regular one with these two masterpieces put together that creates a satisfying accomplishment beyond words! I know, many don't see Cadburry as a baking option to use in cakes, cupcakes or mufffins; but I promise this is a case of pure deliciousness. However, you can use your most favorite chocolate in this recipe and stick to fresh cherries. When chocolate covered berries could be a thing, I was cent percent assured cherries and chocolate in a muffin batter would hit the right spot. Figure juicy cherries with blocks of chocolate in each bite! Ditch the supermarket next time when you are buying fruits and head over to Al Aweer Market on Oman-Hatta road. I bought a box of cherries from the market imported from Iran at the best price I could possibly find.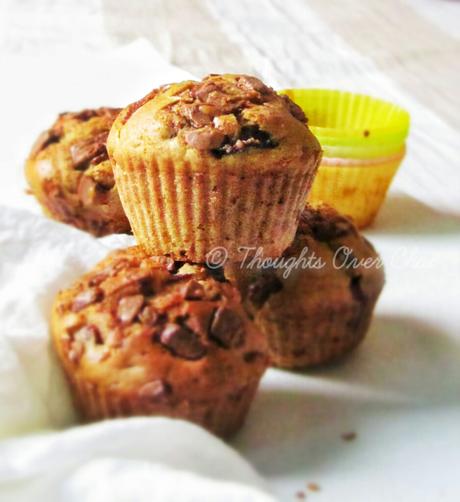 Serve along with a cup of tea or pack in your little one's snack box or offer them to your neighbors. 'Cause this is one kind of muffin you can rave about with utmost conviction as it is loaded with seasonal cherries yet also has a deep chocolate taste that lingers for a long time after that first bite.
Cherry Cadburry Muffins
Ingredients :
All purpose flour – 1 cup
Unsalted butter – 1/2 cup, room temperature
Brown sugar – 1/2 cup
Cocoa powder – 1/3 cup
Vanilla essence – 1/4 tsp
Baking Soda – 1 tsp
Baking powder – 1 tsp
Eggs – 1, large
Salt – 1/4 tsp
Cherries – 1/2 cup, chopped
Cadburry Chocolate – 1/2 cup, chopped in chunks
Milk – 2 tbsp., if required
Method –
Preheat oven to 180 Degrees C and line the muffin tray with silicone cups or liners. In a bowl, mix together flour, salt, baking powder, baking soda and cocoa powder. In a standing machine or hand mixer beat butter and brown sugar until creamy. Add egg, vanilla essence and continue beat until light. Tip dry ingredients into the wet and using a spatula, mix them all together with a light hand. Add milk slowly if the mixture is very dry. The mixture should  be a little chunky. Fold in cherries and chocolate. Transfer to muffin cups and bake for 13 – 15 minutes or until the cake tester come out clean. Remove from the oven and allow to cool for a few minutes before serving.