Recipe Number One Hundred & Fifty:  Page 183.
This was another popular choice on my Facebook Poll. I'm clearly not the only lover of cherries and almonds! Another of Mary's wonderful all in one recipes, it promised to be quick and straightforward to make – my kind of cake.
I retrieved a mixing bowl from the kitchen cupboard and measuring spoons from a drawer. As I lay my ingredients out in front of me I couldn't help but smile! I was about to start my 150
th
recipe. I felt so pleased to have come so far; I am now well over half way. Wow – I really have eaten a lot of cake. It explains the double chin!!
I have somewhat neglected my traybake tin of late, so I was pleased to be putting it to good use. It is so easy to line it with greaseproof paper. That's why I love it so much! Once the tin was lined I could turn my attention to the cherries. Although I can eat cherries like sweets (this explains all the dental work) I am not a fan of chopping and rinsing them. As I required just over a tub of the super sweet delights, I was chopping for some time. Mary insists that rinsing cherries stops them from sinking to the bottom of the cake. However, I don't think it makes any difference. Nevertheless, I followed the instructions. Disobeying Mary Berry just wouldn't feel right!!! While my quartered and well rinsed cherries dried off on some kitchen towel, I started to weigh out the other ingredients.
To my bowl I added some self-raising flour along with some baking powder for extra lift. Next on the list was butter. It is always a worry when almost a whole packet of butter is used – it was surely already making its way to my hips! After adding the same amount of sugar, I started to wonder if I should perhaps stick to a VERY small slice. Next, I needed to grate the zest from not one but two lemons. Obviously the juice that escaped from the lemons attacked any tiny cuts on my hands, but at least it made the kitchen smell nice! I opened up a brand new packet of ground almonds. As I've mentioned before, I can't stop buying the stuff; it has turned into an unhealthy obsession. Every time I go shopping at the supermarket I can't resist buying at least one packet. My reasoning is that our village shop doesn't stock it and I'd hate to run out! The quantity of ground almonds that landed in my mixing bowl seemed an awful lot; I hoped it wouldn't make the cake too dry. I should have learned by now never to doubt Mary, as the next ingredient was five eggs! That amount should certainly stop the cake from being dry. I don't think I've used so many eggs in a simple traybake before.
Now that everything had been weighed into the mixing bowl, I had to whisk the mixture for a minute. I still don't own a timer, so I counted the minute out loud. Of course I counted too fast and had to whisk for a little longer to make sure the mixture was smooth. At this point I very nearly forgot to add my mountain of cherries. That would have been a bit of a disaster as they are rather crucial to the recipe! I grabbed the cherries from the worktop and carefully folded them into the lemon scented mixture. I then had to scoop it into the waiting tin. Once spread out the mixture looked rather pretty with the red of the cherries poking through, but it still required a finishing touch. Several handfuls of flaked almonds were needed and, thankfully, I had just enough. As they are not the sort of thing I use regularly I keep mine in a jar to keep them fresh. The jar often makes a bid for freedom and has leapt from the shelf more times than I care to remember. How it is still in one piece I'll never know!!! After sprinkling a generous quantity of flaked almonds over the top of the cake, I placed it in the oven. It would need about forty minutes to bake. As my little boy was having his nap, I took the opportunity to sit down with my lunch and a cup of tea – bliss! The washing up could wait. One thing was for sure - it wasn't going anywhere (more's the pity).
After the forty minutes was up, I retrieved the cake from the oven. It was a lovely golden brown and looked very appetising. I was very disappointed that it had to cool in the tin. How cruel to make me wait for so long! I couldn't put the washing up off any longer, so I used the time to get on with my most favorite job. I then had to clean the kitchen worktops as my beloved cherries had left their sticky mark!
Eventually the cake was cold and I could turn it out of the tin. It was so moist that it was impossible to cut into neat squares. Also, some of the cherries fell out so I felt forced to eat them; I couldn't let them go to waste! Speaking of the cherries, almost all of them had sunk to the bottom! As soon as the important picture had been taken I immediately dived in for a slice. My first thought was how sweet the cake was; it almost made my jaw ache! The lemon flavor was lovely but it almost outshone the almonds. Maybe I would use just one lemon next time. This traybake was simple to make and it tasted simply delicious. I don't see myself eating just one small slice! My little boy had just recovered from what seemed like his millionth cold and this really perked him up. By the way, should I be worried that he has already learned the word 'cake'?!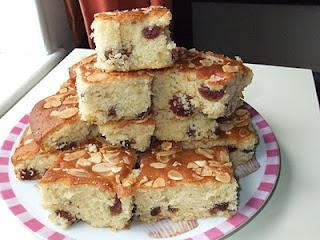 The leaning tower of cake!