Things are always changing in Flushing. Many of these changes are unwelcome ones, like the demise of Maple Snacks, the disappearance of Sichuan Dish, and the recent mediocre meal at Lao Dong Bei, ascribable to a different chef (one hopes this change is not a permanent one). But lately, I noticed that Cheng Du Heaven (成都天府 - chéng dū tiān fǔ), in the basement of the Golden Shopping Mall, has been, little by little, expanding its offerings – and seating area – while keeping quality high and prices low. And that it was high time it got its own blog entry here.
I remember the days when their menu was a single column of dishes listed on the wall by the counter. Now the menu boasts more than 50 dishes, with an additional 15 or 20 meal-sized soups, of both the má là tāng (麻辣湯 – the typical Sichuan spicy/tingly stews) and noodle soup varieties.
The "Wonton w/Chilli Oil Sauce" (紅油抄手 - hóng yóu chāo shǒu) appetizer is superb: practically perfect wontons in a beautifully balanced spicy sesame sauce.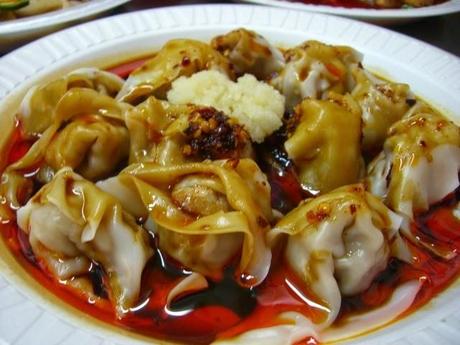 While their Dan Dan Noodle (擔擔 面 – dàn dàn miàn) does not erase nostalgia for Sister Zhu's, it is one of the very best around. Another well-balanced spicy sauce lurks below those tender noodles. And the dusting of crispy-yet-tender minced pork is the perfect complement.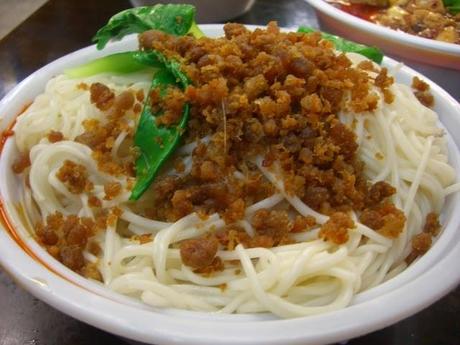 Their version of Ma La Beef Tendon (麻辣牛筋 – má là niú jīn) is as good as any around Flushing, too.
The Ma Po Tofu (麻婆豆腐 – má pó dòu fǔ) here is the best I've tasted in years. The tofu is soft, but not too soft, and the sauce is the perfect balance of spicy and salty, with just the right pungent accent from fermented black beans.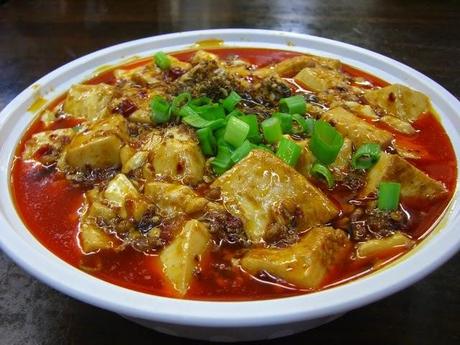 The only near-miss so far has been "Chicken with Family Sauce" (mmm... family sauce… my favorite!). A better translation of 家常熱窩鶏 (jiā cháng rè wō jī) would be "chicken home style", and it was nice, but not all that interesting. Small bone-in chunks of chicken are lightly simmered in a mildly spicy sauce with two or three kinds of peppers and scallion.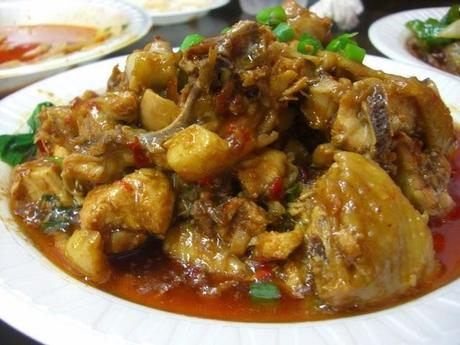 Interestingly, the leftover portion when heated up at home the next day was better than on the first day. The flavors were both better melded together and more pronounced. My friend Audrey tells me that the characters 熱窩 mean, essentially, "warm, but not too hot", making the preparation true to its name. I would just prefer the dish to have finished cooking, I suppose!
Their Spicy Twice Cooked Pork (回锅肉 – huí guō ròu) is stellar – as good as any I've tried, with a real homemade quality to it.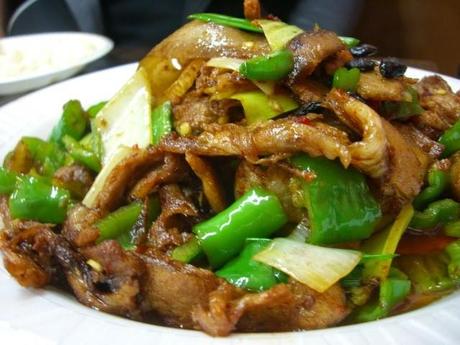 Don't miss the array of appetizer dishes and snacks in the glass counter-case. The Ma La chicken wings are marvelous to keep around the house to snack on. And their Ma La Sausage (麻辣香 腸 – má là xiāng cháng) really is almost as good as Sister Zhu's from Maple Snacks: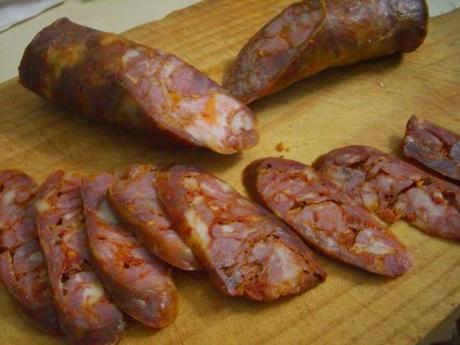 Cheng Du Heaven serves, for my money, the best Sichuan food in Flushing at the moment (Little Pepper is in College Point). Because of the very spartan dining environs, one might wish that some of the dishes were a buck or two cheaper, but it's still a great value.
Cheng Du Heaven (成都天府)
Golden Shopping Mall basement food court
41-28 Main St., Flushing 11355
(7 train to Flushing-Main St., then 3 blocks south on Main)