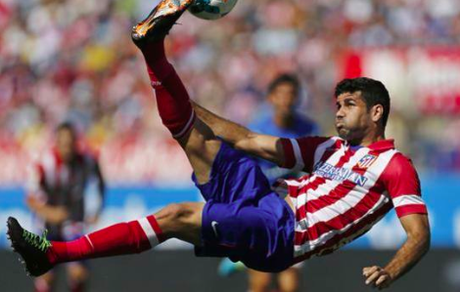 After having completed medical examinations in London, Diego Costa looks set to join Chelsea for next season. The English club will be matching the release clause on Diego Costa's contract, paying 42 million Euros to Atletico Madrid with the added possibility of a Chelsea player being exchanged to Atletico. With 35 goals this season in all competitions, and an upcoming World Cup for Spain in which he'll be competing for a starting spot, Diego Costa looks like he will be the true goalscorer Mourinho has been calling for. 
Jose Mourinho has already gotten to work on strengthening his Chelsea side for next season, with the toughest task that of ensuring Eden Hazard remains at Stamford Bridge. After PSG's 75 million Euro bid for the Belgian starlet, Chelsea have managed to fend off the French club by giving Hazard the number ten jersey. With the frontline combo of Hazard, Diego Costa, and Willian, Chelsea now have to plug some holes in the midfield and defence during the transfer window. 
Due to Frank Lampard's departure and the disappointing season of Ramires, reinforcements in the center of the midfield are required, especially considering Mourinho's tactical dependence on a strong midfield. Although there have been rumblings about a return to Stamford Bridge for Atletico Madrid's Tiago, it seems like Mourinho would prefer the either of the Brazilians, Sandro or Paulinho from Tottenham (most likely with an exchange including John Obi Mikel), or Juventus' Paul Pogba. There's also the possibility of a thirty to forty million Euro move for Cesc Fabregas from Barcelona, however it has been reported that Mourinho isn't completely convinced by the Spaniard and that Pogba remains at the top of his midfield list. 
In terms of the defence, Chelsea have been looking to address their weakness at left back and to replace the spot left by David Luiz after his move to PSG. Real Madrid's Raphael Varane is a strong candidate for the center of defence, however certain reports suggest that the 21 year-old might not be interested in a move to Chelsea. The other names for defence continue to come from Atletico Madrid with Diego Godin a possibility at the center and Filipe Luis for left back. Atletico Madrid had their offer of around 8-10 million Euros for Granada's left back Siqueira (who playing on loan at Benfica this past season) accepted, possibly in preparation for Filipe Luis' departure. Atleti's other recent signing of Getafe keeper Miguel Angel Moya points to Thibaut Courtois' return to Chelsea, however it seems like the keeper still hasn't decided whether or not to end his loan spell at Atletico Madrid.
With the possibility of five new signings from Atletico Madrid (Diego Costa, Tiago, Godin, Filipe Luis, and Courtois), Chelsea have started the summer transfer window with swift plans to bolster the starting eleven with a set of hungry and passionate players. Whether or not Mourinho will be able to bring out the best from a set of players who were incredibly connected to their coach Diego Simeone is difficult to predict. For now, what remains certain is that Chelsea intend on strengthening every part of the squad with some of the best La Liga players around in order to claim the Premier League and Champions League next season.