A couple of weeks back I was lucky enough to be swanning around Chelsea Flower Show. Although I've been to gardening shows in the past, this was my virgin flight to Chelsea, and I have to say, it was fantastic: made even more special because it was its 100 year centenary.
Here's a sneaky pick of the legend that is Alan Titchmarsh. This was taken just the moment before he waved and shouted, "Cooeee Lynnette!" I was so embarrassed…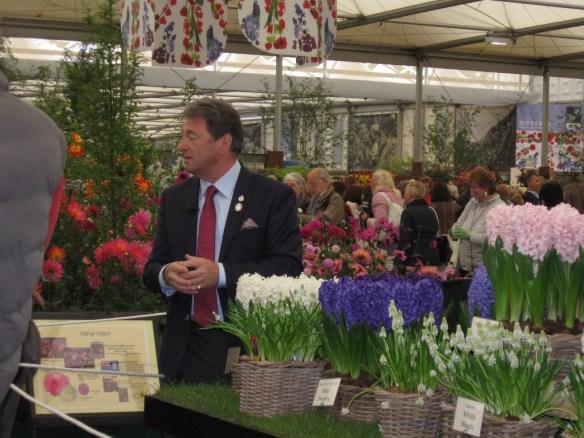 Alan Titchmarsh at Chelsea Flower Show
First impressions of the show? It's massive. It's a complete assault on your senses, and there's a surprise or a 'Wow!' around every corner. With so many sights and scents to savour and ideas to process, it's certainly one to do, if at all possible: if only once in your life.
One display had an entire ceiling made up of hanging amaryllis flowers.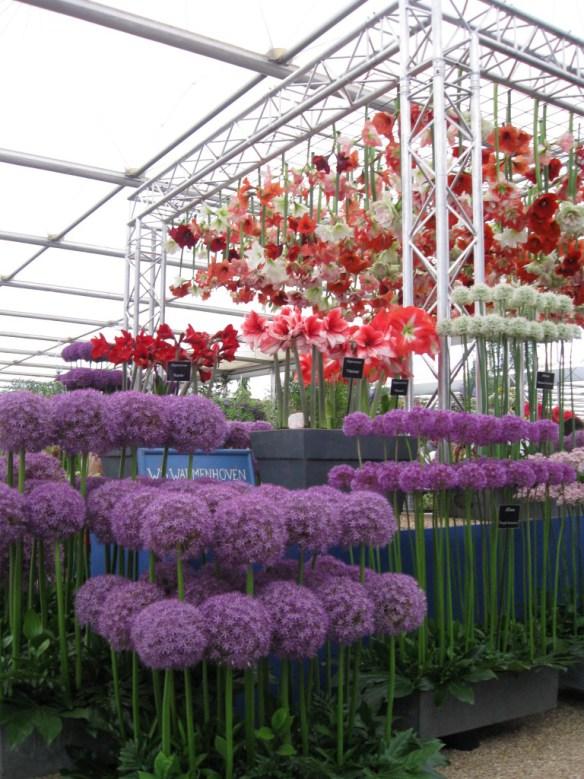 Chelsea Flower Show – amaryllis ceiling
Another had oriental structures covered in orchid flowers; 15,000 orchid plants had been used to create their display.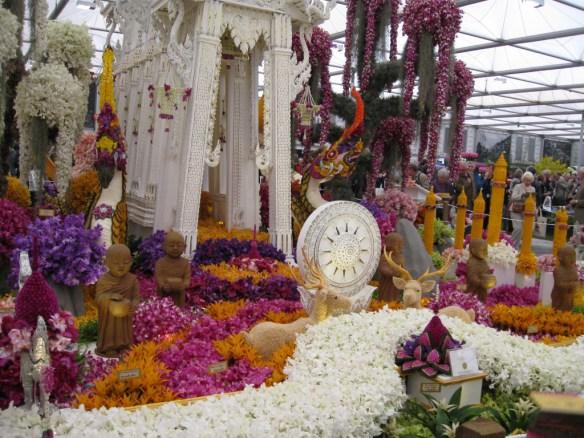 Oriental orchids at Chelsea Flower Show
Some of the show gardens included elements that, although stunning, may be nigh on impossible to recreate in your own garden… but elements of the designs can be used, and there is inspiration wherever you look.
As most of us haven't the budget for a field full of orchids, I've brought back a few clever ideas that won't break the bank and looked fabulous in the gardens.
There were lots of examples of re-using household objects as planters, with a definite theme in some veg plots of 'Digging for Victory' and 'Make do and mend'.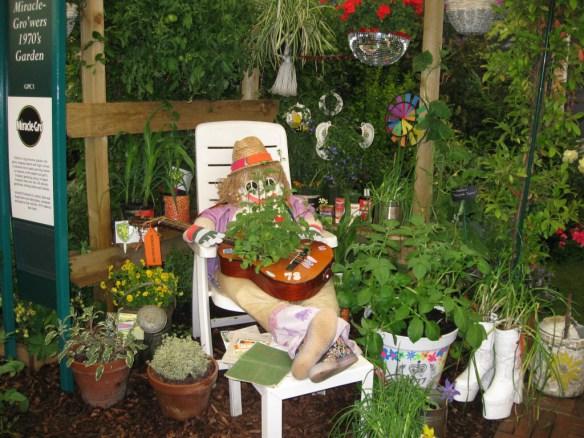 Vegetable plots Chelsea Flower Show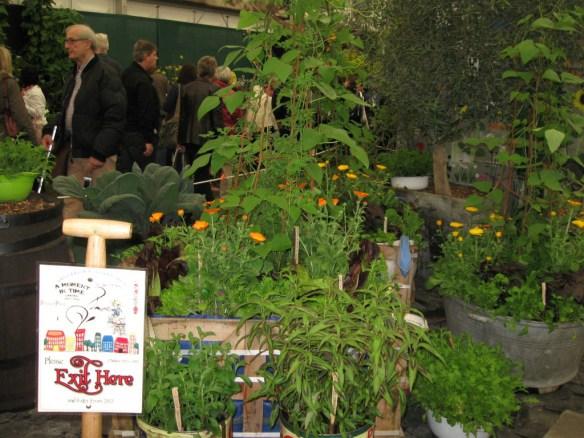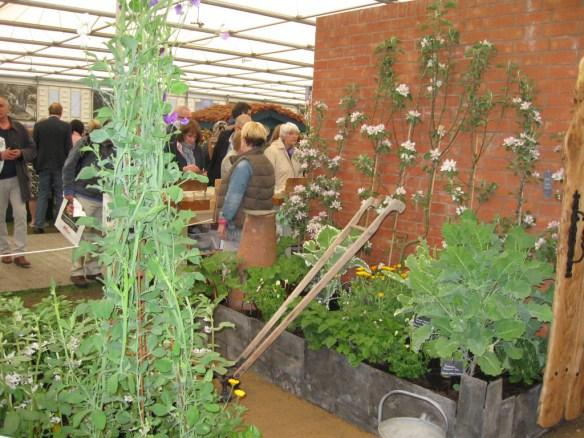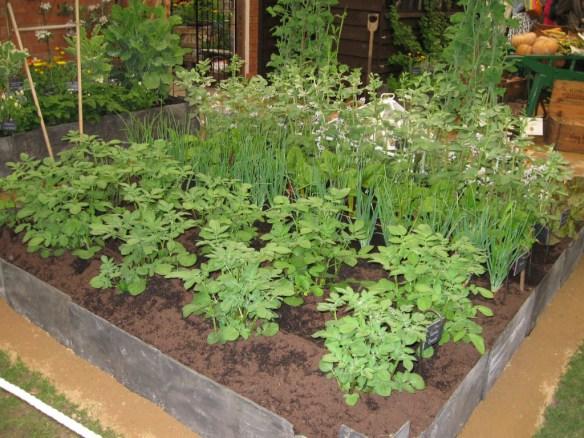 Whatever objects you recycle into planters will first need to have a couple of holes drilled in the bottom to let the water out, and some gravel or broken pot bits in the base to provide good drainage. You might also want to line the containers with polythene to preserve them from the inside.
One of my personal favourites was strawberries planted in a pair of old work boots – slightly gutting as I'd had a clear out in the shed only a few weeks ago and thrown an old pair of boots away.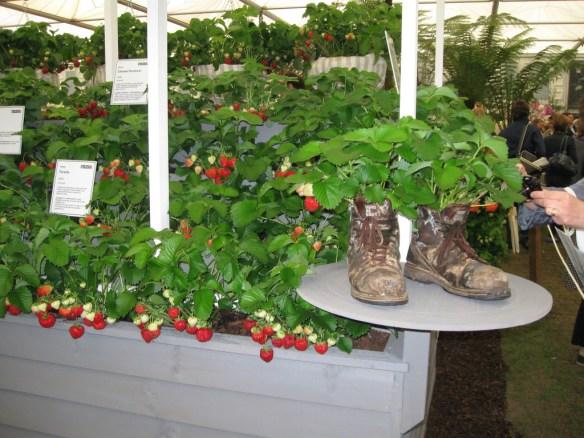 Strawberries in boots and guttering
On the same stand were strawberries growing in guttering. I plan to adapt that idea slightly… we have some old guttering lurking at the bottom of the garden. I'll get the other half to fix it to the shed, just under the window, and plant it up with some colourful trailing rockery plants – an instant window box makeover.
Other reused objects at the show were catering-size aluminum cans, oil drums, old watering cans, steel water butts and old dolly tubs and colanders. There were even some geraniums planted up in half a disco ball, and elsewhere, hessian sacks were attached to a fence with plants popping out of the tops.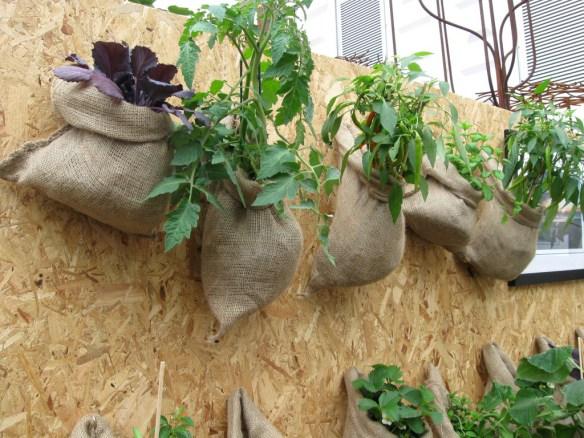 Hessian sack planters Chelsea Flower Show
In one garden, an old case had been planted up with herbs, though I suspect – not being a durable container – it would need to be brought in and kept dry during the winter.
My first raised bed was the old water butt from the house, but I'll now be on the hunt for other containers to use – after seeing some of the ideas at Chelsea, the possibilities are truly endless.
More Chelsea pics…