C
helsea will face Benfica in the quarter-finals of the Champions League - but could face reigning European champions Barcelona in the semi-finals.
England's last remaining club in Europe will face Portuguese side Benfica for the first time in European competition, with the second leg at Stamford Bridge.
Should they progress, Chelsea would face the winners of the quarter-final between AC Milan and Barcelona.
In the other quarter-finals, Real Madrid were drawn against Cypriot side APOEL Nicosia while Marseille will take on Bayern Munich.
The draw also means there is a good chance of a mouthwatering all-Spanish final between Real and Barcelona.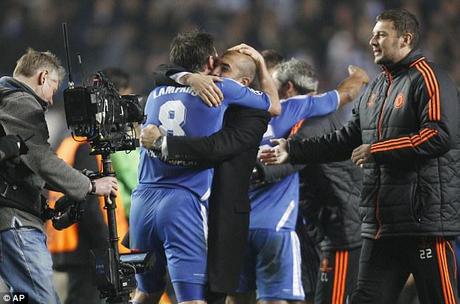 Party time: Chelsea manager Roberto Di Matteo celebrates with Frank Lampard after their win over Napoli
Chelsea have two former Benfica players in their squad - the Brazilians David Luiz and Ramires. The Portuguese club are currently second in their domestic league, a point behind Porto, and emerged triumphant in the group phase during which they drew home and away with Manchester United.
Benfica also overgcame a 3-2 first-leg defeat by Zenit St Petersburg in the first knock-out stage, winning 2-0 at the Estadio da Luz to secure their place in the quarter-finals.
If Chelsea do go on to meet Barcelona in the semi-finals, it would be a chance to avenge their agonising defeat in 2009 when Andres Iniesta scored in injury time at Stamford Bridge to seize a place in the final for the Catalan side.
AC Milan however matched Barcelona at the Nou Camp in the group stage drawing 2-2, although they lost at home 3-2, and the club's director Umberto Gandini insisted they were confident.
He said: 'At least it will be easy to organize the away game as we have been there recently and we know the place. We faced them in the group stage and the aggregate score was 5-4 so I think it will be balanced.
'We drew 2-2 there and played well also at home despite losing 3-2, so we have confidence because I think we have also improved since then.'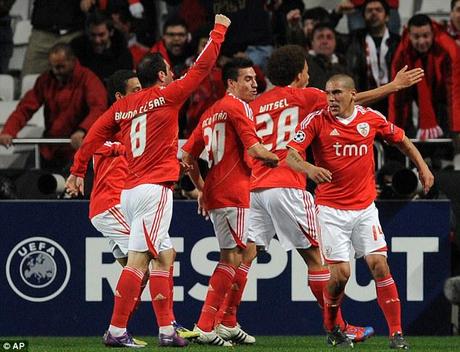 Dangerous: Benfica reached the quarter-finals after beating Russian side Zenit St Petersburg
He added: 'It's a game every player dream to play, both teams will be very motivated and we will see the winner of Benfica-Chelsea in the semi-finals!'
Chelsea's old guard came to the club's rescue against Napoli on Wednesday night with John Terry, Frank Lampard and Didier Drogba all scoring in a 4-1 win and the club's chief executive Ron Gourlay said a blend of experience and youth was vital.
He told the club's website: 'We have some big, big players at the football club and that's for the good of the club, we need everybody to raise their game and it was a wonderful team performance on Wednesday night. If we show the same character and effort we can turn things around this season.
'You need experience, you need youth and you need a little bit of luck. Any team that has won it will tell you this, hopefully we get that but let's worry about Benfica, give them the respect they deserve and take it from there.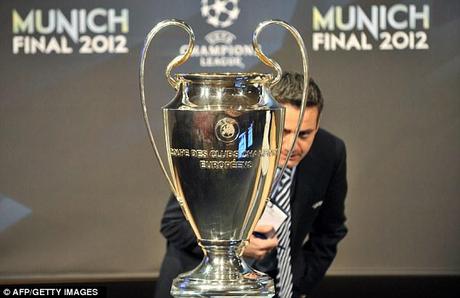 Eyes on the prize: The Champions League final will be held in Munich
'Robbie (interim coach Roberto di Matteo) and everyone around him, the players, we all have to play our part.'He has started well in three games and everybody knows the objectives until the end of the season. Everybody is clear on what we want to achieve and everybody is pulling in the same direction.'We've got some fantastic players there, we raised our game on Wednesday night but that's the standard of the club. We set that standard and expect it every game until the end of the season and be where we want to be.'The competition is very important to us, being in the Champions League is very important and we want to make sure we are in the competition next year.'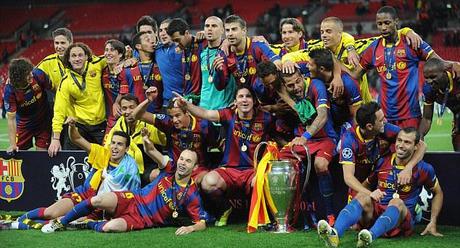 Team to beat: Barcelona are defending the trophy they won against Manchester United last season
Reacting to the draw, caretaker manager Roberto Di Matteo said: 'When you get down to the last eight teams, any draw is difficult.'I've seen Benfica many times. They were in Man United's group.'It's a tough game for us.'I think the fact that we play the first game away for us is good.'Di Matteo refused to contemplate a potential semi-final against Barcelona.'Are you writing off AC Milan straight away, as easy as that - the leaders of Serie A?' he said.'(We will take it) game by game. That's what I've learnt in my playing career and my coaching career.'

Barcelona
Manager:
 Pep Guardiola
Star man:
 Lionel Messi
Best result:
 Four-time winners (1992, 2006, 2009, 2011)
Form so far:
 Devastating. Their record of five wins and a draw in the group stage was impressive anyway but that was before the 10-2 aggregate demolition of Bayer Leverkusen in the last 16.The Spanish champions are close to averaging nearly four goals-a-game while they have conceded only six in the tournament all season.
Danger rating - 5/5:
 Hot favourites to become the first team to retain the trophy in the Champions League era. Only AC Milan have been able to compete with them so far and that was only for about 45 minutes. They are the side that no one wants to draw but someone has to beat them eventually. 

Chelsea
Manager:
 Roberto Di Matteo
Star man:
 Didier Drogba
Best result:
 Finalists (2008)
Form so far:
 It has not been vintage Chelsea in Europe this year. Only a win against Valencia on the last day of the group stage booked a last 16 place.In the knock-out rounds they again looked on the brink of an exit against Napoli before a change of manager lifted spirits and secured the only quarter-final berth for a Premier League side.
Danger rating - 4/5: 
The old guard of Frank Lampard, John Terry and Didier Drogba have been criticised many times this season but their experience has been priceless at this level.The defence looks shaky but the ever-reliable spine to the team means they are still a threat, especially at Stamford Bridge where they have scored 14 goals in four games.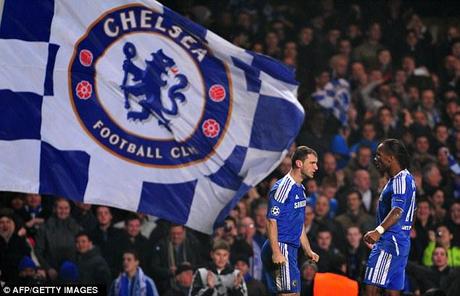 Flying the flag: Chelsea won an enthralling encounter with Napoli on Wednesday night

Bayern Munich
Manager:
 Jupp Heynckes
Star man:
 Mario Gomez
Best result:
 Four-time winners (1974, 1975, 1976, 2001)
Form so far:
 Are you watching Manchester United? The German side did what Sir Alex Ferguson's men couldn't do and that was defeat Basle to send them packing in the last 16.They made it look like a cakewalk too as their 7-0 victory at the Allianz Arena set the new record winning margin in a Champions League knock-out match.
Danger rating – 4/5:
 As Manchester City found out in the group stage this is not a side to be messed with. It is one of the strongest the Bundesliga outfit have produced in recent years.The key will be stopping striker Mario Gomez who has netted 10 times in seven games.

Real Madrid
Manager:
 Jose Mourinho
Star man:
 Cristiano Ronaldo
Best result:
 Nine-time winners (1956, 1957, 1958, 1959, 1960, 1966, 1998, 2000, 2002)
Form so far:
 Conceding a late equaliser at CSKA Moscow in the last 16 has been their only slip-up in the entire tournament.But even that was forgotten after a 4-1 win in the return leg at the Bernabeu and the competition's record winners look more dangerous than ever under Mourinho.
Danger rating – 5/5:
 Barcelona are the bar in world football but Madrid are 10 points clear of them in La Liga and won every game in the Champions League group stage.While no one will go as far as suggesting Barcelona's dominance is coming to an end, it does show just how strong Madrid are this season.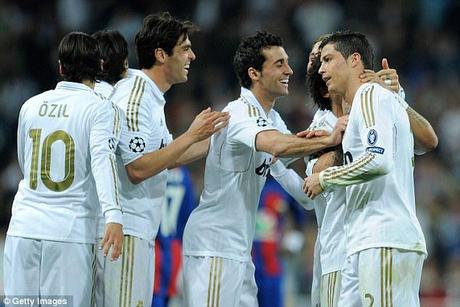 Real deal: Ronaldo bagged two as Madrid eased past CSKA Moscow in the last-16 clash

AC Milan
Manager:
 Massimiliano Allegri
Star man:
 Zlatan Ibrahimovic
Best result:
 Seven-time winners (1963, 1969, 1989, 1990, 1994, 2003, 2007)
Form so far:
 In the Champions League they have been the Italian version of Chelsea – great going forward but a disaster at the back.They were nearly victims of a shock comeback (even by their standards) after losing 3-0 at Arsenal in the last 16, but they just managed to edge through 4-3 on aggregate.
Danger rating – 3/5:
 The last time Milan reached the quarter-finals they won the tournament but it would be a shock if they were to lift the trophy for an eighth time.The Serie A leaders are a good side but the ease in which Arsenal clawed back three first-half goals at the Emirates Stadium will only act to inspire other teams.

Benfica
Manager:
 Jorge Jesus
Star man: 
Nicolas Gaitan
Best result:
 Two-time winners (1961, 1962)
Form so far:
 The Portuguese side have been involved since the third qualifying round back in July and have only lost one game.But they made amends for the 3-2 defeat at Zenit in the last 16 by winning the second leg 2-0 at the Estadio da Luz to book their first quarter-final spot for six years.
Danger rating 3/5:
 Manchester United know about the threat they pose after being held to draws home and away in the group stage.There is a strong team ethic and there is star quality too. Gaitan has been lethal in creating opportunities for likes of Oscar Cardozo this term.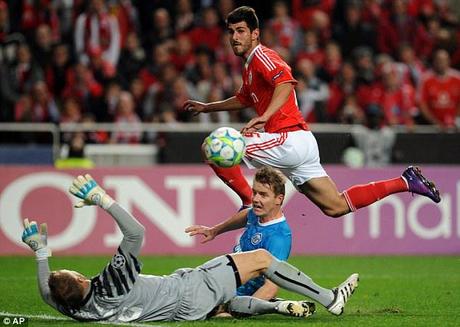 On target: Nelson Oliveira scores for Benfica in the clash with Zenit St Petersburg

Marseille
Manager:
 Didier Deschamps
Star man:
 Loic Remy
Best result:
 Winners (1993)
Form so far:
 Procrastination has been a staple of their campaign. Two goals in the last five minutes at Borussia Dortmund just about saw them into the last 16 and it did not stop there.Injury time strikes home and away sealed a 2-2 aggregate draw at Inter Milan where they progressed on away goals.
Danger rating - 2/5:
 Absolutely none…up until around 85 minutes. Deschamps' team have often played a cautious defensive game and only turn up the heat in the latter stages. Fine against naive teams but better sides like Barcelona could be well out of sight before then.

APOEL
Manager:
 Ivan Jovanovic
Star man:
 Nuno Morais
Best result:
 Quarter-finalists (2012)
Form so far:
 Amazing. When they took to the field in a second round qualifying match at Skenderbeu, nobody could have predicted they would be eliminating Lyon in the last 16 eight months later.It may have been on penalties but the Cypriots topped their group previously – so they can play.
Danger rating – 1/5:
 Such is the shock they are still involved, APOEL would have snatched at a quarter-final place in the Europa League if you had offered them that at the start of the season.They are the team everyone wants to face but the pressure is off the minnows.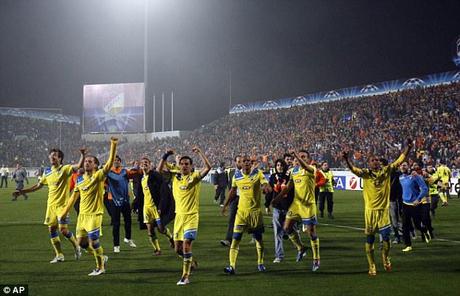 Minnows: APOEL are on their best run in the competition