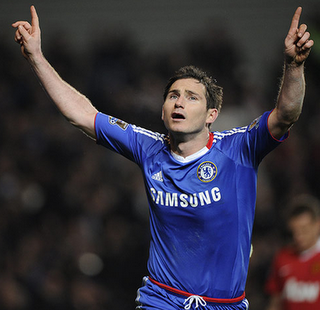 This victory was slowly being formulated in Chelsea's subconscious. After the 2-0 victory in Copenhagen, things were starting to turn around following an arid spell of poor play from the English champions. And while there have been off-field altercations, Ancelotti's men stepped up and faced Manchester United with heart.
The first half wasn't the best for Chelsea. Manchester United created chances thanks to a vivacious Rooney supported by a strong midfield. In the 30th minute the English forward completed his own personal comeback, a low and sizzling shot from out of the box flew into the back of the net. It's Rooney's first goal from outside of the box since February of 2008 (thank you
OptaJoe
), and it helps to answer the omnipresent question, "Has he returned to form?".
But Chelsea weren't to be undone in front of their home crowd, and a much more convincing display was put on by Chelsea in the second half. Just under ten minutes into the second half, Chelsea found a way to score an equalizer. David Luiz was in the United penalty box and when the ball dropped to him, the Brazilian fired a wonderful volley into the near bottom corner. It was a truly wonderful piece of skill from the defender. One which highlights ability to deliver when he decides to move up the field and in front of goal.
Chelsea were slightly aided by the referee, Martin Atkinson, who awarded a relatively soft penalty for the home side. While maybe by the rules it would be a penalty (Zhirkov was impeded on his way to the goal), it didn't seem like a proper goalscoring opportunity was improperly halted. Yet Atkinson awarded his 11th penalty of the season (more than any other referee in the Premier League. Thanks again OptaJoe), and Lampard smashed it into the roof of the Manchester United net.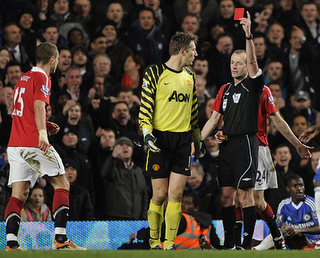 A comeback complete, yet there was more to come. In the final minutes, Vidic earned a second yellow card when he dragged down Ramires. While the suspension of the captain isn't a good one, Sir Alex Ferguson was still seething regarding the penalty awarded to Chelsea. On the other hand, when asked about the penalty Carlo Ancelotti simply said, "It was a penalty".
A great victory for Chelsea, which could spur them onto a strong run in the Premier League. Manchester United will be without Vidic when they travel to Anfield to face Liverpool. Could they concede more points to Arsenal on Sunday against Liverpool?