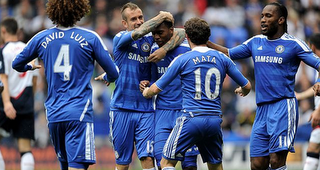 Sturridge refrained from celebrating for both of his goals.
Chelsea has been having problems getting into their groove this season while Manchester City is surrounded by the maelstorm of the Tevez fiasco. Yet both clubs displayed dominance this weekend, winning by four goal margins away from home. Chelsea defeated Bolton 5-1 while Manchester City broke down a dispirited Blackburn side 4-0.
Bolton Wanderers - Chelsea
Chelsea had few problems against Bolton Wanderers at the Reebok stadium, Lampard claiming a hat-trick in a 5-1 victory for the Blues. A srong start and an early goal for Chelsea when Daniel Sturridge headed in from a corner just 90 seconds in. The young forward had been on loan at Bolton the season before, and he managed to refrain from any celebrations in front of the Bolton crowd. But there were plenty of celebrations when Frank Lampard finished off a smooth Chelsea move (with flicks of the heel and one-touch passing) on the 15 minute mark. Any questions about Lampard's age, or ability to continue being an integral part of the Chelsea system were already being dispelled.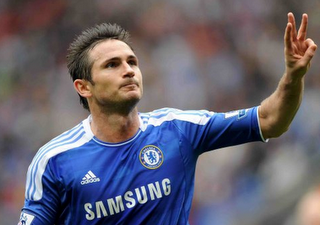 Lampard celebrates his three goals.
As the first half wore on for Bolton, it only got worse for the young keeper Bogdan (replacing injured Jaaskelainen). A low shot from the edge of the box by Sturridge bounced over the Bolton keeper and into the net for Chelsea's third. The fourth came soon after, with Bogdan spilling a long shot by David Luiz, allowing Frank Lampard to jump on the rebound and tuck it away. The first half ended with Chelsea 4-0 up, Sturridge and Lampard both on fire as Bolton fans booed their players (especially Bogdan) into the dressing rooms.
In the second half we saw a revival of Bolton's spirits and strength. Coyle's team pulled one back about a minute into the second half, Boyata powerfully heading it in from a well-delivered free kick by Petrov. Now we were beginning to see Chelsea's frailty. Bolton continued pushing forward, creating some chances and even forcing Ivanovic to make a goal-line clearance (which looked slightly over the line). Yet when Lampard completed his hat-trick (another well crafted passing move between him and Drogba), Chelsea seemed content.
Chelsea showed their dominance away from home against Bolton, with a slick passing style which Andre Villas Boas has been instrumental in achieving. Without Fernando Torres, the team has no problem creating goals. Daniel Sturridge has been improving at a rapid pace, and Frank Lampard has shown that he still has quite a bit to offer the team in their run for the title.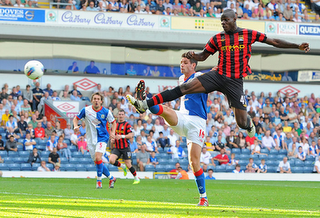 Mario Balotelli's anticipating finish.
Blackburn Rovers - Manchester City
As for Manchester City, Roberto Mancini's players met much less spirited opposition at Blackburn's Ewood Park. The first half was a tight, with Aguero having to be substituted (Samir Nasri replaced him) for injury in the 28th minute, leaving Mario Balotelli as the central striker. The Italian was dangerous, with shots just inches wide and curling onto the post, yet Manchester City went into halftime with the score at 0-0.
In the second half Manchester City managed to find the breakthrough goal thanks to some magic by Adam Johnson. The winger got the ball at the edge of the box from a corner, and he promptly curled it into the far top corner. Just two minutes later Balotelli got his well-earned goal, a tap-in assisted by substitute Samir Nasri. At this point Blackburn were unable to retaliate and the match was already decided.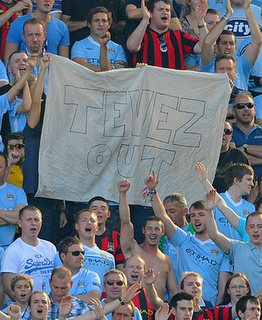 City fans share their thoughts about Tevez.
Share yours in the comments below!
Nasri got the next goal after some tricky movement and passing with David Silva, and Savic got the fourth with a well-placed header in the dying minutes. While the media has exploded around the Tevez ordeal, Roberto Mancini managed to keep his team together and break down Blackburn. Even if Aguero had to come off for a bit of a groin problem, Balotelli showed that he has the strength and ability to be the lone striker in Mancini's system.
What are your thoughts on Manchester City and Chelsea's impressive performances? Do you think one of these two sides will win the title? Share your thoughts below!