Cheetos are a major brand in America, and I am pretty certain that they used to exist here in the UK a good while ago, I vaguely remember them being advertised when I was little but I may be wrong… Anyway, they have been relaunched here and I was excited to discover that the 'Flaming Hot' flavor appear to be suitable for vegans.

Maize , Rapeseed Oil , Flamin' Hot Flavour [Flavourings (contains Soya, Wheat), Sugar, Flavour Enhancers (Monosodium Glutamate, Disodium 5'Ribonucleotide), Fructose, Salt, Dried Onion, Soya Sauce Powder (contains Wheat), Hydrolysed Soya Protein, Dried Garlic, Colour (Paprika Extract)] .
I really enjoyed these, they were softer than Wotsists and melted in your mouth, the flavor was nice because it wasn't too spicy but there was enough heat to add interest to them, it was more of a warming quality and I really enjoyed that, as did my Mother. Thankfully they never stained your hands or left much of a smell on them (a massive pet peeve of mine!)
Overall I think that these are a really nice snack to have, lots of taste and few calories l they are perfect for those on a diet (my mom insisted that I let everyone know that they are only 2 pro points on Weight Watchers).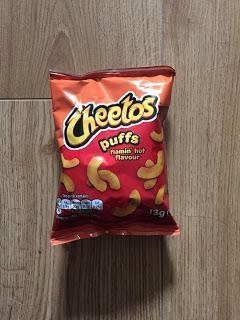 Rating – 8/10
Calories – 69
Vegan – Yes
Buy Again - Yes