Hey guys. How's your (manic) Monday going?
Mine is going pretty darn good. I have the day off so I've made a list of a few chores to get done before we leave for vacation. I'm eating the biggest bowl of leftover pasta ever! And I'm shamefully admitting that I'm watching Grey's Anatomy reruns on Netflix.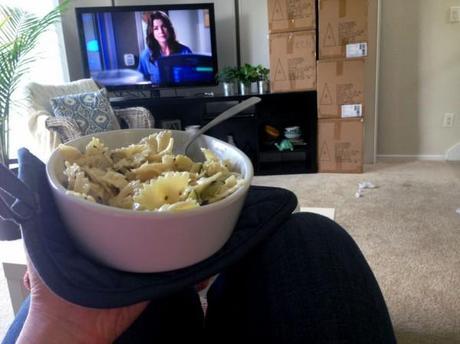 I made this pasta the other night. I told Max to go to a few of my favorite recipe blogs and pick something out. Get the groceries and when I got home from work, I'd make it for him.
He picked Jenna at Eat Live Run's Zucchini Pasta.
I really wasn't too jazzed about it when he told me the recipe he'd chosen. I'd had a really tough day at work and Zucchini Pasta sounds so darn healthy and nutritious. I was feeling the need for a big bowl of chocolate brownies or a huge slice of greasy pizza. 
I've changed the name to Cheesy Zucchini Pasta because this recipe definitely doesn't taste healthy. It is, but it tricks those taste buds, that's for darn sure. I was really happy we had this for dinner and it definitely kicked my eat-my-feelings craving.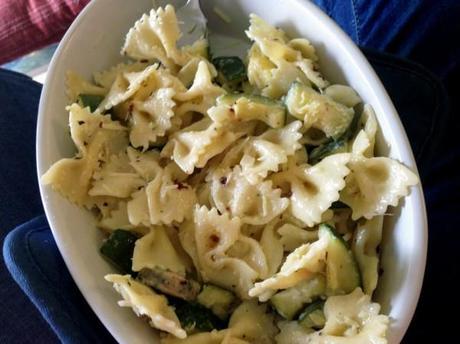 Cheesy Zucchini Pasta 2013-08-26 13:54:14 Save Recipe Print Ingredients 16 oz bow-tie pasta 2 lbs zucchini, sliced 6 oz chicken sausage (I used a spinach, fontina cheese and garlic kind from Trader Joe's), sliced juice of 1 lemon 8 oz mascarpone cheese 1/2 tsp salt 1/2 tsp pepper 1/4-1/2 tsp red pepper flakes 2 T olive oil 1 shallot, minced 2 garlic cloves, minced Instructions Cook the pasta in boiling salted water until el dente. Drain and keep warm. In a large skillet or heavy-bottomed pot, heat the olive oil over medium heat. Add the zucchini slices and sausage and saute for 5 minutes or until zucchini is just about tender but not mushy. Add the garlic and shallot and saute for another two minutes, stirring frequently. Remove from heat and add the marscapone cheese and toss well so that the cheese melts. Add lemon juice, salt, pepper and red pepper flakes. The sauce will look broken but will come together when you add the pasta. Toss in pasta pasta and serve with additional black pepper and freshly grated Parmesan cheese if desired. Notes Above is Jenna's recipe to the T! By Jenna Webber Marens Morsels http://marensmorsels.com/blog/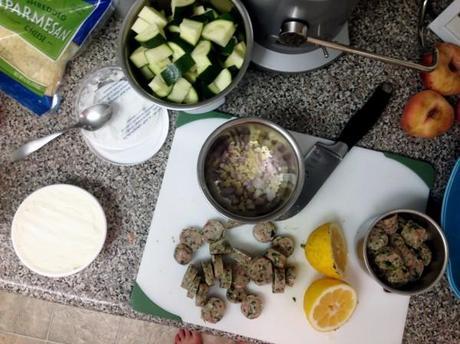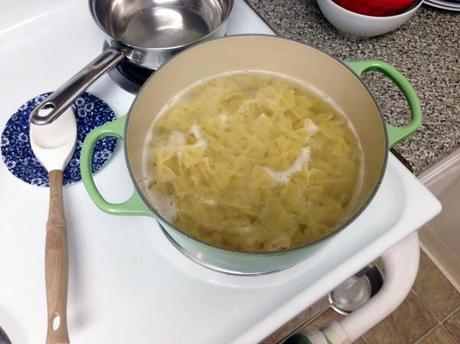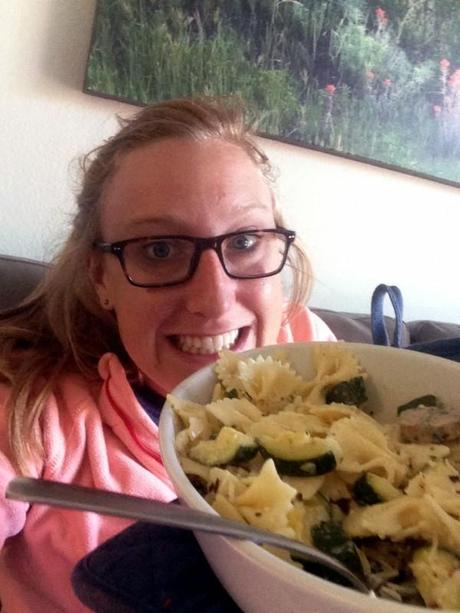 And I'll leave you with a fun picture of the Donner!