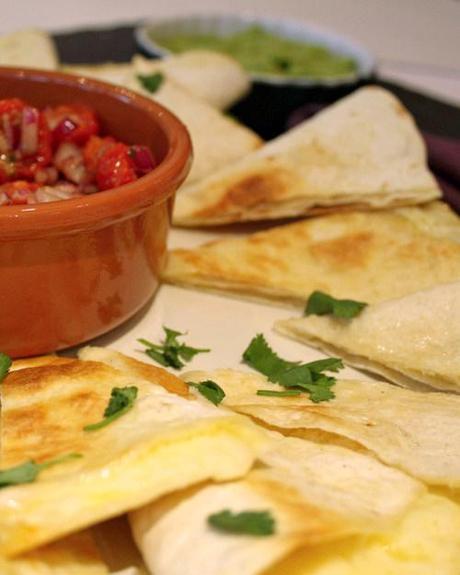 As a bit of a foodie myself, I am often excited when I see that yet another tasty treat from a well loved holiday destination has made its way to our fair shores. The cured meats, fancy cheeses and amazing antipasti that you could previously only get on holiday are now frequently to be found on shop shelves over here. It's ace. And over the past few years, it's brands such as Unearthed who have led the way, traveling the world to find these delicious things and sourcing them for us to enjoy. 
The lovely people at Unearthed not only sell us their amazing finds but show us how to cook with them too. They maintain a fab archive of recipes on their website, my favorite of which is their sausage and chorizo rolls.   
And today, they're taking part in our first birthday party by sharing their own recipe for cheese quesadillas. 
So what with the beetroot houmous, courgette bruschetta, frickles and scotch eggs, we've got your party food covered. Over to Susie from Unearthed to tell you about the quesadillas:
As foodie discoverers we're definitely up for being adventurous when it comes to entertaining and feeding friends.  Imagine how embarrassing it would be if our guests came round and we presented them with vol-au-vents, iced party rings and a cheese and pineapple hedgehog? Don't get us wrong, we're not knocking them, but they're our guilty pleasures (shhhh - don't tell anyone).
With a wealth of culinary traveling experience, not to mention a range of nationalities in our office, we're spoilt for choice when it comes to choosing party food form around the world and so we asked around to see who serves what -
Colombia – Picadas and fried plantains
England – Sausage rolls
Ireland – Fifteens (a sweet treat seemingly) not heard of outside Ireland)
Mexico - Quesadillas with salsa and guacamole
Spain – Charcuterie and cured meats, especially Lomo Iberico
France – Savoury cake
Germany – Weisswurst and soft pretzels
Greece – Spinach and feta filo pie
Italy – Slices of freshly-baked focaccia
Jamaica – Curry goat or jerk chicken
Nigeria – Pepper Soup
South Africa – Biltong and beer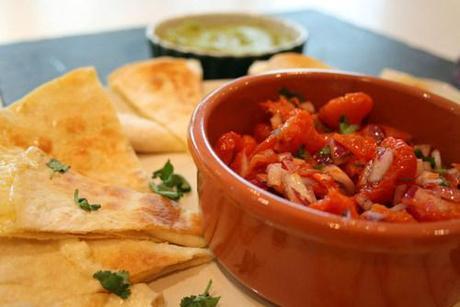 After reading through that list we thought, why not make one of those traditional treats? With a chill in the air we decided there was something fitting (read comforting) about quesadillas – the perfect combination of melted cheese and bread. Plus those crisp triangles are just perfect for dipping into salsa, guacamole, sour cream or even a delicious chilli.
So here's our recipe for quesadillas (approved by our Mexican colleague, Tibi), accompanied by an 'unearthed®' take on salsa (made with our slow roasted, sun drenched tomatoes) and our limited edition guacamole.
Susie - unearthed®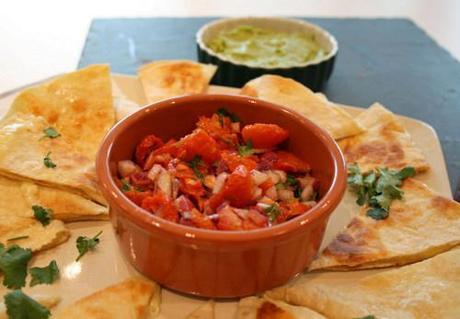 Ingredients
300g cheese, grated
8 medium sized tortillas
Small bunch of coriander
1 pack (295g) of unearthed® slow roasted, sun drenched tomatoes, drained
½ large red onion, finely chopped
1 large red chilli, de-seeded and finely chopped
1 tsp lemon or lime juice
Salt and pepper
Method
Mix the chopped chilli and onion together
Roughly chop the tomatoes, then add to the mixture
Season to taste
Add ½ tsp of the lemon juice, taste, then add more if required
Finish with a handful of chopped coriander
Divide the grated cheese between the 8 tortillas
Sprinkle cheese on one half of the tortilla, then fold over and press down
Repeat with remaining tortillas, then place on a baking tray
Cook in the oven for about 10 mins, until the cheese is melting
Remove from oven, then brown each quesadilla in the frying pan on both sides
Cut each semi-circle into 4 triangles and lay out on a plate in a circular shape, garnish with some coriander
Place the salsa in the centre, and add a dish of guacamole
Buen provecho!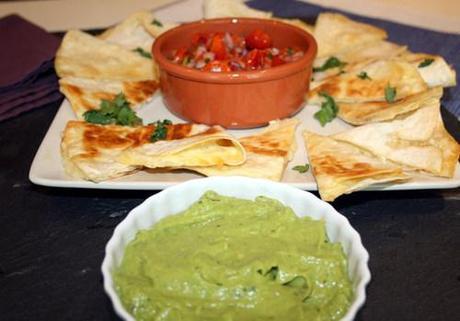 Read the other guest posts for our First Birthday Party on Pinterest. 
And follow What You Sow on:
Twitter | Facebook | Instagram | Pinterest | GoodReads | LinkedIn | Google+