In addition to in-class meditation, the professor who leads my field (social work speak for "internship) seminar begins each of our weekly sessions with a "check-in."  We go around the room and talk about what's going well and what isn't, what's bringing us joy and what might be causing us a little anxiety.  In just five short weeks, it's been a great way to get to know my fellow peers- those who, like me, have chosen an accelerated path to our MSW, and who I'll get to know very well over the next 15 months.
It's interesting to see how differently people experience things.  Some of us are placed in the same setting as another classmate, but the experience we have varies so much.  We all have important outside lives, and sometimes, our personal obligations can really affect our work.
So let's check in, friends.  How are you doing?  How is your week going?
February just flew by for me.  I'm finishing up my fifth week of class, which feels unbelievable!  I've clocked in almost 100 hours of field work (we have two internships, and we must work 600 hours at each).  I also now have four weekly clients, a fact that would have blown my mind if you'd told me two months ago.
I'm working hard to maintain a good work/school/LIFE balance, because while school is extremely important, I don't want to wake up one day and realize I've neglected my friends and family for the last year and a half.
Shayne was visiting from Phoenix last week, which made for the perfect excuse to wine and dine with my friends at Woodland, in Prospect Heights.   I wasn't completely blown away by the (overpriced) food, but it was lovely to see some of my ladyfriends.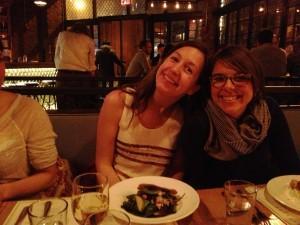 I was finally, finally able to try the deliciousness that is Ample Hills ice cream… and oh my gosh, was it worth the stomachache I suffered from when I got home!  Think Ben & Jerry's, where all of the mix-ins are made in-house, and everything is organic and/or local.  My favorite was the salted crack caramel with salted butter caramel ice cream with pieces of Deb's famous crack cookies (saltines, butter, sugar, chocolate).  Check out the flavors… seriously ridiculous.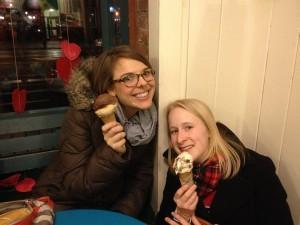 I've tried to make my study days at school fun, letting myself take a reading break every so often (I sped through this one).  And cake!  I've had a SERIOUS "cake tooth" recently.  Like, forcing B to drive me to the bakery at 10 PM… while we were both in our PJs.  Lordy.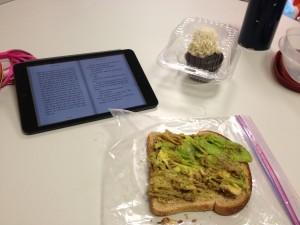 Let's check in!  What would you like to share?  How do you treat yo self?