Is it MAGIC? Or is it FOUNDATION? Five years in the making, this is a new generation of anti-ageing, full coverage foundation that morphs to your face in a weightless texture, for perfect second skin that lasts all day. Proven to instantly cover and treat in the long term:  Acne, acne scarring: Instantly tightens pores, reduces shine and minimizes the production of sebum after nine weeks. Redness, Rosacea, Discoloration and Melasma: Covers all levels of discoloration and imperfections, and reduces production of melanocytes over time. Mature skin – deep wrinkles, age spots & thread veins: smooths appearance of wrinkles in just one hour and reduces age spots by 75%.  Tired, dull skin: Anti-oxidant formula rejuvenates skin from within.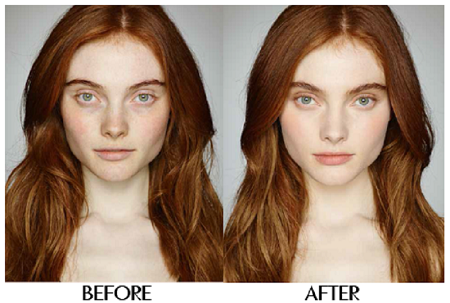 Charlotte Tilbury perfect skin day with Magic Foundation
Problem skin will be transformed into perfect skin before your very eyes. The hyper-intelligent formula dispenses evenly over your skin and does not sit in imperfections.   What Charlotte says, "Whether you like it or not, you are judged by the state of your skin – you can tell so much about a person's age, exhaustion, lifestyle and health from it. It's your biggest beauty area. I created the confidence of PERFECT SKIN in a bottle so that no matter the state of your skin, you will have the best skin of your life, as you've never seen it before."
What are the secret MAGIC INGREDIENTS? Magical Fomes Officinalis (Mushroom) Extract: The concentrated mushroom extract that was highly south after as an elixir for longer life in French medical legend. Featuring triple action benefits, it improves skin firmness, magically tightens pores and floods the skin with moisture.  Genius Hyaluronic Filling Spheres: These genius spheres fill with moisture as they are absorbed into the skin, plumping the skin with water, reversing wrinkle grooves. This takes effect almost immediately, and within 1 hour your skin is a smoothed and re-texturized canvas.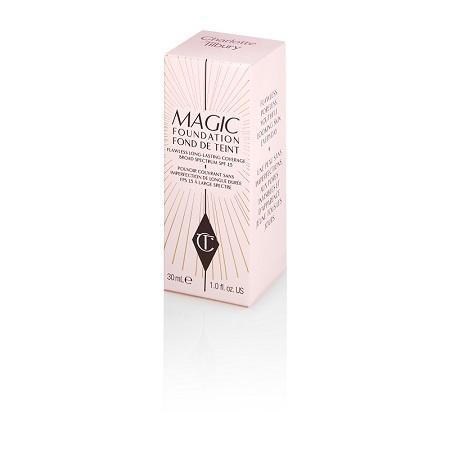 Charlotte Tilbury perfect skin day with Magic Foundation
Super-Charged Vitamin C (VC-IP): This brand-new skin hero ingredient has been tested clinically in several In-Vivo tests and is the first time it is integrated into a foundation. Vitamin C is a well-known anti-oxidant that revives skin for a glowing, lit-from-within complexion. VC-IP, super-charged Vitamin C, has been tested against the leading vitamin C ingredient Ascorbic Acid (AsA), and is far more effective at feeding the skin's cells with energy. It converts into pure vitamin C within the skin, giving protection and energy directly to the skin's cells and DNA. Benefits:  Firmer, Younger Skin: Proven to promote the creation of new collagen fibers in the dermis giving skin elasticity and bounce. Slows down the effect of free radicals in the skin, the cause of premature aging.   Anti-Pigmentation & Melasma: VC-IP is proven to inhibit the production of melanin. Age spots are reduced in appearance by up to 75% in 4 months. Anti-Acne: VC-IP inhibits sebum production, visibly reducing the appearance of acne as tested after 9, 12 and 16 weeks. Broad Spectrum SPF 15 provides on-going protection against sun damage.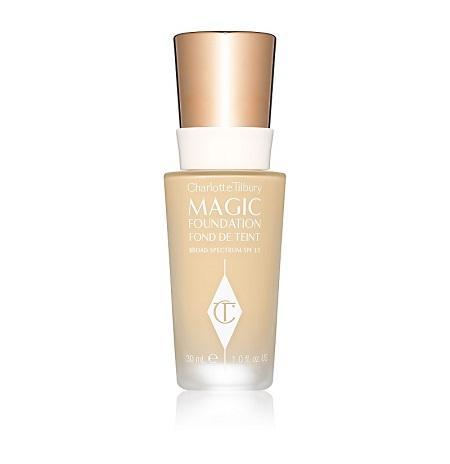 Charlotte Tilbury perfect skin day with Magic Foundation
PROVEN BEFORE-AFTER RESULTS: Charlotte collaborated with the laboratories for five years to incorporate classic skincare ingredients into a new, full- coverage foundation and tested it in a series of rigorous in-vivo tests.
"I conducted a survey of non – doctored before/after visual trials on 15 women with differing skin concerns and age ranges to prove how my new magic formula can cover any skin problem, from mild to serious. To show how everyone can get these results easily, I created a problem – solving foundation video mini – series to prove how Magic Foundation can create perfect skin, no matter how serious your skin concerns "  says Tilbury.
Charlotte Tilbury perfect skin day with Magic Foundation
In a consumer study of 554 women, the results were just as amazing:   90% of women agree that Magic Foundation felt comfortable on their skin 89% of women agree Magic Foundation lasts all day  88% of women agree Magic Foundation matched their skin tone perfectly. Due to its super-high, natural-looking coverage, even if you don't have problem skin, Magic Foundation will give you the most perfect skin of your life. Available in 15 shades, the new Magic Foundation is suitable for all complexions and skin tones.
After its massive launch in the UK in October this is bound to be a red carpet favorite and a makeup bag staple, this revolutionary foundation is available in 15 shades so everyone has a perfect match. Magic Foundation and the Magic Complexion Brush are finally available in the US with all retailers – CharlotteTilbury.com, Nordstrom, Nordstrom.com, Bergdorf Goodman, and BergdorfGoodman.com.