What had begun as a quiet day visiting friends on Christmas (7 January), would be shattered by the notification of the brutal and senseless killing of journalists in Paris at the French satirical newspaper, Charlie Hebdo.
In a well planned and military style operation, 12 people were killed and 11 or more persons were wounded when terrorists burst into the Paris office of a weekly French newspaper, Charlie Hebdo. The terrorists entered the building and began firing, while shouting "Allahu Akbar."
Witnesses at the scene, along with video sources, show at least three masked gunmen, one who may have been their driver, carried Kalashnikov rifles, a shotgun, and a rocket-propelled grenade launcher.
Staff cartoonist Corinne Rey had just picked up her daughter from daycare and two of the terrorists forced her to use her entry key to enter the building. Rey says that the men spoke perfect French.
WARNING: the next video is graphic and shows a French policeman being murdered, after he was already down and injured. Viewer discretion advised.
Four of France's best-known satirical cartoonists, including the magazine's editor, were murdered on the scene. Two police guards were among those killed and another 11 persons were injured.
Noting that it was the worst terror attack in France in the past 40 years, President François Hollande described it as a "terrorist attack of the most extreme barbarity."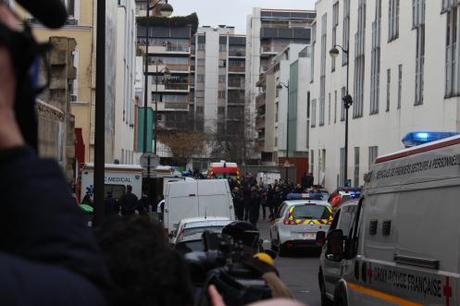 Photo by Thierry Caro.
French police say that the terrorists are on the run, and may have moved to the city of Reims.  A late report from the BBC says French anti-terror police are looking for Said and Cherif Kouachi, two brothers, and that another suspect is in custody.
The magazine has never shied from controversy, and in 2006 was sued by several Islamic organizations for using the prophet Mohammed as a cartoon character. In November of 2011 the newspaper was firebombed when the paper published a special edition on Islam and listed the prophet Mohammed listed as the "editor-in-chief."
Show your solidarity by tweeting hashtag #JeSuisCharlie. This phrase translates as "I am Charlie."
Today we are not the Mendeleyev Journal. Today we are Charlie.
Я шарли эбдо.

Charlie Hebdo website graphic reads "I am Charlie.
In memory:
Merabet Ahmed, 42, police officer, killed outside while responding to the attack.
Frédéric Boisseau, 42, building maintenance worker killed in the lobby.
Franck Brinsolaro, 49, police officer, was assigned as a bodyguard for Charb.
Cabu, 76, cartoonist
Elsa Cayat, psychoanalyst and columnist.
Charb, 47, lead cartoonist of Charlie Hebdo.
Philippe Honoré, 74, cartoonist.
Bernard Maris, 68, economist, editor, and columnist.
Moustapha Ourad, proofreader.
Michel Renaud, guest columnist.
Tignous, 57, cartoonist
Georges Wolinski, 80, cartoonist.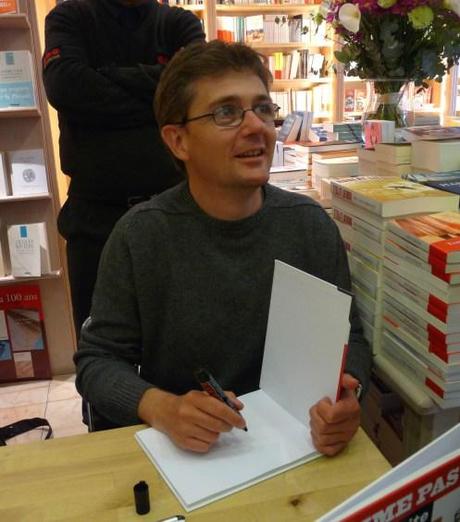 Charlier Hebdo lead illustrator Charb. Photo by Ji-Elle.