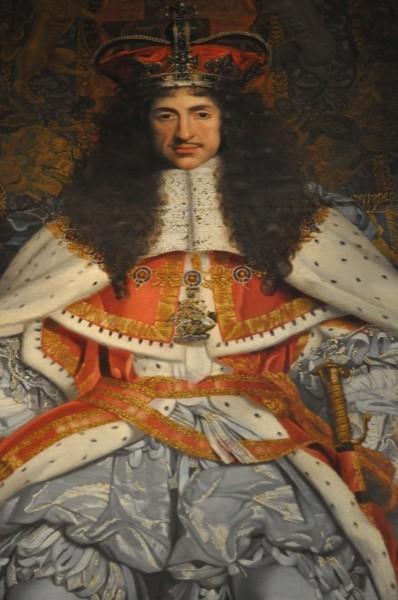 Charles II in his Coronation robes, Wright, 1662. Photo: Historic Royal Palaces/Melanie Clegg.
One of the best things about writing Minette was falling more than a little bit in love with Charles II, so much so that I'm almost tempted to write a novel about just him one day, probably a HUGE first person pseudo memoir full of fighting, flirting and erm something else beginning with F. The thing about Charles is that he is so often written off as 'The Merry Monarch' who presided over one of the most decadent courts Britain has ever seen and who fathered troops of illegitimate children with his bevy of peachy skinned, dewy eyed mistresses when actually there was so much more to him than that.
Born on this day, 29th May 1630 to Charles I and Henrietta Maria, he spent his earliest years being raised surrounded by luxury in the various royal palaces and being doted on by his adoring parents. Well, mostly adoring – Henrietta Maria complained to her sister about the ugly, dark looks of her baby, which is ironic really as it was her own Italian Medici genes that lent him his dusky colouring.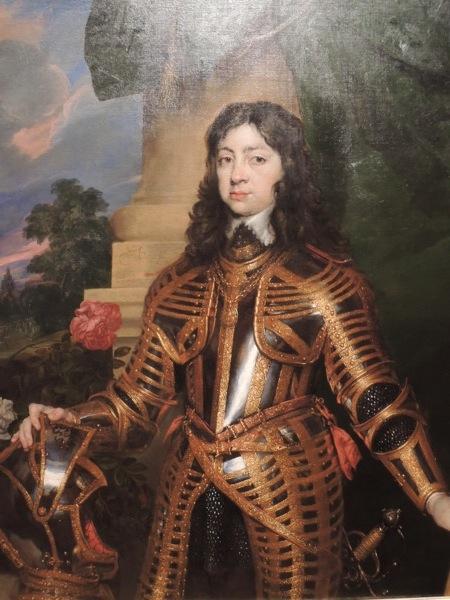 Charles II when Prince of Wales, Dobson, 1644. Photo: Royal Collection/Melanie Clegg.
This opulent world was to fall apart in 1642 though when the English Civil War broke out, leading to the separation of his family, the eventual execution of his father and his own flight and exile from England. Always a good humoured, highly intelligent, affectionate boy, I think those years of impoverished and often humiliating exile on the Continent are what moulded Charles into the man, and most essentially, king that he would eventually become – keen to reward loyalty, appreciative of fine things, garrulous, often melancholy, devoted to his family and masking a wry wariness behind his usual urbane and charming politeness. If his first cousin Louis XIV was considered the most polite king in Europe, then Charles was perhaps the most effortlessly so – his warm good nature and genuine pleasure in being with people a definite counterpoint to Louis' stiffness obedience to the all important rules of etiquette.
We can only guess at his feelings as he rode into London at the head of a triumphant procession again on this day in 1660, his thirtieth birthday. He'd been in exile on the Continent for fourteen years and had probably long since given up hope of ever reclaiming his father's crown – a hope that had diminished even more over recent years when Oliver Cromwell's death in 1658 had still failed to bring about the much longed for restoration of the Stuart king.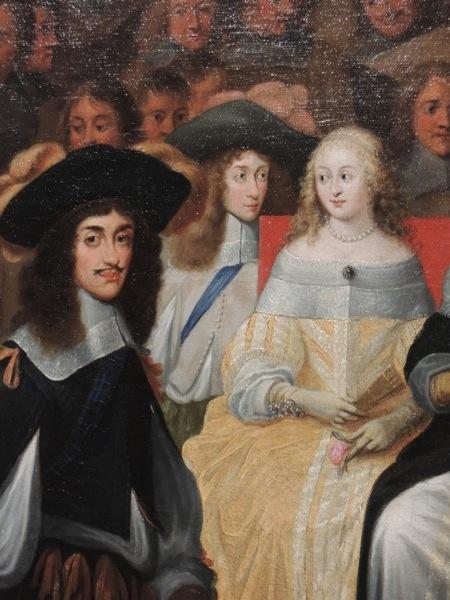 Charles II Dancing at a Ball at Court, Janssens, c1660. Photo: Royal Collection/Melanie Clegg. This painting depicts Charles dancing at one of the balls organised by his sister Mary at the Hague to celebrate his restoration to the throne. I love this detail though as I like to think that the couple just behind are his brother James, Duke of York and his future bride Anne Hyde captured for posterity enjoying a bit of a sly flirt with each other.
My novel Minette covers the last nine years of the Stuart family's exile from England, as seen through the eyes of Charles' youngest and favorite sister, Princess Henrietta-Anne and writing it made me really feel for the entire family as they struggled with their seriously down graded position in life. Although Charles' mother, Henrietta-Maria was still nominally welcomed at the court of her nephew Louis XIV and supported by him with a relatively generous pension, she and her children were never really allowed to forget that they were exiles and, worse, pensioners reliant on the benevolence of their French relations. Charles was to feel particularly hard done by, I think, as he was actually asked to leave France by Louis and Cardinal Mazarin in the early 1650s so that they could pursue friendly terms with Oliver Cromwell – Charles' continued presence in Paris obviously being considered something of an embarrassment under the circumstances.
All's well that ends well though or so Charles must have thought as he rode into London to claim his birthright on this very day three hundred and fifty three years ago.