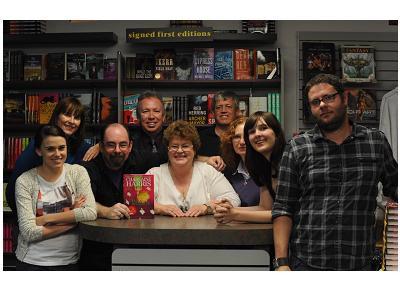 Charlaine Harris appeared recently at Mysterious Galaxy to a full house. Fans of the Sookie Stackhouse series packed the book store to hear the author speak and to have their books signed. What lucky San Diegans!
In the Beginning
Charlaine Harris has been writing for the last 3 decades. In the beginning she wrote poetry, ghostly stories, and then later on, mysteries. She decided to write the Sookie Stackhouse books mainly because she wanted to go in a new direction and wanted to make sure the publishing house would continue to support her books. Her thinking:
"It would be fun to write about a very down-home young woman who was dating a vampire."
Her 11th book in this series, Dead Reckoning, which was released in May, seems to still be creating waves in the fan base and is still hugely popular.
Sookie Sunday
The HBO True Blood series is largely based on the books by Charlaine Harris mixed with Alan Ball's genius mind. The new season of True Blood started just over a week ago on June 26, and it has fans on fire with enthusiasm for this season!
Source: www.examiner.com- True Blood Creator Speaks to Packed House
(Photo credit: Bob Morris)