I'm about to give you a damn good reason for having wedding favours.
One for the boys!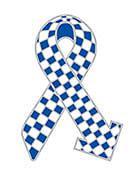 charity wedding favour pin badge
Orchid, the UK's male cancer charity (penile, testicular and prostate cancer) have launched their very own charity ribbon pin badges which make unique wedding favours and are a wonderful way to support a worthy cause and provide the perfect finish to your special day.
Wearing an Orchid badge can be a reminder of a loved one's battle against cancer and the courage they showed during the cancer journey. What's more they are a lasting gift so your guests will always carry a memory of your wedding day.
Ribbon pin badges for wedding favours can be purchased from Orchid's online shop via their website:  www.orchid-cancer.org.uk or by calling the Orchid office on 0203 465 5766. Suggested donation is £1 per badge.
Go on.