There are several people I know whose first name is not their christened first name. My dad was one. First name Robert, everyone called him Neil, which was his middle name. The driver of the car below was called, on the the day he was born, Ian Geoghegan, but to everyone who watched him drive very fast he was Pete. Not sure why that is so, but while trying to find out I came across this
great obituary
of the man who died in 2003. He was the first to win five touring car championships, a feat he achieved in the 1960s, mostly behind the wheel of a Ford Mustang.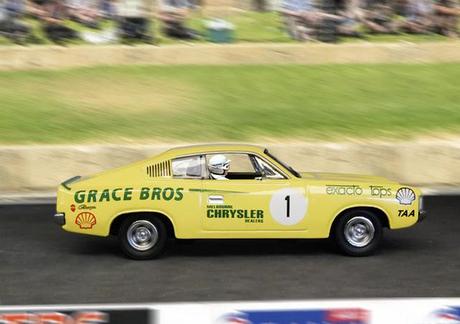 However, in this photoshopped diorama set in the early 1970s, he's behind the wheel of a
Chrysler Valiant Charger RTE49. This 1:43 model is by Trax. Touring Car racing has long
been dominated by Ford and Holden in Australia, but the Valiants not only did respectably
well against their foes, they managed one feat that race wins don't guarantee: they became
a much-sought-after cult car. Aussie car buffs love a nice Charger. They're a good looking car.
Now, I wouldn't pretend to know all that much about Chargers in the technical way. Reading about them in Wikipedia taught me a stack I didn't know, but Valiants in general are still a daily event for me. They haven't made or sold them here for 30 years now, but there are still a few about. However, the Sydney nickname for the Valiant was always a "Marrickville Mercedes" due to the migrant community's love of Valiants, and Marrickville is about as migrant as a Sydney suburb gets (which is why I like living here). Marrickville is still a Valiant hot spot. There's a guy down the street with a nice V8 Valiant Regal, the one with the vinyl roof. There's a couple of old mint Valiants driven by even older Greek men at 20mph. I am sure their grandsons are waiting patiently for old pop to drop off the peg, so they can have his Valiant. And there is even quite a nice old Charger running around here too, and its owner doesn't drive it slowly, either. Good on him!