Char Dham Yatra 2015 Travel Guide & Tips 
Uttarakhand government is geared up for Char Dham Yatra 2015. The Government of Uttarakhand has proven himself after preparation and rebuilding Kedarnath shrine during heavy snowfall winter season. Kedarnath shrine was affected by the catastrophically devastation and landslides in 16th-17th June 2013.here are some important Char Dham Yatra guide and tips for the year 2015 to make your travel more comfortable as the situation is not so much comfortable in previous 2 years. but some of these tips will surly make your Char Dham Yatra
very relaxing and comfortable in 2015.
Char Dham Yatra 2015 Opening Dates & Timing
The opening date of Kedarnath :- 24st April at Morning 6:15 AM
The opening date of Badrinath :-  26nd April at Morning 4:00 AM
The opening date of Yamunotri :- 21st April  at Morning 5:15 AM
 The opening date of Gangotri :-  21st April  at Morning 5:15 AM
Best time to Visit Char Dham in 2015
Bad weather and landslides are common travel issue during monsoon in Uttarakhand. As in 2015, the most accurate monsoon forecast is predicting from last week of  June. but it is always advisable to plan your travel before 15th of June. Do not plan Char Dham Yatra after 15th or 20th June 2015. so May, mid June and October is ideal month to visit Char Dham Yatra in Uttarakhand.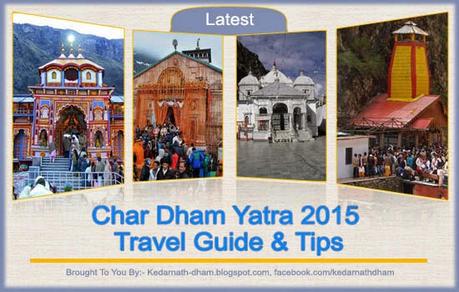 Char Dham Yatra 2015 travel guide & tips
Char Dham Yatra 2015 Travel Guide & Tips
Do not plan your travel in rainy season as landslides happen in the period. Plan your travel in the following month dates (20 April-12 June), (25 September-11 November 2015).
All four shrines (Badrinath, Kedarnath Yamunotri, Gangotri ) located at an altitude of above sea level of 10,170 Ft., 11,755 Ft., 10, 804 Ft, 10170.6 Ft. respectively. so make sure you all are physically fit for Char Dham Yatra Journey. 
Note or save some important contact and help line number in your mobile for 2015 ( Read updated Char Dham Yatra Contact, Help Line Numbers ).
Always Carry a first Aid kit with you in case of emergency.
Book your helicopter ticket for Kedarnath one month prior to your travel dates(in case of going to kedarnath by helicopter). carry your booked helicopter ticket with you and go for reporting at lease 5-6 hours before flight time.
Get ready earlier (7:00 AM) in the morning to trek Kedarnath route from Sonprayag. [in case of going from trekking route via Munkatiiya-Lincholi-Kedarnath(22Km Approx.)]
Be very positive while trekking and keep short steps and deep breaths time to time.
Carry woolen clothes, jackets, hat  and raincoat to avoid the rain with you.
stay up-to-date on +kedarnath Page to get latest information on Char Dham Uttarakhand.